Foil Heater System
Electric underfloor heating system for laminate, carpet, vinyl, engineered wood and other floating floor finishes.
Guide Price
from £45.67 /m² ex. VAT
(Based on a 10m² purchase)
  Wood / Laminate
  Vinyl
  Carpet
  Large areas
  Regular shape
  Renovation
  New construction
  Screed & Concrete Floors
  Timber suspended & Batten floors
Foil Underfloor Heating
Simple to install, the foil heater delivers a consistent and even heat distribution. It can also be installed under the floor finish in wet areas without the need for additional earth grids. The thermal properties of the reinforced aluminum foil used in the heater help to spread the heat evenly.
Improved savings can also be achieved by using foil underfloor heating in conjunction with the Insulated Underlay as it dramatically reduces heat-up times by at least 50%. It is suitable for all applications, providing primary or secondary heating in all rooms or projects that adhere to Building Regulations.
The Foil Heater System is ideal for installation in regular shaped rooms, such as living rooms and bedrooms.
Installed directly under the floor finish
No self-levelling required
No raise in floor levels
Super-thin, fully earthed flat aluminum foil will not raise floor levels
Fit around objects
Wire based system, can be adapted to fit around objects, no need for complicated wiring
Safety Net Installation Guarantee
If you accidentally damage the heating system during installation, return it to Warmup and we will replace it with another heater of the same make and model free.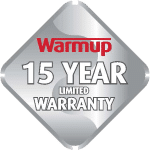 15-Years Limited Warranty
This product comes with a 15 -Years Warranty. We are completely confident in the standard of our products.
| | |
| --- | --- |
| Construction | ETFE wire encased in aluminium foil |
| Operating voltage | 230 V: 50 Hz |
| Output rating | 140 W/m² |
| Max Width | 500 mm |
| Mat Length | 2 m to 24 m |
| Heating cable spacing | 50 mm |
| Coil tail length | 3 m |
| Approvals | |
Thermostat
Choosing the correct control system is crucial in ensuring that your heating system works in the best possible way, efficiently and easily.
View Thermostats
Insulated Underlay
A thin polystyrene insulation barrier with effective acoustic properties to reduce contact noise.
View Underlay