Silva Joisted System
The Warmup Silva System is designed for use within either battened or suspended timber floors that are constructed using traditional joists.
 Ceramic, Stone, Wood / Laminate, Vinyl, Carpet
  Small & Large Areas
  Regular Shape
  New Build
 Refurb
  Timber Suspended & Batten Floors
Silva Joisted Floor System is installed in many refurbishment projects. Joists traditionally tend to be installed at 400mm centres. However, we can supply a more bespoke system to suit individual properties with varying joist centres as required.
The Silva Joisted Floor System is suitable for almost any floor finish, in particular where the flooring is wood or engineered wood.
When using tiles as the final floor finish, additional layers of plywood or tile backer board may be required to create a rigid base.
Lightweight screed
For faster heat-up response time.
Suitable for use under existing wooden floors
Installed between floor joists
Does not impact floor heights.
Safety Net Installation Guarantee
If you accidentally damage the underfloor heating pipe during installation, return it to Warmup and we will replace it with the same size and make pipe free.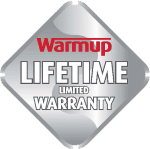 Lifetime Limited Warranty
The length of the warranty period depends on the type of pipe you choose. When you install this system with the Warmup PEX-a pipe, the pipe comes with a Limited Lifetime Warranty.
Installing this product? You will Also need:
Thermostat
Choosing the correct control system is crucial in ensuring that your heating system works in the best possible way, efficiently and easily
View Thermostats
Insulation
Insulation makes Underfloor Heating much more efficient. The Clypso Insulation System is designed to work with the Contura Floating System for maximum performance.
View Insulation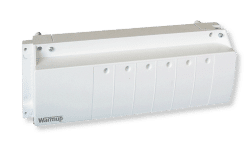 Control Center
All hydronic systems require a control centre that works with the thermostats and the heat source, such as a boiler.
View Control Center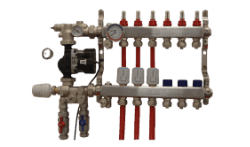 Manifold
The Warmup Manifold is manufactured from stainless steel and provides water regulation for up to 12 underfloor heating circuits.
View Manifold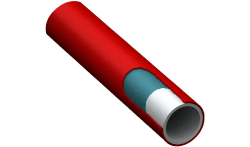 Pipes
Warmup systems come with a choice of 3 pipe types; PEX-A, PE-RT and PE-RT/AL/PE-RT. This choice guarantees that you have the best possible system, tailored to your specific installation and budget.
View Pipes