Tile and Stone
Tile and stone floors are ideal for use with an underfloor heating system as they heat up fast and retain heat well,
making the system efficient to run.
Compatible with Electric and Hydronic Systems
Even though tiles are most often associated with kitchen and bathroom flooring, this durable and easy to clean surface is great for use in other areas too such as corridors and laundry rooms. Due to the low thermal under resistance and high thermal mass of tile and stone, they are also perfect for conservatories and other areas with high heat loss. Tile and stone flooring can be heated up to 29°C or more, giving a heat output of up to 200W/m².
These hard surface floor finishes are suitable for use with both electric and hydronic underfloor heating systems. If you're looking to get underfloor heating for tiles, our wide range of products guarantees that we have the perfect solution for you.
Electric systems and Heating Mats
These hard surface floor finishes are suitable for use with both electric and hydronic underfloor heating systems. However, electric under tile heating mats are most popular in bathrooms. Warmup's StickyMat and DCM-PRO Heated Decoupling System make a perfect option for regularly shaped bathrooms and Loose Wire is the match for irregular bathrooms with many fixtures. However, the right system, in general, is dependent on the size and shape of the area, subfloor type and the nature of your project; a renovation or a new-build.
Thermal Conductivity of tiles and stone
Tile and stone make the most functional and efficient type of flooring to use with under tile heating. Tile and stone have a high thermal conductivity which means that they transfer heat efficiently from a warm water pipe or heating cable to the floor surface. The material also retains heat well making the system efficient, because it will heat up quickly and then keep the floor warm with less energy.
Underfloor heating under tiles or stone is especially desired in bathrooms, kitchens and high heat loss areas. Due to the excellent thermal properties, they turn a floor quickly and energy efficiently into a heated floor. They can be heated to up to 29°C or more, giving a high heat output of up to 200W/m².
Underfloor heating takes the chill out of the tiles and controlling your heating with a thermostat means that your home is warm when you want and the heating is off when you are not at home.
Tiles made from materials such as cork or rubber are normally not suitable for use with underfloor heating.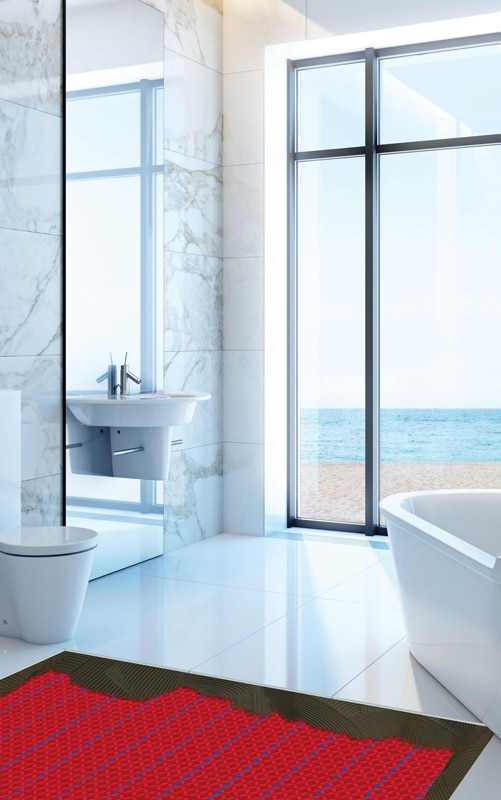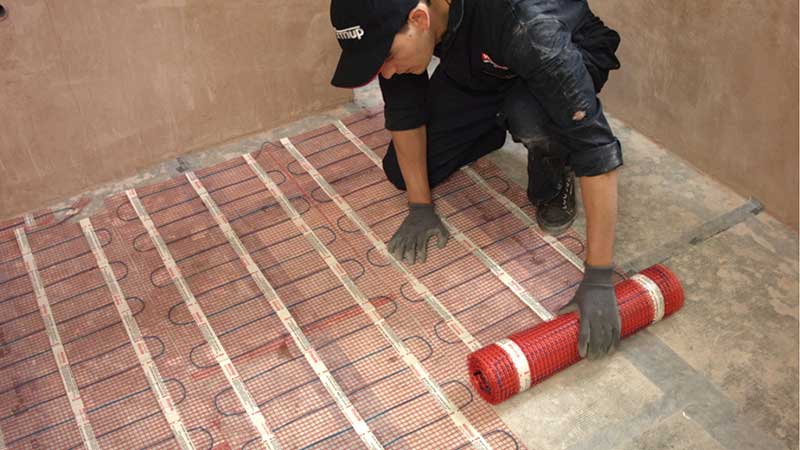 How to Install Underfloor Heating Under Tiles
Electric underfloor heating can be installed by a DIY person or a professional installer. All electrical work, including connecting the thermostat must be completed by a certified electrician only. When installing a floor heating system with tile or stone flooring, flexible adhesive and grout should be used to allow for normal thermal movement. UltraTile provides a high-quality range of flexible tile adhesives and grouts that can be considered for this.
Heated floor tiles are worth the cost and effort of getting a system installed. The system will pay itself back in lower running costs and energy efficiency.
Ready to Purchase a System?