Stainless Steel Manifold
The Warmup S3 Manifold provides regulation for up to twelve underfloor heating circuits with an optional mixing unit available to provide advanced water temperature control.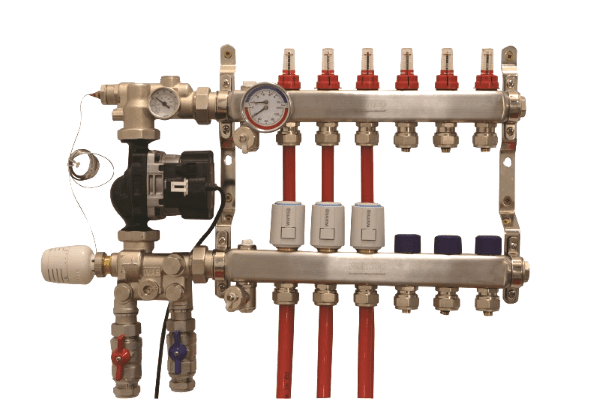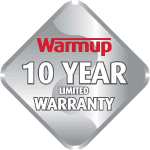 10 Year Warranty
This product comes with a 10 Year Warranty. We are completely confident in the standard of our products.
The Warmup S3 Manifold is engineered for easy installation, commissioning and years of trouble-free service.  Each manifold arm is forged from a single piece of seamless stainless steel and equipped with high quality components for a market leading specification that is backed up by the Warmup 10 year warranty.
With a ¾" port and air vent on each manifold arm, flushing, filling and removing air from systems during commissioning is simple.  Each flow arm is fitted with a thermo-manometer, making pressure testing quick and reliable, with 0-5 l/min Taconova flow gauges providing precise, confident and efficient system balancing.  The ¾" Eurocone connections on the manifold allow for the use of Warmups 16x2mm and 12x2mm pipe connectors as well as standard 3rd party connectors, making it easy for you to upgrade an old 3rd party system with the advanced Warmup S3 manifold and SMART™ controls.
Reliable performance
Rigorous tests conducted at the manufacturing stage ensure that the system is reliable and performs as required
Constructed in single piece
The laser etched, brushed Type 304 austenitic stainless steel manifolds will perform well and look good doing so for years to come
A choice of circuits
Available in 2-12 ports to match your requirements
Taconova flow meters
Incorporates the precise and proven performance of the flow meter technology only available from Taconova
No expensive extras
The S3 manifold is fully equipped as standard making commissioning easy and operation efficient
Acoustic damping
The manifold brackets come with acoustic inserts to keep operational noise to a minimum
Warmup Mixing Unit
Warmup S3 Mixing Unit
The Warmup S3 Mixing Unit is added to the manifold whenever local water temperature regulation or hydraulic separation of the primary circuit is required.
The system's temperature can be limited to any value between 20°C to 60°C, enabling screeds to be commissioned at 25°C in line with British Standards and set to the most efficient temperature thereafter, with an anti-tamper device ensuring it continues to operate efficiently.
The unique mixing unit is designed to complement all heat sources, not just gas condensing boilers, including heat pumps, biomass and solar thermal.  Without the inclusion of the Warmup Mixing Unit overheated water due to sterilisation cycles or peak solar gain could otherwise pass overheated water into the floor causing damage.
3-Way mixing
The unique mixing unit provides full 3-way mixing control making it compatible with all heat sources
Adjustable bypasses
Featuring integral primary and secondary circuit bypasses, the mixing unit makes commissioning easy without needing to purchase expensive extras
Grundfos UPM3 circulator
When set to operate in its constant pressure mode, this 70kPa circulator makes setting flow meters simple, with flow rates remaining constant whatever the manifold load is
Robust construction
The nickel plated brass construction is both robust and corrosion resistant, complementing the aesthetics of the Warmup S3 manifold
Circulator isolation
The inline isolation valve located above the circulator prevents water bypassing circuits during filling and allows the circulator to be easily replaced when necessary
Low-noise operation
Advanced mixing unit design minimises both mechanical and hydraulic noise
Warmup S3 Actuator
For multi-zone manifold control, Warmup S3 Actuators are added to each circuit. Using less than 1W each while active, this 5th generation actuator is water resistant to class IP54, extremely reliable and environmentally friendly.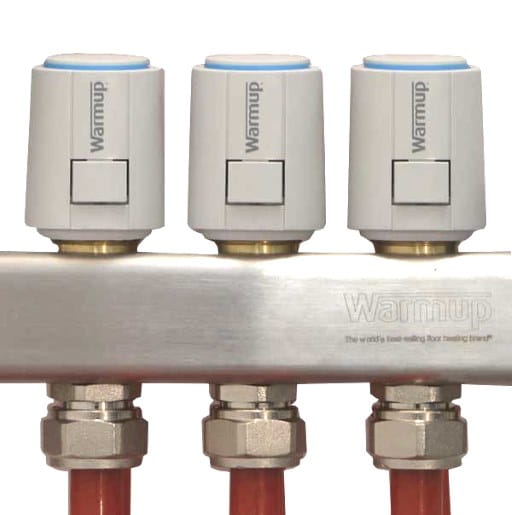 They are supplied 'latched open' for easy 'click' mounting out of the box.  During operation the clear 360° indicator shows the current valve position, from its off, normally closed, position to being fully open.  Providing a 100N actuating force on the valve, it prevents any unintentional flow through the valve during operation or pressure testing.
360° Status indicator
The clear, blue disc on top of the actuator provides visibility at any angle and tactile indication in hard to see locations
Easy mounting
With a separate mounting collar and actuator, it is easy to screw the collar on before simply clipping the actuator in place
Energy Efficient
At just 1W operating power, this 5th generation actuator is extremely energy efficient
Warmup S3 Isolation Valves
This pair of isolation valves complement the Warmup S3 Manifold, fitting either directly onto the manifold supply or the S3 Mixing Units supply when it is used.
Each of the valves is supplied in three pieces for ease of use and versatility.  The 1" union screws into the manifold or mixing unit, allowing the red or blue valve handles to be correctly orientated and the optional 22mm adaptor allows the valves to connect to either 1" G Male or 22mm primary supplies.
Versatile
Connects the manifold to either 1" G Male or 22mm copper and plastic primary supplies
Easy mounting
1" G Union allows for the valves to be correctly orientated every time
Colour Coded
The red and blue valve handles allow for easy indication of the flow and return