Heated Electric Towel Rails
Our electric heated towel rails are beautifully designed in the highest quality stainless steel. There are no liquids inside, so are maintenance-free and incredibly cheap to run.
Guide Price
from £199.99 RRP ex. VAT
After stepping out of a hot shower on a chilly morning, there is little better than being welcomed by a soft, warm towel wrapped snuggly around you. When you are done, simply hang your damp towel up on the heated towel rail and it will dry in no time, leaving it not just warm and dry for the next shower, but fresh-smelling too. The Warmup Electric Towel Rail range offers exquisite function combined with sleek design; an attractive feature in any contemporary or traditional bathroom. A simple concept, for a simple joy – every day.
Each heater comes with a full installation kit with all fixing accessories, including a diamond drill bit (for use on tiles), for installation convenience.
Even heat with rapid heat-up and energy efficiency
Comprehensive kit with all fixing accessories
Sleek contemporary design
Versatile and easy to install
Discreet with concealed cable kit
Connects to existing room light circuit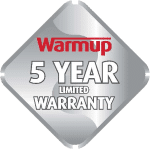 5 Year Warranty
This product comes with a 5 Year Warranty. We are confident in the standard of our products.
Other products from our Bathroom collection
Wall Heaters
Wall Heating is ideal if you wish to heat a small area of the wall or for whole room heating. Particularly suitable in dwellings where heat loss and poor insulation is an issue.
View Product
Mirror Demisters
Mirror Demisters give you a clear view at all times when shaving, applying make-up or using a hair dryer.
View Product