Outdoor Heating Solutions
Increase safety and convenience by keeping homes, buildings, driveways and paths snow-free and frost-protected with our wide range of outdoor heating solutions.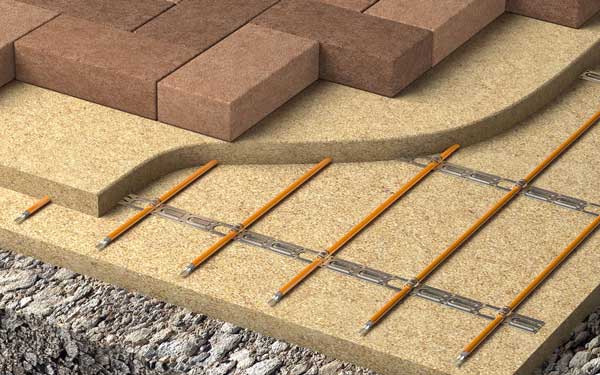 The Warmup Snow Melting Cables protect against snow and ice build-up over both concrete and asphalt surfaces to improve accessibility and avoid accidents.
View
The Warmup Self-Regulating Cable protects against dangerous build-up of snow and ice on roofs, within gutters and downpipes and prevents pipes from freezing.
View
Patio heaters are the perfect choice for outdoors in courtyards, conservatories and gardens.
View
  Snow Melting Cable
 Installation Manual: Snow Melting Cables
  Self Regulating Cable
 Installation Manual: Self-Regulating Cables
  Freeze Protection
  Installation Manual: Patio Heater
Our snow melting product range prevents snow and ice from building up on stairs, driveways, slippery walkways etc. The self-regulating wire eliminates dangerous snow build-up and provides freeze protection.
Owners, developers and designers often promote retail space within an outdoor setting. People in cafes, bars and hotels love the use of an outdoor area and our patio heaters are perfect to extend the use of the areas as they provide portable, gentle heat.
A full range of controllers and accessories is available, guaranteeing the optimal solution for all outdoor heating.
Self-regulating wires melt snow and ice to keep a drain path for water to flow freely away from the house, the roof and gutters.The self-regulating frost protection cables also work automatically to protect your pipes from freezing, bursting and causing damage from flooding.
The outdoor heating range is ideal for both commercial and residential use.