Underfloor Heating for any Room
Enjoy the luxury of underfloor heating in every room of your home.
Different room types for underfloor heating
Floor heaters can be installed in any room in your house, office or building. However, rooms differ in size and commonly use floor coverings that reflect the type of room they are installed in. For example, living rooms are usually bigger areas covered with wood, vinyl, laminate or carpet flooring whereas bathrooms are small spaces using tiles as the floor surface. Learn more about underfloor heating in different rooms below.
Underfloor heating gives you full design freedom since unlike bulky radiators it doesn't take up any wall space.
View
Why Underfloor heating in your Whole Home?
The system is well suited for use as the primary source of heat in your whole house providing there is a sufficient level of insulation.
A hybrid solution is often ideal when considering whole-house heating – this is where different areas are heated by either electric or hydronic (water) systems, using both of these in a house to achieve the most comfortable and efficient combination.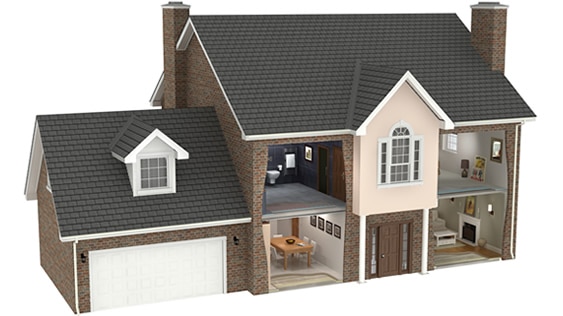 The benefits for whole-house solutions include:
Effective Zoned Heating
The ability to zone heating around a lifestyle is paramount in achieving efficiency. Each room will have its own thermostat delivering precise heating to the individual zone. This level of precision cannot be matched by traditional central heating systems, making them inefficient.
Healthy living – In air tight houses
The reduced air movement associated with floor heating systems keeps dust circulation to a minimum, leading to an allergy friendly environment. This is an important feature for those who suffer from allergies and asthma and absolutely critical in low air movement dwellings consistent with CSH 4 and 5 air-tightness.
Bespoke Design
Warmup whole house underfloor heating systems are bespoke designs where heat loss, insulation levels, sub-floor construction and other elements of your project are taken into account to deliver the best and most efficient heating system possible.
If you have any questions, we would love to help!