Clypso Floor System
The Warmup Clypso System is designed for use within floating screeded floors. Typically, it does not affect the depth of a floor's construction
 Ceramic, Stone, Wood / Laminate, Vinyl, Carpet
  Small & Large Areas
  Regular Shape
  New Build
  Screed & Concrete Floors
The Clypso system uses plastic clips to secure the underfloor heating pipe to laminated insulation panels. The panels are constructed from either PIR (polyisocyanurate) or expanded polystyrene insulation with a fabric reinforced foil laminated to their surface. The foil on each panel comes with two flaps, for taping to the adjoining panel, thereby increasing water resistance and separating the insulation layer from the wet screed.
The laminated foil is printed with a grid pattern to make consistent pipe-spacing easier for the installer, especially when required to work around obstacles or a spiral installation pattern.
Insulation must comply with Building Regulations in force at the time of approval and BS/EN1264. The system is suitable for almost any floor finish and in particular where the flooring (wood, carpet or vinyl) may be replaced from time to time.
The laminate is lined in 50mm grids
To assist the installer in quickly placing the pipes in the correct design format and helps speed-up the installation process
Laminate is woven to deliver extra security
Laminate is woven to deliver extra security for retention of the pipe. This also makes it easier to install and provides additional protection against damage to the pipe prior to screed being laid
Compressive strength 160 Kpa
The compressive strength is 160 Kpa, which safely allows the floor build-up to take imposed loads without damaging the integrity of the floor
Safety Net Installation Guarantee
If you accidentally damage the underfloor heating pipe during installation, return it to Warmup and we will replace it with the same size and make pipe free.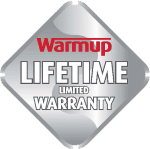 Lifetime Limited Warranty
The length of the warranty period depends on the type of pipe you choose. When you install this system with the Warmup PEX-a pipe, the pipe comes with a Limited Lifetime Warranty.
Installing this product? You will Also need:
Thermostat
Choosing the correct control system is crucial in ensuring that your heating system works in the best possible way, efficiently and easily.
View Thermostats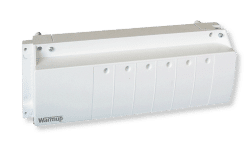 Control Center
All hydronic systems require a control centre that works with the thermostats and the heat source, such as a boiler.
View Control Center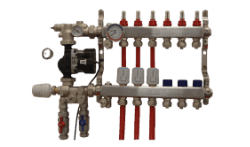 Manifold
The Warmup Manifold is manufactured from stainless steel and provides water regulation for up to 12 underfloor heating circuits.
View Manifold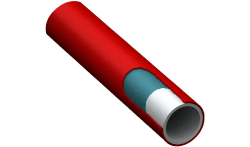 Pipes
Warmup systems come with a choice of 3 pipe types; PEX-A, PE-RT and PE-RT/AL/PE-RT. This choice guarantees that you have the best possible system, tailored to your specific installation and budget.
View Pipes