Forte Grid System
The Warmup Forte System is the logical choice for reinforced concrete and screed floors with the pipe tied to the steel reinforcement.
 Ceramic, Stone, Wood / Laminate, Vinyl, Carpet
  Small & Large Areas
  Regular Shape
  New Build
  Screed & Concrete Floors
The Warmup Forte Grid System is designed for installation into load-bearing structural floors. It incorporates wire grids to which the underfloor heating pipework is attached using cable ties.
The Warmup Forte Grid System is either located within a concrete or structural screed, but is suitable for almost any floor finish, in particular where the flooring is for a commercial application, such as epoxy paint or resin.
Fastened to reinforced bars
Pipework is fastened to the reinforced bars without impacting the integrity of the floor.
Pipe can be installed in the centre
To ensure the most heat-responsive floor, the pipe can be installed in the centre of the concrete zone.
Safety Net Installation Guarantee
If you accidentally damage the underfloor heating pipe during installation, return it to Warmup and we will replace it with the same size and make of pipe for free.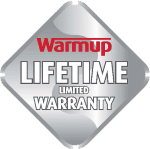 Lifetime Limited Warranty
The length of the warranty period depends on the type of pipe you choose. When you install this system with the Warmup PEX-a pipe, the pipe comes with a Limited Lifetime Warranty.
Installing this product? You will also need: