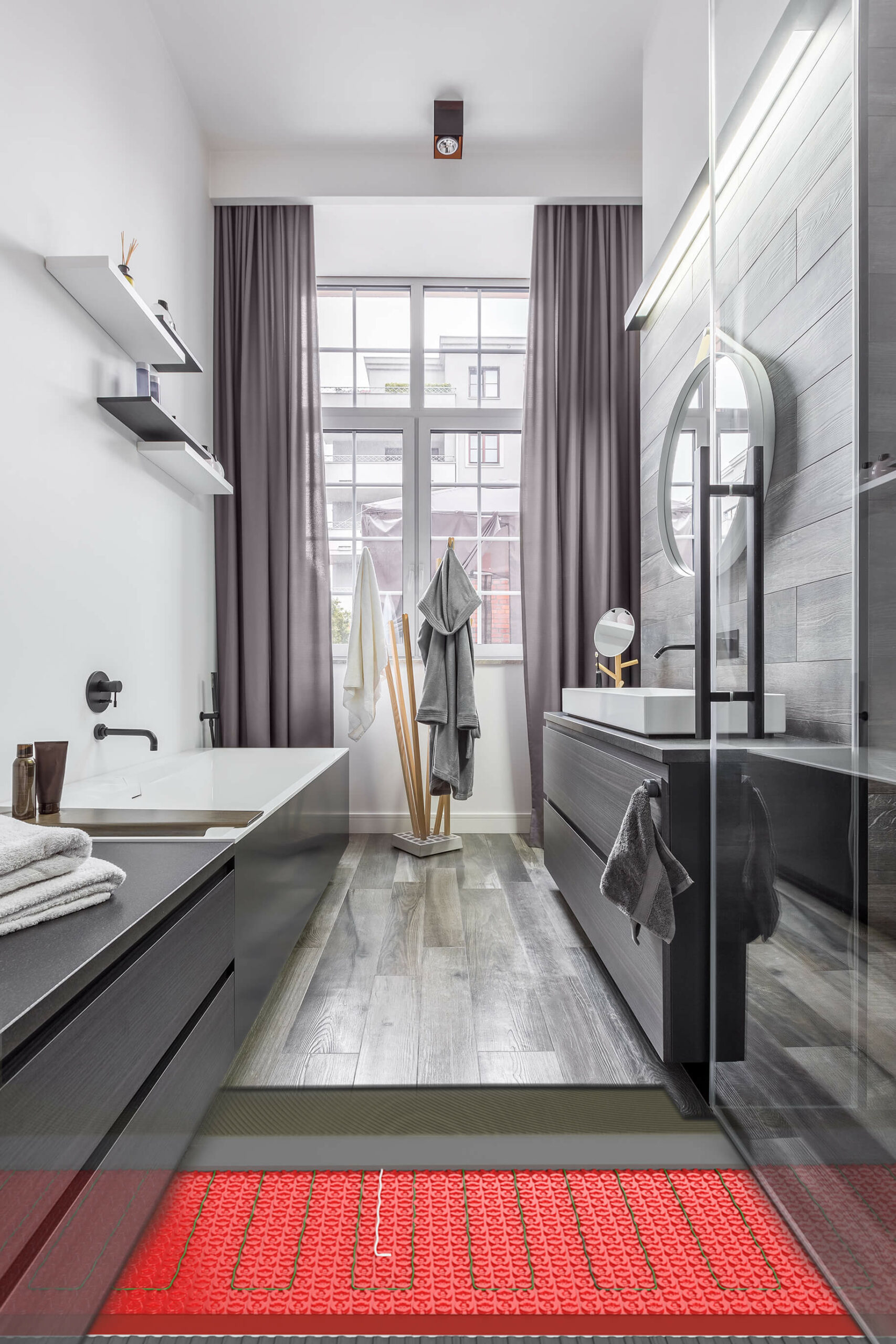 Innovative System that Protects your Floor
The DCM-PRO Heated Decoupling System is a technologically advanced electric underfloor heating system from Warmup that is proven to protect tiled floors from cracking, as tested by ANSI 118.12:5.4 (American National Standards Institute).
Decoupling Membrane
DCM-PRO's decoupling membrane is available with a self-adhesive or fleece backing – making installation adaptable and hassle-free.
Anti-Fracture Protection
The system suits all floor types but has been specifically developed to help protect stone and tiled floor finishes from damage caused by seasonal temperature changes that can affect the sub-floor. Tiles that are particularly prone to cracking benefit a lot from the anti-fracture membrane of DCM-PRO; hence why this UFH system is always recommended with floor tiles.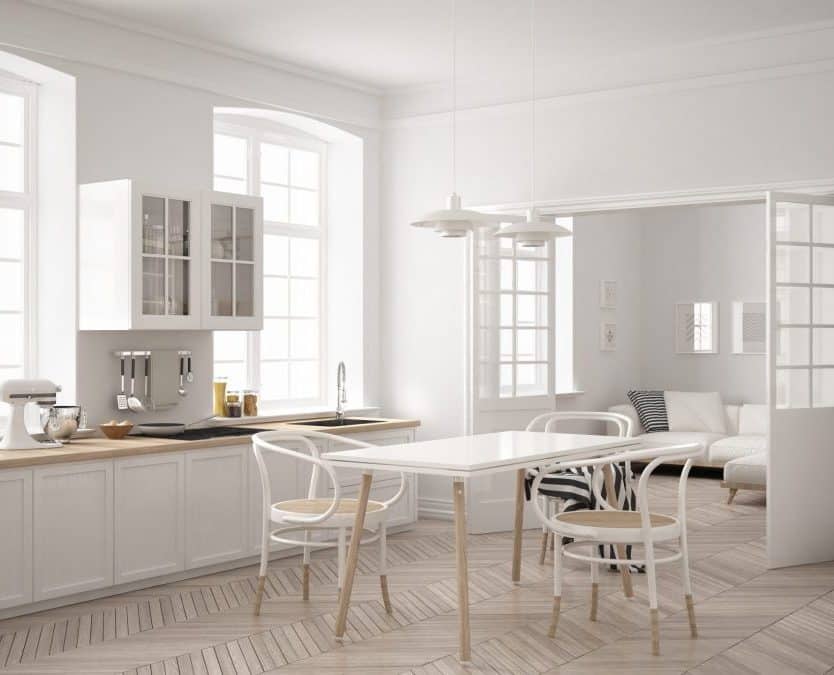 How Does the Decoupling System Work?
The decoupling layer of the DCM-PRO membrane contracts and expands to deal with lateral movements in subfloors, preventing damage from occurring to tiled floor coverings.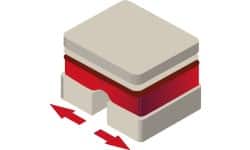 The self-adhesive layer or fleece backing stretches with expansion.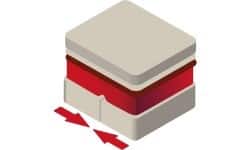 Decoupling layer contracts if gap shrinks due to seasonal changes.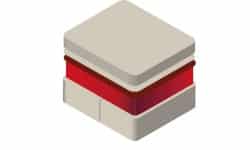 Protects floor surface from damage caused by lateral subfloor movement.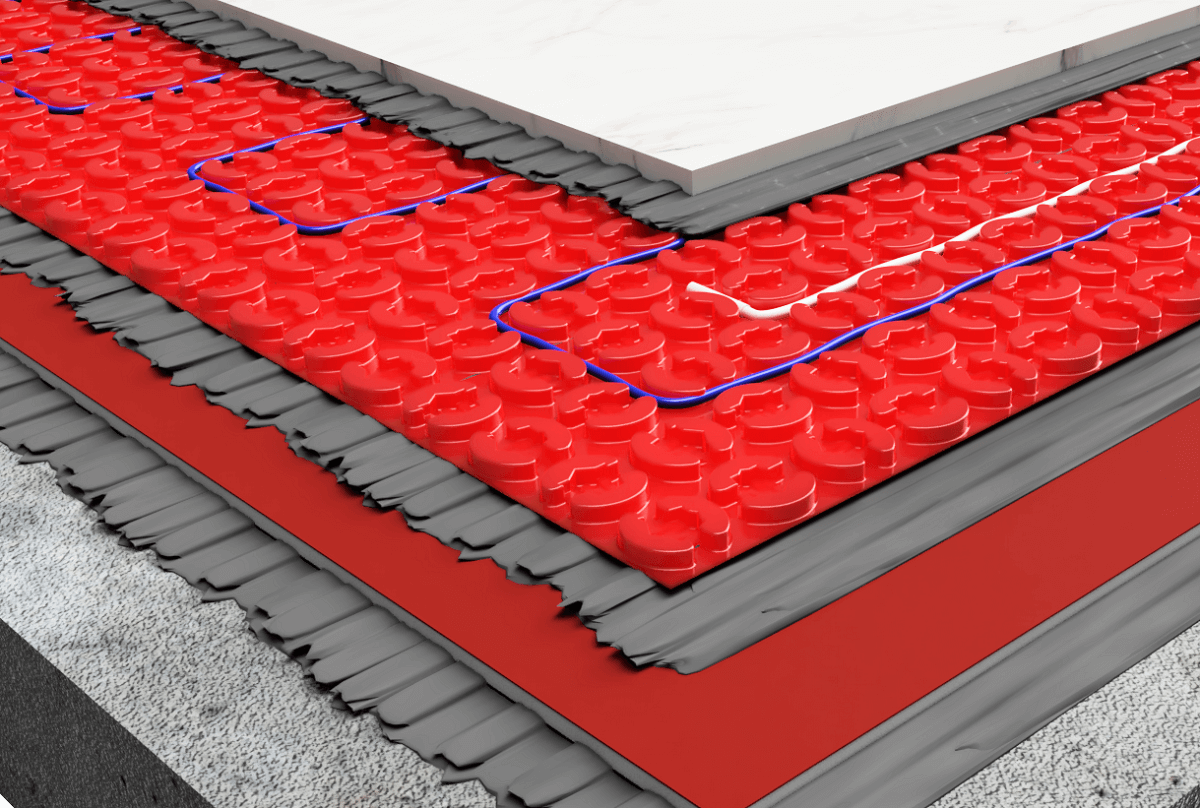 Two Heating Cable Options – Standard and Low Wattage
The DCM-PRO System facilitates a flexible heat output through the choice of two heating cables and its ability to allow for a personalised heated area layout.
112.5 W/m² to 225 W/m² Output for Standard Wattage Projects
You can use the system for standard wattage projects by purchasing the DCM-PRO with the Blue Cable, which offers an output of between 112.5 -225W/m² based on your project's requirements.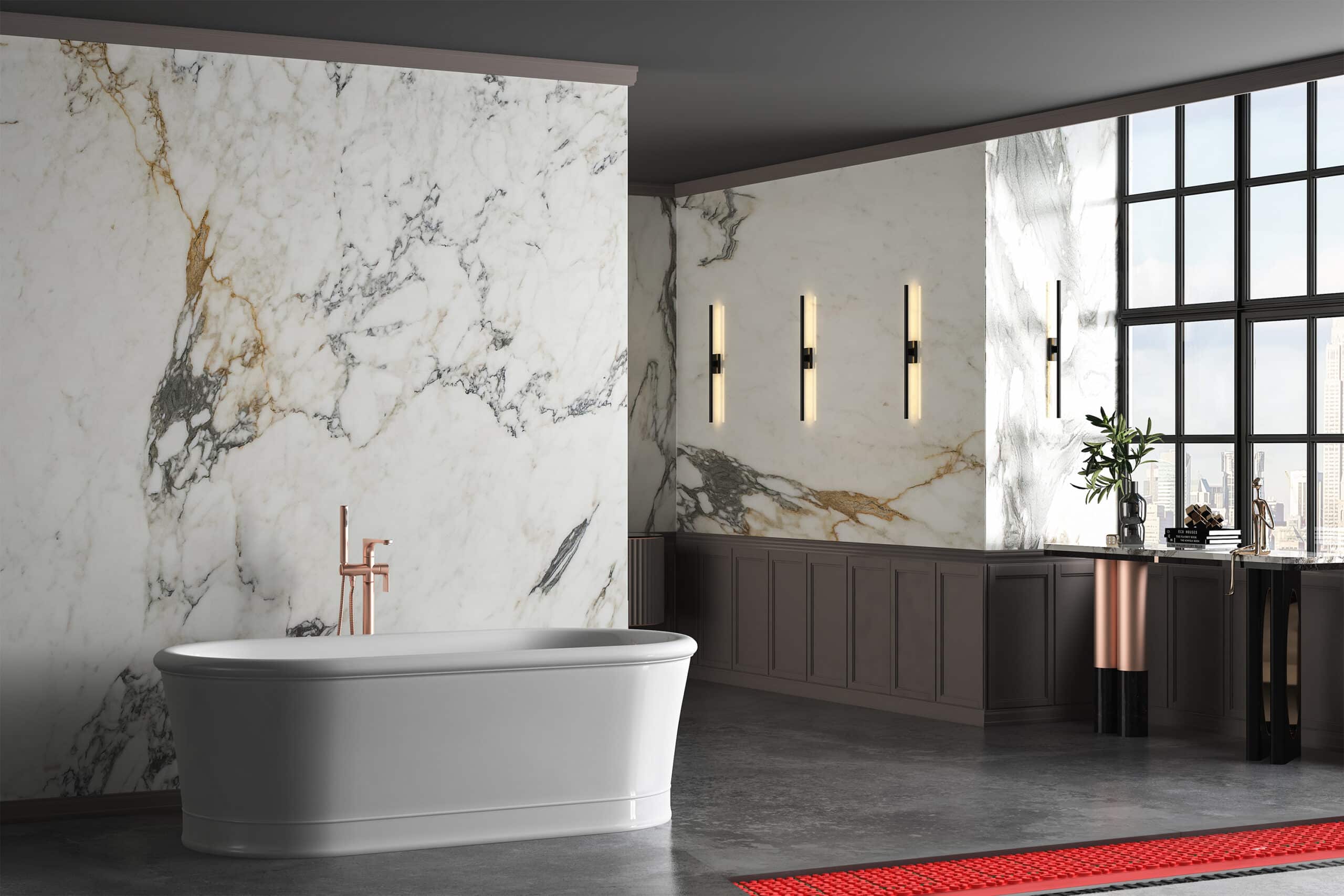 41.3 W/m² - 82.5W/m² Output for Homes with Low Load Supplies 
The DCM-PRO Low Wattage System features a flexible output of 41.3 – 82.5W/m², making it ideal for use in homes with low load supplies and low levels of heat loss. A low wattage electric system can also allow solar arrays with battery storage to supply 100% of the load more often – giving your home the potential to be heated entirely by zero carbon, on-site produced electricity.
The low wattage DCM-PRO is rated for increased floor finish resistances of up to 3.0 tog and allows you to tailor the system to your power requirements.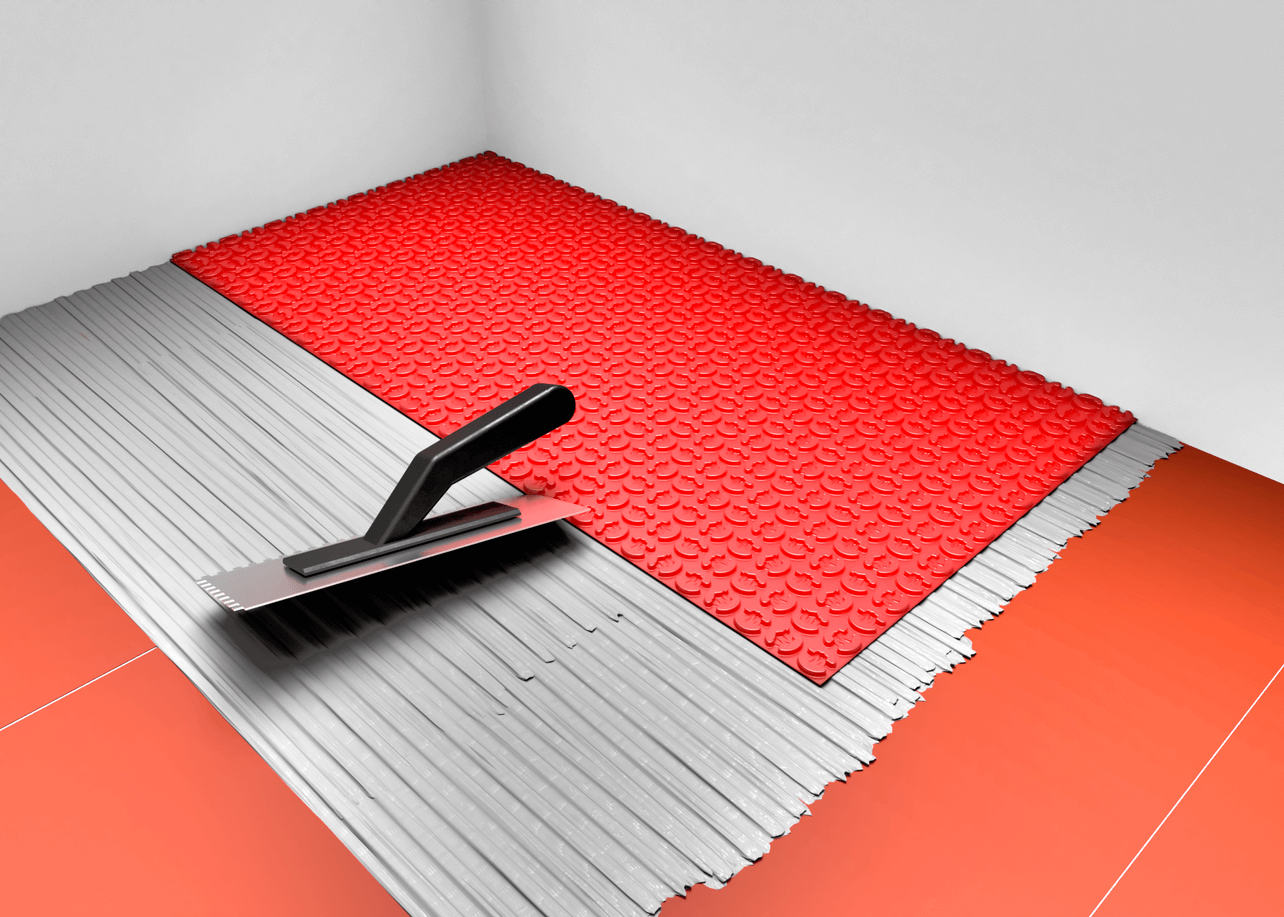 Two Decoupling Membrane Options – Peel-and-Stick or Fleece-Backed
DCM-PRO is available with two membrane options for a more bespoke UFH installation: the Peel-and-Stick membrane offers 40% faster installation times than standard floor heating membranes whilst the fleece-backed membrane has been designed to use with traditional adhesives.
With an effective self-adhesive backing, Warmup's DCM-PRO Peel-and-Stick membrane does not require any tile adhesive for it to be firmly attached to the subfloor. It can be rapidly installed by a qualified electrician or tiler and helps keep floor heights to a minimum.
The DCM-PRO Fleece-backed membrane features a standard fleece backing which can be used with a separate adhesive to create a strong connection between the subfloor and the system. It is particularly suitable for use in spaces featuring damp or uneven subfloors and it allows a flexible installation method whereby you can reposition the membrane as required.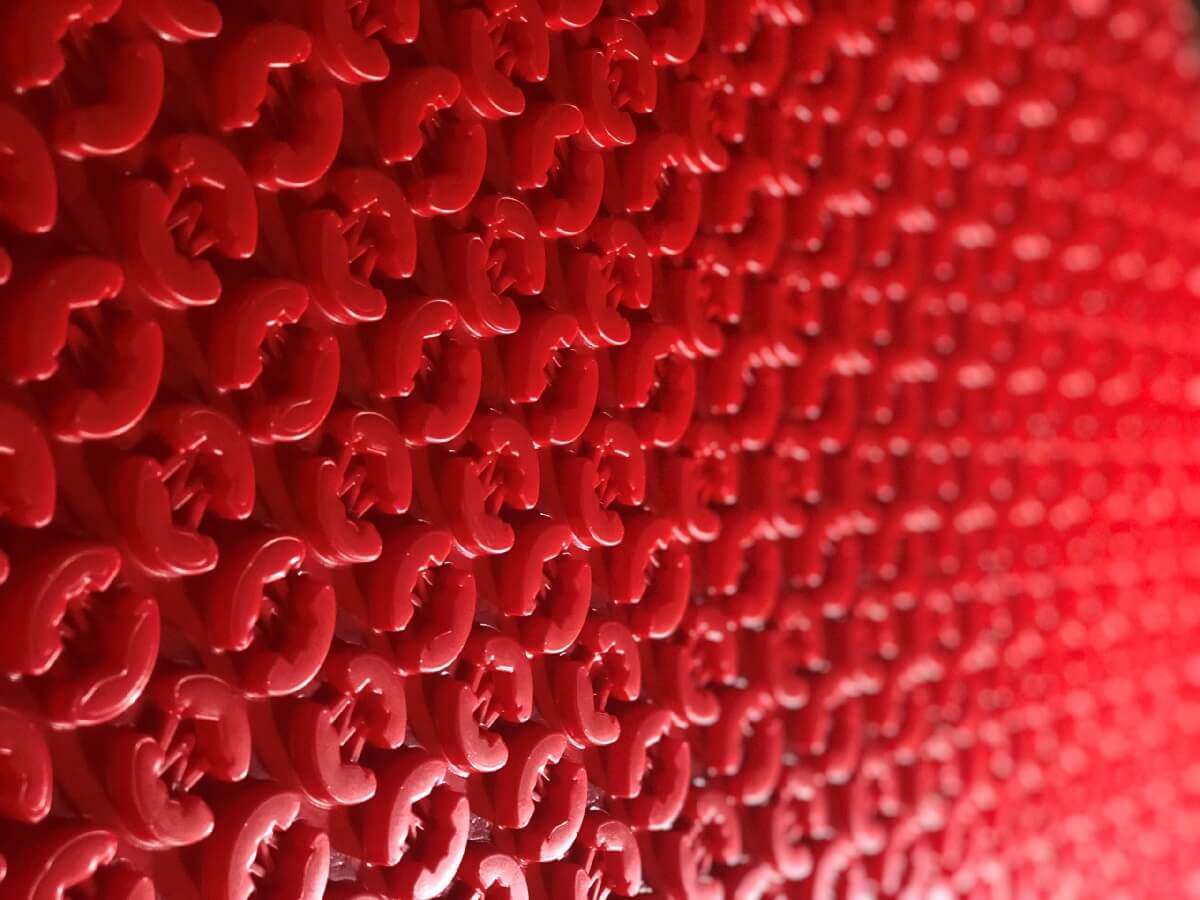 Rapid UFH Installation
With an updated castellation design, DCM-PRO offers a quick and hassle-free installation of Warmup Underfloor Heating. The dimensions of the membrane are designed for convenient sizing so that 2m² of heating cable fits exactly 2m² of membrane. The spacing of the cable can, however, be adjusted to increase or decrease coverage and power. You don't need any tools to install the system – simply position the heating cable by hand within the castellations of the membrane.
DCM-PRO can be tiled directly onto, or it can be covered with a layer of self-levelling compound if using with any other floor finish that is certified for use with underfloor heating. This system features Warmup's market-leading warranty for guaranteed performance.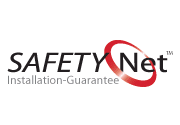 Safety Net Installation GuaranteeIf you accidentally damage the heating system during installation, return it to Warmup and we will replace it with another heater of the same make and model free.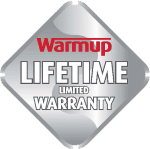 Lifetime Limited WarrantyThis product comes with a Lifetime Warranty. We are completely confident in the standard of our products.
Technical Information
Product Documentation



Technical Specifications DCM-PRO Cable

| | |
| --- | --- |
| Operating voltage | 220-240V: 50Hz |
| IP Rating | IPX7 |
| Colour | Blue |
| Thickness | 4.5mm (± 0.2mm) |
| Output rating | 150w/m² (3 Castellations – 90mm) |
| Inner Insulation | Advanced Fluoropolymer (ETFE) |
| Min. Insulation Temp | 5°C |
| Connection | 3M Long 'Coldtail' Connection |
| Approvals |     |



Technical Specifications DCM-PRO Mat

Dimensions

→ Roll [14m²] – 14,250mm (±50mm) x 985mm (±6mm)
→ Mat [0.73m²] – 985mm (±6mm) x 741mm (±6mm)

Thickness

→ Peel and Stick – 5.8 mm (±0.5mm)
→ Fleece – 6.1 mm (±0.5mm)

Composition
POLYPROPYLENE MEMBRANE WITH SELF-ADHESIVE OR FLEECE BACKING
Colour
Red
Spacing
60mm, 90mm & 120mm
Matt
.73m² sheet / 14m² roll



Floor Sections



Price Guide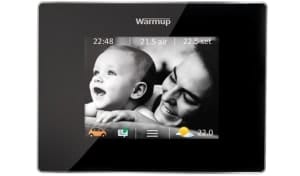 Thermostat
Choosing the correct control system is crucial in ensuring that your heating system works in the best possible way, efficiently and easily.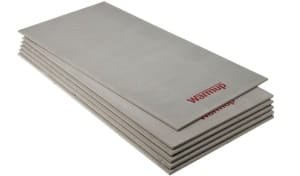 Insulation Boards
Using Insulation Boards with under floor heating significantly reduces the heat-up times and running costs.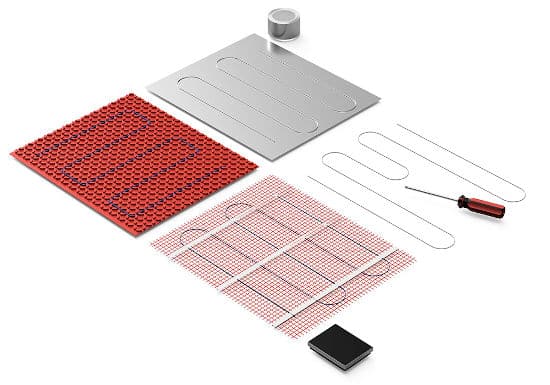 Get a Free Instant Quote Today
Offering great value for money and quick installation times, discover the perfect electric floor heating system for your home.