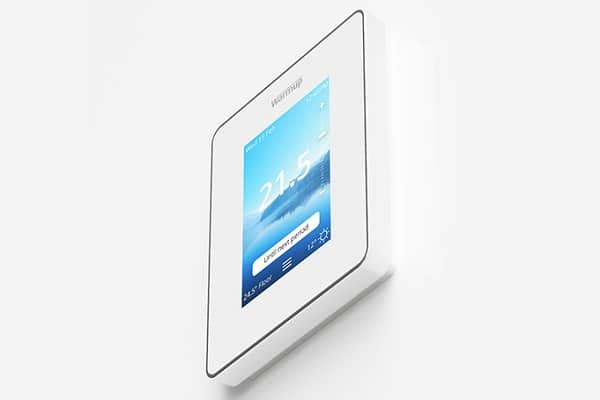 Working automatically, with wireless communication and app-based technologies, Warmup's range of smart thermostats are our most advanced controllers. Enjoy optimised heating, effortlessly.
View Product ➝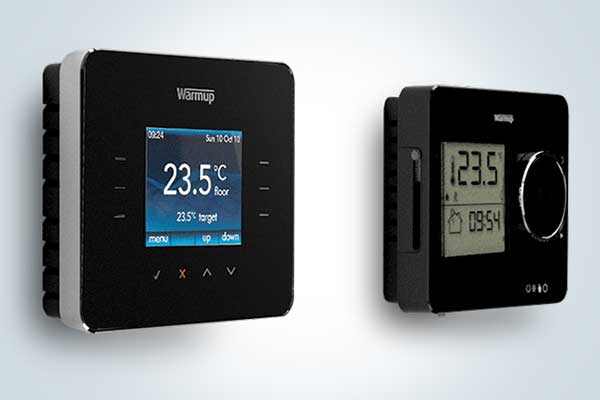 Simpler than our Smart Thermostats, Warmup's Programmable Thermostats are intuitive to use and allow you to easily set up ideal heating programmes.
View Product ➝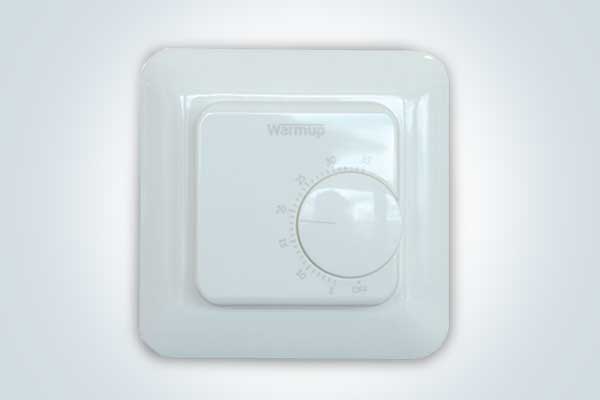 If you prefer a simple, dial-based thermostat to control your underfloor heating system, have a look at Warmup's range of Manual thermostats. Easy to use – just twist to control for immediate heat.
View Product ➝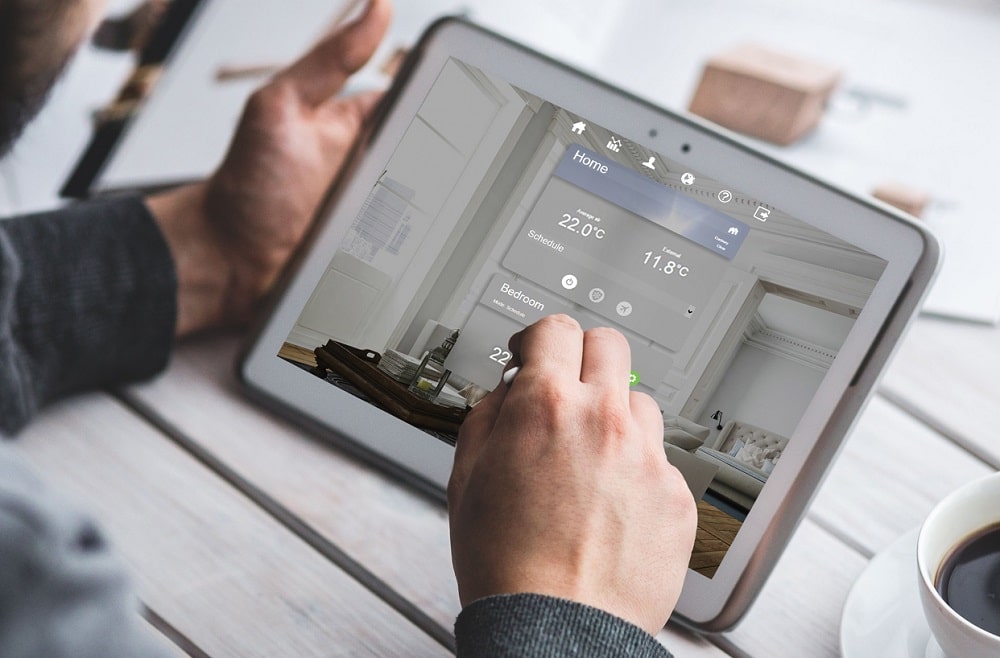 Intuitive, Energy-Saving Heating Controls
Underfloor heating systems offer a more sustainable, energy-efficient way to heat your home. To enhance the efficiency of your floor heater, a system-dedicated heating controller is recommended for a truly personalised heating solution whilst helping you avoid energy wastage.
Our Smart thermostats can learn your habits, making sure your home is always at the right temperature, at the right time, for you. These controllers utilise Smartphone-based technology such as the MyHeating app which provides remote access to your heating system, automatic heat functionality and can help save you money on your heating bills too.
Another great way to make savings on your energy bills is by using a tariff switching tool such as Warmup's AutoSwitch™ app. AutoSwitch searches the marketplace for the best value energy tariff for your needs and switches you automatically, every year. Using the MyHeating and AutoSwitch apps alongside our 6iE Smart WiFi Thermostat can save you over £400 a year on your energy bills.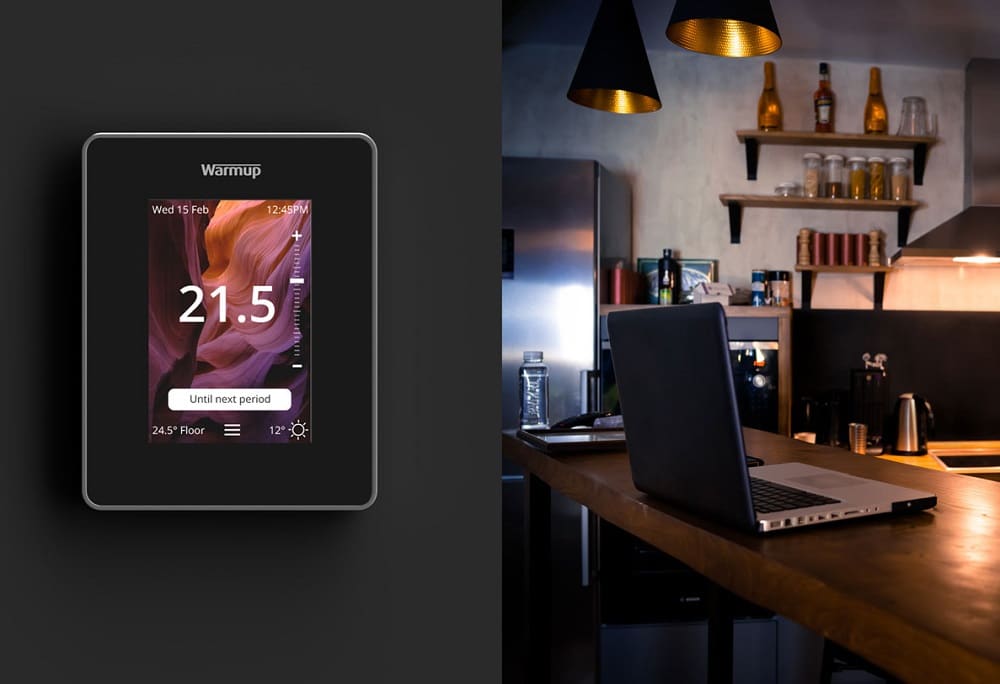 Choose the Best UFH Thermostats for Your Home
Whether you are looking for a simple, dial-based electric underfloor heating thermostats or a technologically advanced Smart wireless thermostat for water and electric floor heaters or central heating systems, we have a variety of options to suit all your heating requirements. Avoid wasting energy and achieve big savings on your energy bills by installing a Warmup thermostat in your home.
Choosing the correct thermostat is crucial to ensuring that your heating system works effectively, efficiently and easily. Our thermostat buying guide is a great resource to help you select the best thermostat for your needs.
FAQ's About UFH Thermostats
Can I control a thermostat remotely?

Our Smart Thermostats allows remote access to your heating system via the MyHeating app for Smartphones or through the My Warmup online portal.



Can I connect a Warmup thermostat to my other Smart home technology?

Warmup's Smart Thermostats are compatible with other Smart technology through the IFTTT (If This, Then That) platform – allowing you to link the thermostat with your home's voice assistants such as the Amazon Echo.



How much energy could I save with a Smart thermostat?

Using Smart multi-zone thermostats to control your home heating means only the rooms that are required to be warm are heated, reducing the total energy used by your home by up to 25% compared to more basic thermostats.



Can I install a room thermostat myself? 

All wiring and electrical work involved in installing heat controls must be completed by a qualified and certified electrician.



When making the electrical connections to the thermostat, how many heaters can I fit into the terminals before needing a junction box?

Ensuring the total load does not exceed the maximum rating of the thermostat, two heaters can be connected before requiring a junction box.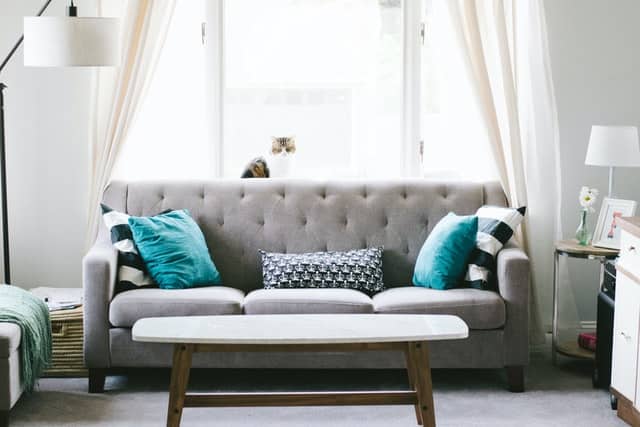 How to Improve Your Home's Energy-Efficiency
Learn how to reduce your home's carbon footprint with our expert guide.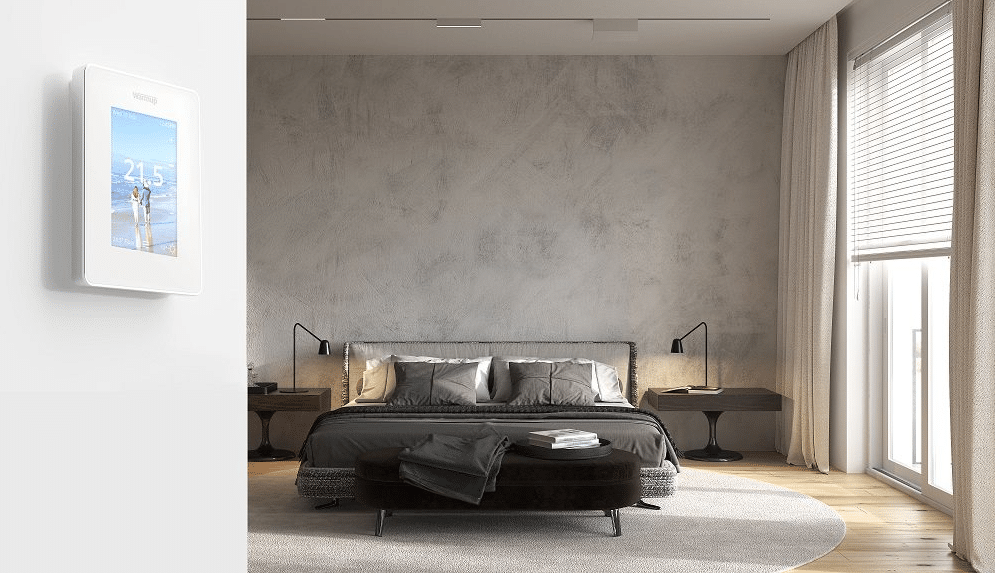 Controlling Your Floor Heating with the 6iE Smart WiFi Thermostat
Discover the many benefits of the 6iE Smart WiFi Thermostat, our latest innovation in underfloor heating control.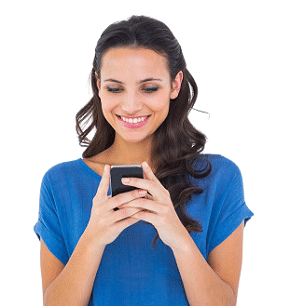 Get a Free Instant Quote Today
Transform the way you heat your home with Warmup, the world's best-selling floor heating brand.