As energy prices rise, assessing your home's heating system to ensure it is running at its most efficient is a great way to reduce costs. In this guide we'll discover the many benefits of creating a 'zoned' underfloor heating system in your house – a smarter method of heating that can cut your energy bills whilst reducing carbon emissions. You'll learn:
What multi-zone heating means
How a zoned heating solution improves energy-efficiency
How an underfloor heating system provides zoned heat
The best thermostats for multi-zone control
How to purchase and install a multi-zone UFH system
What is a multi-zone heating system?
Simply put, multi-zone heating means separating your home's heating system into different 'zones' which will allow you to heat specific areas of the house independently to each other. For instance, treating your living room and kitchen as one zone, your bedrooms as a second zone and your bathrooms as a third zone. So, if you're looking at saving money on your heating bills in the winter months, you could warm the main living area of the home to your preferred temperature whilst keeping the current unused areas such as the bedroom, cooler.
Our range of underfloor heating systems offer this kind of precise zoned heating control, improving your home's sustainability, functionality whilst reducing the costs of your energy bills.
Will installing a multi-zone heating solution improve my home's energy-efficiency?
Using multi-zone heating in your home dramatically improves the energy-efficiency of your heating system. Energy usage in buildings accounts for a large proportion of global C02 emissions, so by making our homes more efficient by using cleaner, more sustainable energy solutions and concurrently reducing our energy wastage, we can help prevent further damage to our environment.
With the ability to heat different areas of your home in isolation from each other, zoned heating systems offer you a simple way to cut down your energy use. Overheating a space, or heating an unoccupied space, can not only create an uncomfortable house but it will also waste energy and result in increased heating bills. Homes with underfloor heating are much more comfortable and up to 40% more efficient than homes using central heating systems. Read our expert article to discover how to save money on your energy bills with underfloor heating.
How does underfloor heating facilitate zoned heating?
Underfloor heating provides a multi-zone heating approach by design and is a much more energy-efficient heating method than traditional heat options.
Floor heaters utilise radiant heat technology to warm a room from the ground up and directly into people in the space, as opposed to central heating which just heats the air of a room therefore wasting significant energy. UFH systems also require less energy to reach ideal comfort levels and with this increased efficiency you can dramatically reduce both the carbon footprint and running costs of your home.
Our range of electric floor heating systems are primarily installed as secondary heat sources in home renovation projects. You can install an electric underfloor heating kit in just one room of your home to work alongside your existing heating system or install multiple electric systems throughout the house. This means the electric heater can be treated as a separate 'zone' which can be independently operated via use of a zone-specific underfloor heating thermostat.
Looking to install underfloor heating as the primary heating source in your home? Warmup's water underfloor heating systems are perfect for new-build projects and larger home refurbishments. Wet systems provide a multi-zone heating approach through the use of inter-connected 'circuits' of heating pipework whereby heating pipes are installed as loops in the sub-floor before being connected to the manifold – each separate circuit being treated as a specific heat zone.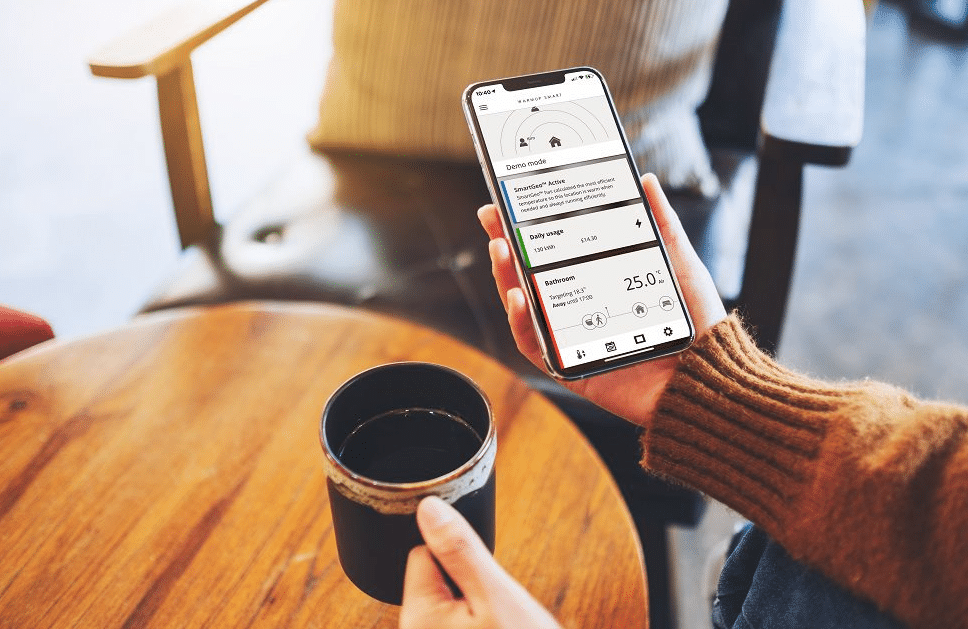 How do I use a Smart thermostat to control multiple zones?
To control the multiple zones of an electric or water floor heating system, a zone-dedicated room thermostat is required for accurate heat control. Our collection of Smart Thermostats can maximise on the energy-efficiency of a zoned heating system, providing you with greater energy conservation and increased cost savings.
The 6iE Smart WiFi Thermostat is our latest innovative in floor heating temperature control. It features a clear touchscreen to intuitively set up personalised heating programmes – allowing you to enjoy bespoke temperature regulation for each heating zone.
The Konekt Wireless Control System is an easy-to-use heating controller for water underfloor heating systems. The Konekt's Smart technology allows you to set-up personalised and automated heat schedules in different parts of your home with the option of grouping heating zones together for even greater comfort and efficiency. You can also use the Konekt Wireless eTRV Controls to recalibrate your existing central heating system as a multi-zone heating system. Simply fit an eTRV on to each radiator to create different zones.
Using Warmup's MyHeating Smartphone app alongside your thermostat allows you to control your heating system from wherever you are and can help improve your heating system's efficiency. MyHeating utilises our unique SmartGeo technology to automatically set the most efficient temperatures for your home, helping to reduce energy usage by up to 25%. If you're installing a floor heating system in multiple areas of your Smart home, you can also group your thermostats together using a Building Management System.
How do I buy and fit a multi-zone heating system?
You can find out how much a multi-zone underfloor heating system will cost for your home by using our online quote tool. Just enter the details of your project and we'll instantly let you know the best heating system for your needs and tell you exactly how much it will cost. As discussed, you can buy a floor heater for just one zone in your home to work alongside your existing heating system or purchase a complete multi-zone floor heating system to bring radiant warmth to your whole house.
The cost of installing a multi-zone heating system will vary depending on the specifications of your project. If you're looking for a heating system to use in just one zone, many of our electric systems can be installed in under a day in a smaller room and installers will typically charge between £200 – £300 a day for their work. Installing a larger, multi-zone system with either an electric or water UFH system will take longer and therefore cost more.
All Warmup zoned heating systems come with market-leading warranties for your peace of mind and we offer 24/7 customer support for all your queries. You can use our online Store Locator to find your nearest Warmup stockist and purchase an energy-saving, multi-zone heating system today.