As working from home becomes more common for businesses across the world, creating a dedicated office space in your house is a popular idea that can improve your work-life balance. In this guide we'll explore some of the best ideas to help you design a new home office while also showing you how to keep it warm and cosy all year round with underfloor heating. You'll find out:
How a dedicated home office can help your work
Great design ideas for workspaces
The best heating systems for home offices
The cost-savings of UFH
Where to buy an office UFH system
The benefits of a home office
Whether you're working from home full-time, one or two days a week or working on a secondary business in your own time, there are many advantages to having an at-home office. Creating a separate space in your house to work in helps facilitate a healthy division between your professional life and personal life, giving you a purposeful space in which to focus.
Considering creating a new office in your home? You could convert an existing room or area into a workspace or look at building a new extension, garden room or loft conversion to create a more substantial office area. Turning a spare bedroom into an office is typically the easiest solution but there's more to offices than a simple desk, chair and computer. Think about using this kind of home renovation project as a way to really make an inspiring new area of your home; a stylish environment which will improve your daily routine whilst also potentially adding thousands of pounds to the value of your home.
Home office design ideas
Whether your home office is housed in a spare room or a new-build extension, ensuring that the space is well lit and ventilated is key. Fresh air and natural daylight create a healthier environment, helping you to stay focused on your tasks. You should also think carefully about the colour palette and textures of the room; lighter wall colours and clean lines are considered preferable for spaces we spend a lot of time in. In terms of furniture, a high-quality desk, positioned at the correct level and an ergonomic chair are key and good storage is important too. Look at finding vintage cabinets or contemporary shelving units that keep paperwork out of sight.
Popular heating options for home offices
Making sure your new office is warm and comfortable for those chilly mornings and throughout the cooler months of the year is important when working from home. However, many traditional heating solutions for home offices have drawbacks that can impinge on your new space. Wall mounted radiators can take up valuable wall space, electric convector heaters and oil filled radiators aren't recommended for long periods of use and a wood burning stove emits a large amount of harmful CO2.
Underfloor heating is a great idea for your home office. A floor heater uses radiant heat technology to directly warm the people in the space which is a much more energy-efficient method of heating than the more traditional heating options. Floor heating also provides a more discreet way to heat a room, with no need for visible pipework that will impact on your interior design.
Our wide range of electric and water UFH systems provide luxurious radiant warmth for offices of all sizes and all floor coverings.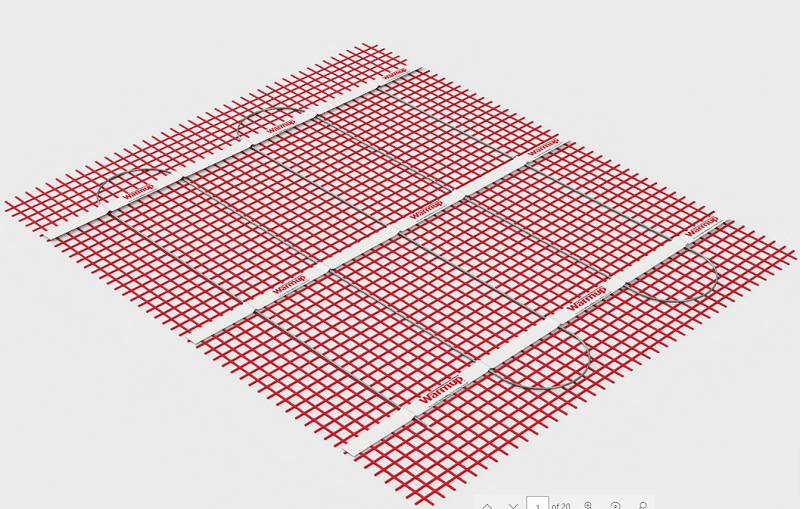 Choosing the best electric floor heater for your office
If you're considering creating an office area in an existing room in your home, an electric underfloor heating system would be a great choice. Electric floor heaters won't impact on floor heights, featuring a slimline heating cable or a heat mat that is installed beneath the room's floor finish to radiantly heat the room above using electricity.
Selecting the best electric system for your office will be based on the needs of the room; it's layout, floor finish and sub-floor type. Warmup's StickyMat is a popular heating solution for many home offices. Available in a range of sizes and featuring a self-adhesive backing, the StickyMat can be rapidly fitted by a qualified installer and is ideal for regular-shaped office areas.
Which water underfloor heating system would be good for a new-build office?
Building a new-build office in an extension or annex? Think about installing a Warmup water underfloor heating system. Water systems (also referred to as wet or hydronic systems) pump heated water through pipes installed as part of the office's subfloor, so they typically require a deeper installation than electric systems. They can be used with either a gas-based or biomass boiler or heat pump.
A flexible hydronic option for your office would be the Total-16 Low-Profile System. With a system depth of just 16mm, the Total-16 System is perfect for use in both new-build projects and home refurbishments. These systems offer even lower running costs than electric systems, so if you're planning a large-scale home renovation it's definitely worth considering installing a whole-house system to lower your home's heating bills and carbon emissions. All floor heating systems should be installed with good-quality insulation to help keep the radiant heat produced by the system within the space.
What are the costs of UFH for office spaces?
Underfloor heating is often much less expensive to purchase and install than you may think and the low running UFH costs if offers can save you substantial amounts of money on your energy bills too. The cost of installing a floor heater in your home office will vary depending on your chosen system, the requirements of your project and where you are located. An average price for a fully-trained UFH installer should be around £200 – 300 a day and many electric systems can be fitted in a smaller room in under a day.
Controlling your heating system with a Smart Thermostat is a great way to enhance the energy-efficiency of the system and enjoy even greater savings. Using a Warmup UFH system with a Smart underfloor heating thermostats and its accompanying Smartphone apps could reduce your annual energy bills by up to £400.
Where to buy a floor heater for your home office?
Get a free instant quote using our online tool to find the perfect UFH system for your office. With just a few key details about your project, we'll select the best option and let you know exactly how much it will cost to purchase too. Prices for the StickyMat System start from just £51.17 /m² (+ VAT).
You can buy a Warmup hydronic system directly from Warmup online or can purchase any system in-person at one of our many stockists across the country. Use our online store locator to find your nearest retailer.