Why Install Underfloor Heating?
Underfloor heating is often quicker and easier to install than you might think. Our range of electric and hydronic systems can be installed in both renovation and new-build projects, offering a contemporary, efficient heating solution. Installing a floor heater in your project provides an 'invisible' heating solution that will not compromise your design ideas whilst its increased energy-efficiency can offer lower long-term running costs compared to more traditional heating methods. Our range of products feature globally recognised accreditations and our research and development-led approach to design makes us trusted by architects, builders and home-renovators around the world.
Find out everything you need to know
Best System to Install
A key decision to make when considering floor heating in your upcoming project is whether an electric or water system is the best option for you.
Installation Methods
Our range of systems can be installed with almost any floor finish, but certain floor coverings require heater-specific installation techniques.
Costs of Installing UFH
UFH should be installed a qualified installer and many of our electric systems offer rapid installation times - allowing great value-for-money.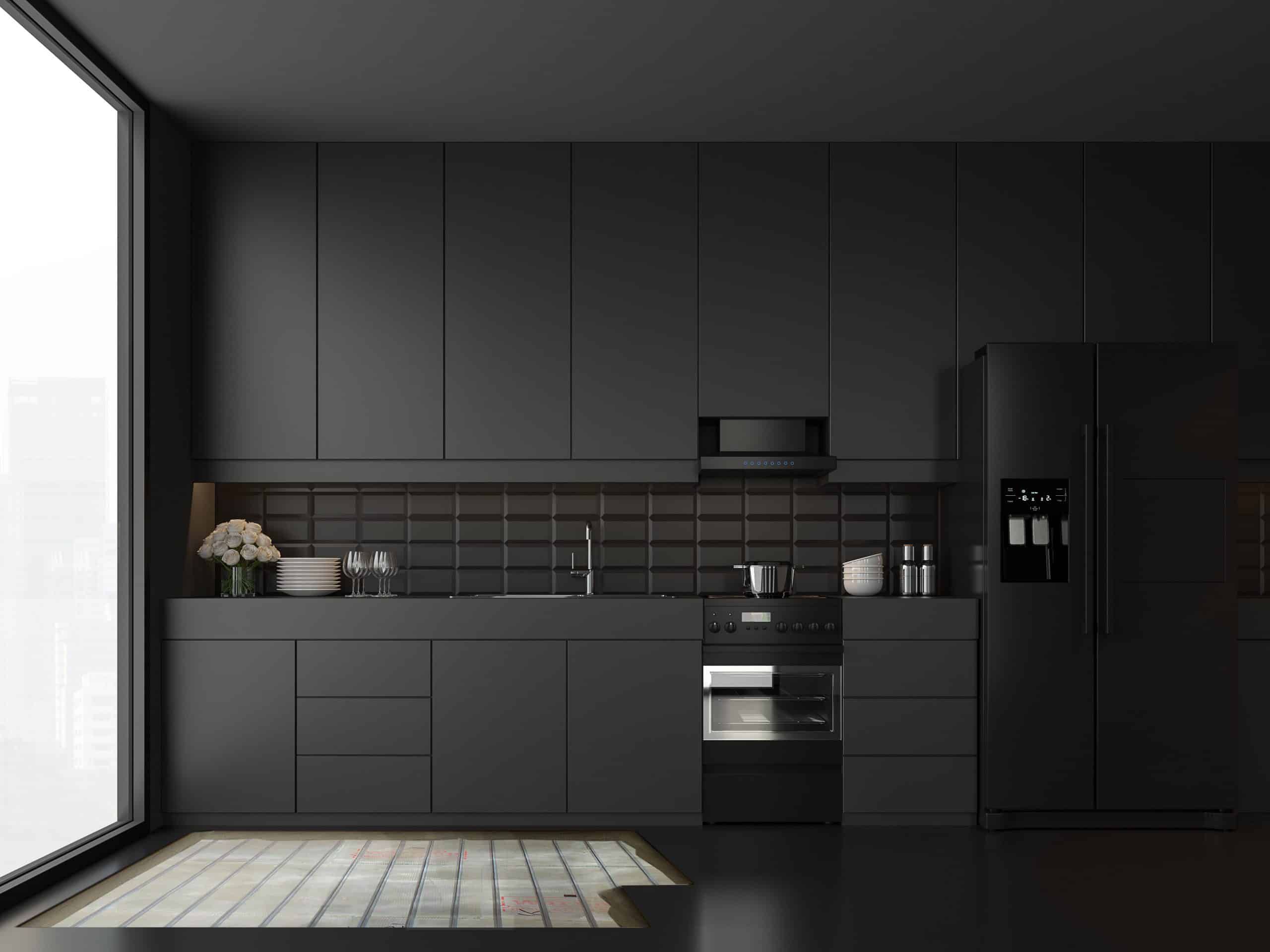 What is the Best System to Install?
To work out which system is best for your project, consider the room type, the size of the project and whether you will be installing a heater into a new-build or retrofitting into an older property.
Electric systems offer rapid installation times, have low-profile system dimensions and can be used in almost all project types. Electric floor heaters are available as either a Heating Mat system or a Heating Wire system.
Water systems typically have a thicker build height than electric systems; with the heating pipes installed within a screed layer as part of the floor construction. Water systems take longer to install but offer lower long-term running costs than electric floor heaters.
We would recommend one of our low-profile electric systems or our Total-16 hydronic system if you are retrofitting a heater or if your project has fixed ceiling heights. If you are building a home from the ground up, consider specifying a water system during the design stages of your project to take its dimensions into account.
Insulation is key to maximising the energy-efficiency of an underfloor heating system. A well-insulated room will keep the radiant heat produced by the system within the space and all our systems are designed for use with either their inbuilt insulation layer (as in the case of our water systems) or with our Insulation Boards which reduced heat-loss and create a more responsive system. We recommend carrying out a heat-loss calculation before specifying a floor heater.
Installation Methods for Electric Systems
Our electric heaters are available as a mat or wire-based system and all electric systems are installed directly onto a layer of insulation as part of the subfloor. The StickyMat™ features heating wires ready-spaced and connected to a self-adhesive backed matting for quick installation. The Loose Wire System meanwhile, requires the heating wire to be connected manually to the subfloor. All electric systems must be connected to the mains electricity source by a qualified electrician.
Self-adhesive Backing
Some electric heating mat systems feature a self-adhesive backing for rapid installation times, requiring no need for a separate adhesive to attach the heater to the subfloor.
Inscreed Rails
The Inscreed Cable System utilises a series of rails which hold the cable in place within the layer of concrete screed.
Castellated Mat
The membrane of the DCM-PRO Heated Decoupling System features a unique castellation design for the heating wire to be positioned into using just your hands.
Tape
The Loose Wire System comes in the form of a kit including specialist tape to install the heating wires directly to the subfloor.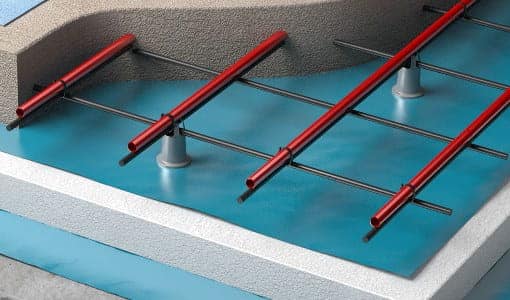 Installing Hydronic Floor Heating
Our water underfloor heating systems are available as either a 'dry' or 'wet' installation type. Systems such as the Clypso and Nexxa Panel require being installed within a layer of concrete screed. A 'dry' option for a hydronic system installation would be the Eccona Joisted Floor System, which can be installed without the need for screed and features aluminium diffusion plates for great heat distribution.
Clips
Some hydronic systems such as the Clypso System, utilise clips which secure the heating pipes to the layer of insulation, keeping them in their precise position.
Aluminium Diffusion Plates

Systems such as Total-16 and Tectora feature diffusion plates in which to install the heating pipe. These plates evenly spread heat across the entire floor surface.
Castellated Mat

The Nexxa Panel System uses a castellated membrane on which to position the heating pipe in an optimal layout design.
Rails

The Metro Rail System utilises rails which connect to the insulation panels and holds the heating pipe in place.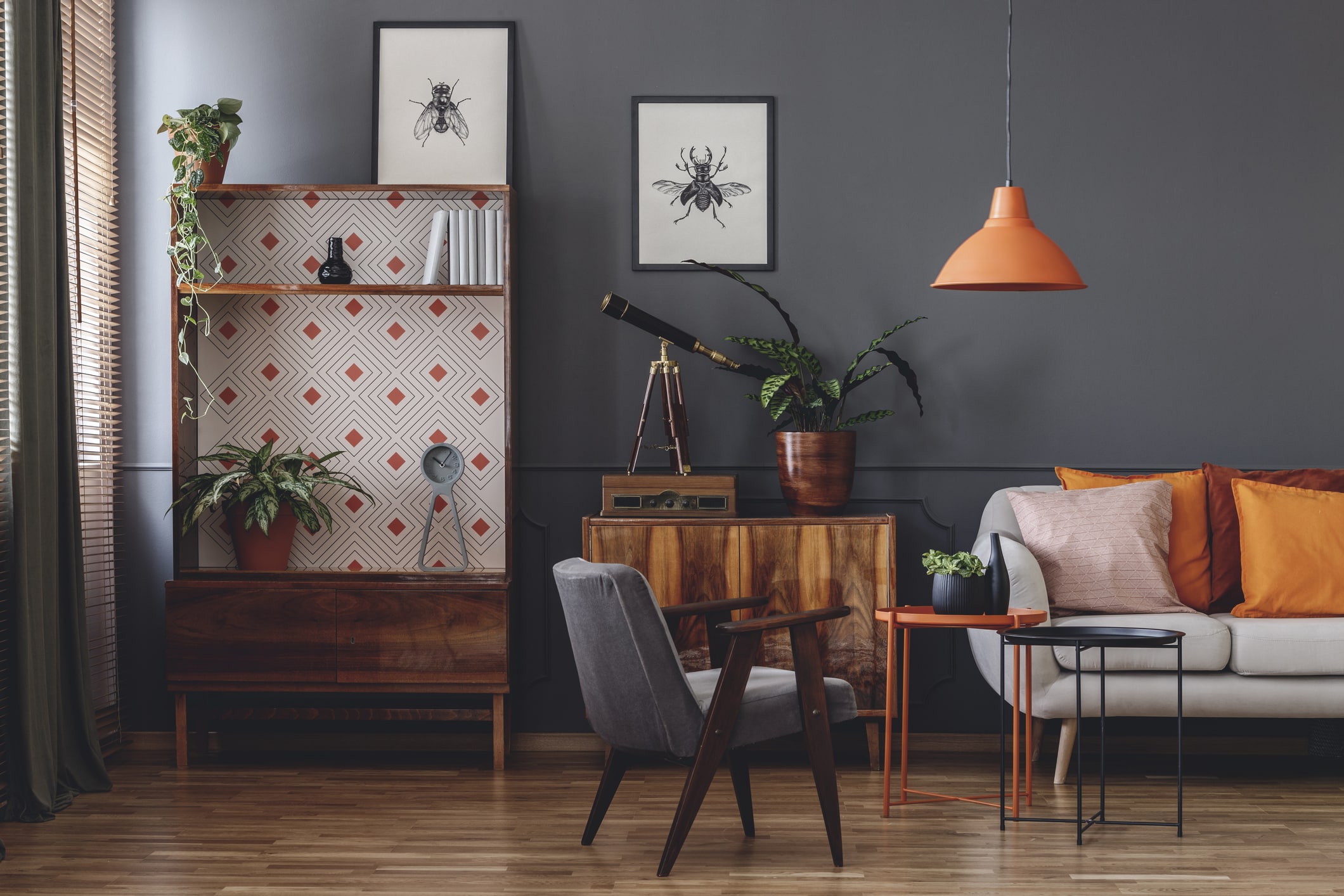 Cost of Installing a System
The cost of installing floor heating in your project depends on the size and scope of your project, the system used and the rates of your installer, which can vary region-to-region and tradesman-to-tradesman. A suggested pricing of about £200 – 300 per day would be a reasonable estimate for a fully-qualified installer and, generally speaking, it takes one day to install most floor heating systems in one room.
Learn about Floor Heating Costs >
Installation Guarantee
All our products are covered by extensive warranties for your peace of mind, with many of our electric floor heaters coming with lifetime guarantees. Our renowned SafetyNet™ Installation Guarantee also protects you against any accidental damage caused to a Warmup system during the installation process. For instance, if your installer accidentally cuts a heating wire in one of our electric heating mats, Warmup will provide a replacement heater, free of charge. Always make sure to complete your guarantees within 30 days of purchase.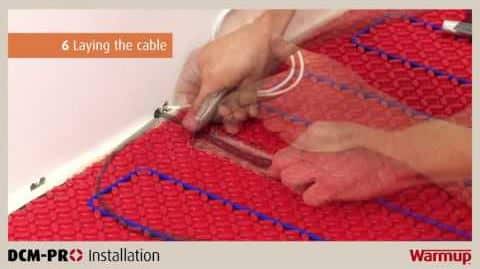 Videos
If you'd like step-by-by guidance, we have a range of instructional videos on how to successfully install an underfloor heater. Installation and informational videos are available for a selection of our electric systems, hydronic systems and thermostats, watch now for further information about the benefits of installing a Warmup system.
Manuals and Instructions
All Warmup products come with accompanying easy-to-read installation manuals and technical specification sheets. Our product literature provides in-depth guidance for underfloor heating installation queries, offers troubleshooting advice and explores any other components you may need in your installation.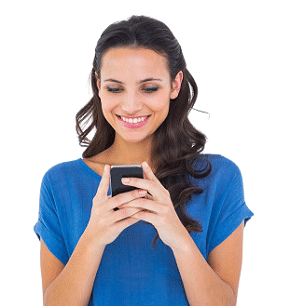 Are you an Installer?
As a popular heating solution in homes across the world, many plumbers, tilers and electricians have become experienced at fitting floor heating systems and we recommended always hiring a fully-qualified installer who has experience in this area. If you are an installer of underfloor heating systems consider joining Warmup Pro, our new community of approved installers.