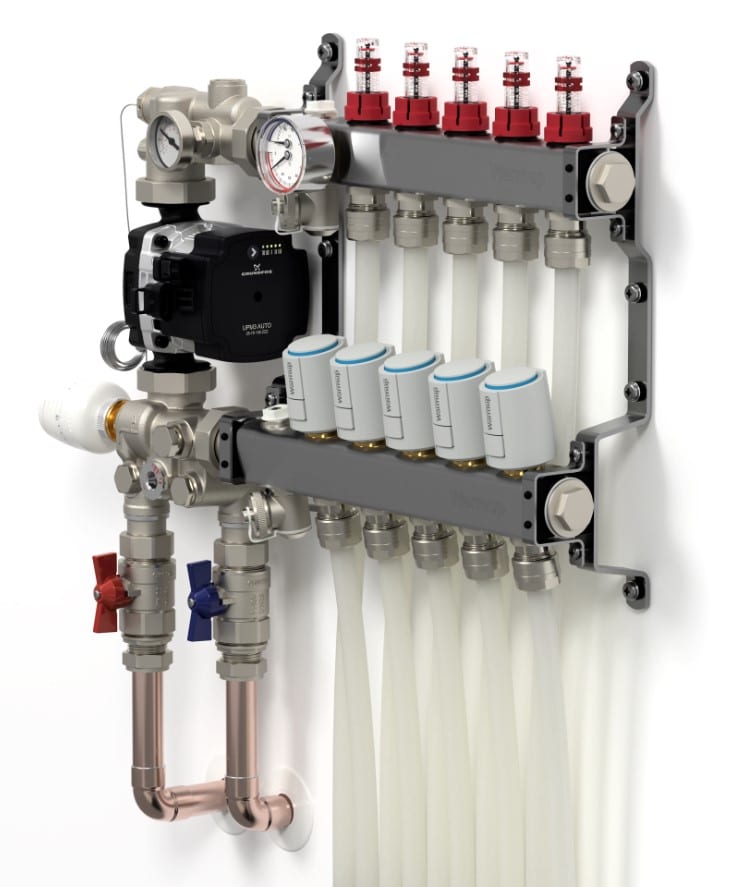 The Heart of Your Warmup Water Underfloor Heating System
The S3 Manifold ensures operational precision and utilises top of the range components for long-lasting, best-in-class performance. It is constructed from a single piece of 304-grade, laser-etched Stainless Steel for high corrosion resistance with no welds that might corrode and leak over time and provides control for up to 12 heat zones.
The Manifold's Taconova flow meters improve accuracy and reliability for faster commissioning with lock rings to prevent tampering with the commissioned settings and memory rings that enable the valves to be closed and re-set quickly and confidently during commissioning or maintenance.
The Thermomanometer (combined Pressure and Temperature Gauge) on the flow arm facilitates pressure testing of multiple manifolds simultaneously and allows even easier operational checks. And the Manifold's standard 3/4″ Eurocones make it compatible with a wider range of heating pipes and fittings. Warmup's S3 Mixing Unit, Actuator, Isolation Valves and In-Wall Manifold Cabinet are available separately.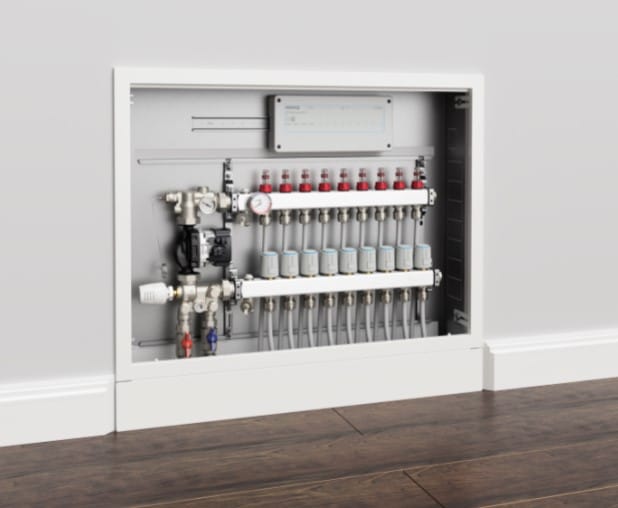 The In-Wall Manifold Cabinet - Secure Housing for Warmup's S3 Manifold
The In-Wall Manifold Cabinet provides a secure installation for the S3 Manifold. It is available in multiple widths for use with different manifold sizes: 600mm for 2-3 Port Manifolds, 750mm for 4-6 Port Manifolds, 900mm for 7-9 Port Manifolds and 1050mm for 10-12 Port Manifolds.
It also offers an adjustable internal depth and height for a truly bespoke installation. And with a high-quality finish, the In-Wall Manifold Cabinet features a powder coated door and front panel with a galvanized sheet body for high corrosion resistance.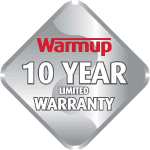 10 Years Limited Warranty The Warmup S3 Manifold is engineered for easy installation, commissioning and years of trouble-free service. Each manifold arm is forged from a single piece of seamless stainless steel and equipped with high quality components for a market leading specification that is backed up by the Warmup 10 year warranty.
You may also be interested in: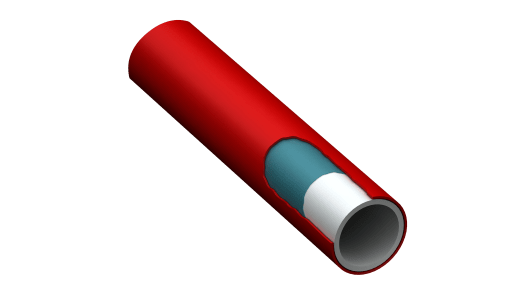 Pipes
Select from a choice of 3 pipe types; PEX-A, PE-RT and PE-RT/AL/PE-RT – tailored to your specific installation and budget.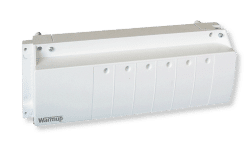 Control Center
All hydronic systems require a control centre that works with the thermostats and heat source, such as a boiler or heat pump.
Get a Free Quote and Order Online Today
Use our online quoting tool to find the best hydro underfloor heating system for your project and purchase it directly from Warmup.