Tectora Joisted Floor System
The Warmup Tectora System is designed for use within either battened or suspended timber floors, including TJI joist constructions.
 Ceramic, Stone, Wood / Laminate, Vinyl, Carpet
  Small & Large Areas
  Regular & Irregular Shapes
  New Build
  Refurb
  Timber Suspended & Batten Floors
Tectora Joisted Batten Floor System is particularly suitable where there is a sprung/cradled battened floor or floor joists. It is used in battened installations over a concrete subfloor, variable height floor battens are employed to create a void of between 50 to 100mm. The batons can be sprung or on cradles to create an acoustic floor.
For this installation, a diffusion plate system is generally used if standard installation types are not suitable. For installing as a joisted system, the rigid insulation is placed between the joists to support the diffusion plates, as they span the joists.
For installation under tiles as a final floor finish, additional layers of plywood or tile backer board may be required to create a rigid base.
The Tectora Joisted Batten Floor System is suitable for almost any floor finish, in particular wood or engineered wood.
Diffusion plates spread heat efficiently
Without increasing floor build-up.
System promotes fast heat-up response times
Holds the pipe at the correct level prior to screeding to ensure there are no hot spots.
No screeding required
Holds the pipe at the correct level prior to screeding to ensure there are no hot spots.
Safety Net Installation Guarantee
If you accidentally damage the underfloor heating pipe during installation, return it to Warmup and we will replace it with the same size and make of pipe for free.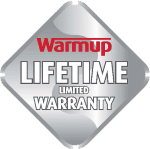 Lifetime Limited Warranty
The length of the warranty period depends on the type of pipe you choose. When you install this system with the Warmup PEX-a pipe, the pipe comes with a Limited Lifetime Warranty.
Installing this product? You will also need: