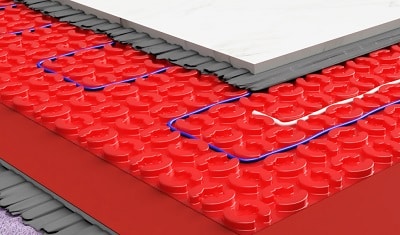 DCM-PRO is a heated decoupling system designed for fast installation in all areas. Ideal under tiles because the system protects the tiled flooring from cracks and gaps occurring caused by seasonal temperature changes.
View Product ➝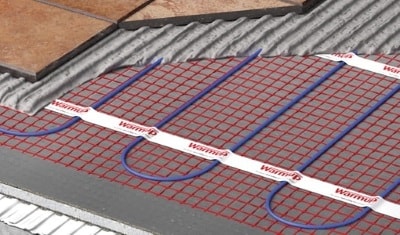 StickyMat features an ultra-thin 1.8mm wire that does not raise the floor levels. The system consists of a pre-spaced heating wire attached to an adhesive mesh that can be simply rolled over the floor.
View Product ➝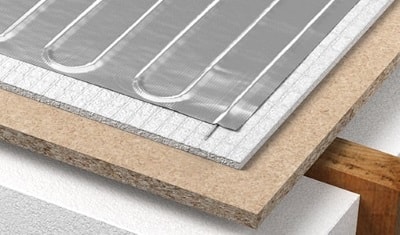 The Foil Heater System is ideal installed under soft floor coverings or floating floors. It is especially suited for regular shaped areas and it offers a 'dry' installation with no screed or self-levelling required.
View Product ➝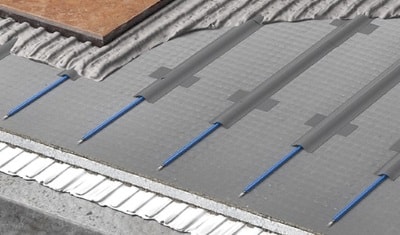 The Loose Wire System is a flexible and durable heating cable suitable for irregularly shaped rooms and areas with a lot of permanent fixtures. It can easily be manoeuvred around room fixtures and corners.
View Product ➝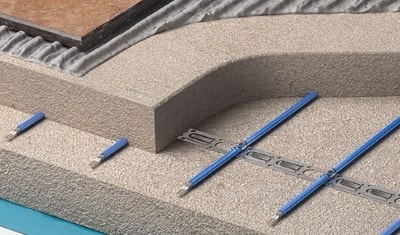 Inscreed Cable is designed for installation in concrete screed. Suitable for almost any floor finish and especially for areas where the floor covering may be subject to change multiple times in the heater's lifetime.
View Product ➝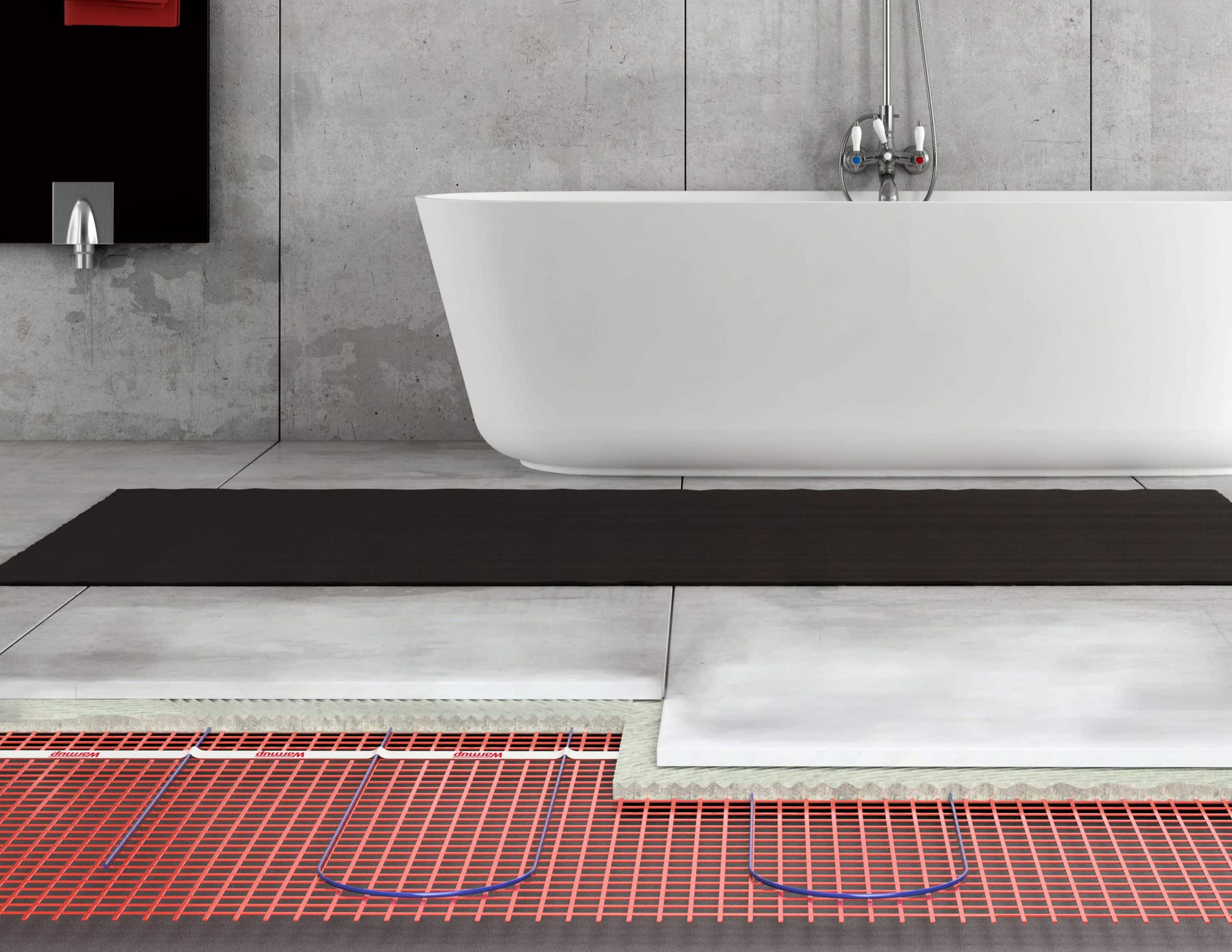 Electric Heating Mats
Electric underfloor heating mats are ideal for renovation projects, offering a low-profile heating solution and rapid installation times. All Warmup's electric floor heaters use BEAB, VDE or FIMKO -approved, ultra-thin heating elements to quickly yet gently heat the floor surface. There are two key Warmup electric floor heating mats; the StickyMat and Foil Heater.
StickyMat System
The Warmup StickyMat heating mat is a super thin electric underfloor heating system that does not raise floor levels, taking the form of pre-spaced cables attached to a sticky mesh backing. Our StickyMat 3D System has been specifically developed to bring radiant warmth to bathroom walls. The StickyMat heating mat comes in two different outputs: 150W/m2 and 200W/m2. The higher output is designed specifically for high heat loss areas, such as conservatories.
Foil Heater
Warmup's Foil Heater is designed for installation under wood and laminate flooring or under soft and resilient floor coverings such as carpet, vinyl, and other floating floor finishes. The Foil Heater system is especially suited for large and regular shaped areas. The Foil Heater's aluminum foil spreads the heat effectively and therefore the Foil Heater's heat output of 140W/m² is adequate for most heating needs.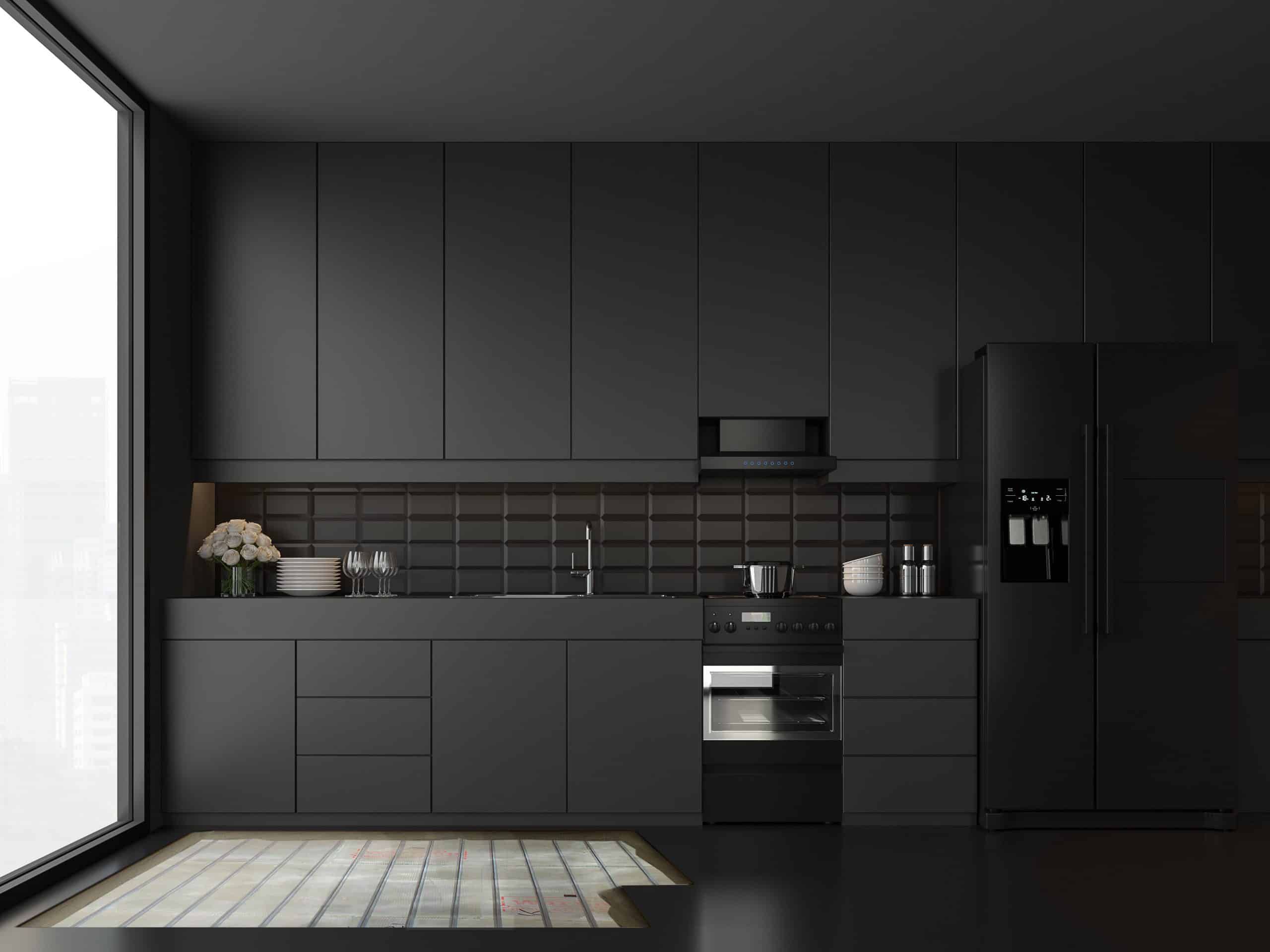 Electric Heating Cables
Heating cables provide a flexible electric underfloor heating solution for irregular-shaped rooms or rooms featuring many fixed objects.
Warmup heating cables and Loose Wire systems come without a membrane and are specifically designed for areas where you have many fittings to work around or irregularly shaped rooms when installing underfloor heating.
Loose Wire System
The Loose Wire System (DWSWire System) is an incredibly flexible and durable cable that can easily be maneuvered around fixings. Loose Wire comes in a minimum heat output of 150W/m² but it's variable depending on the spacing. The Loose Wire system can be bought as an electric underfloor heating kit that contains all the essential elements for it's installation; the heating cable, primer, tape, roller and the installation manual.
Inscreed Cable System
The Warmup Inscreed Cable is 6mm thick and is an ideal solution for heating screeded floors of any size. One of the most recommended screedings in the market to use are from Instarmac UltraFloor. Once installed, the underfloor heated screed can be covered with any flooring.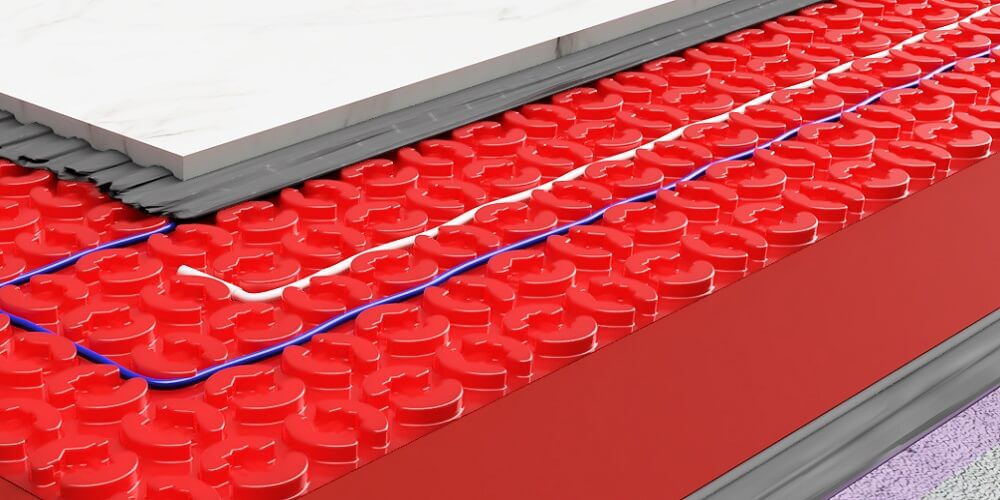 DCM-PRO Heated Decoupling System
The DCM-PRO System is the newest innovation from Warmup, in which the heating cable is inserted and embedded amongst the castellation's of the mat; allowing for fast installation and a more controlled heat output. The DCM-PRO also offers great protection of your floor covering, specifically preventing tiles from cracking from seasonal temperature changes in the subfloor. This system's heat output varies depending on how you choose to space the heating cable.
Electric UFH FAQs
Can I use an electric system with all floor finishes?

We offer heating systems for almost all floor types; from carpet to stone, laminate to vinyl, tiles to wood. Read our floor coverings guide to find the best system for your needs. 



Can I install UFH in just one room?

Our range of water and electric UFH systems can be retrofitted in just one room as a 'secondary' heating solution alongside your existing heating system or used throughout your home as the main heat source. 



Is electric underfloor heating quick to install?

Electric floor heating systems offer rapid installation times, with some heaters being able to be installed be in smaller rooms in under a day. All systems should be fitted by a fully qualified installer who was worked with UFH before. 



Should I install insulation with an electric floor heater?

Yes, you should. To ensure floor heating functions at its most effective, a layer of high-quality insulation should be used to help increase the heat-up time of the system, assist in spreading radiant warmth evenly throughout the space and reduce heat-loss.  



How much does electric UFH cost to purchase?

Electric floor heaters are an affordable way to bring sustainable warmth to your home. You can buy a complete Warmup electric system, which includes the heater, insulation and an accompanying thermostat, for a small bathroom for under £400 +VAT.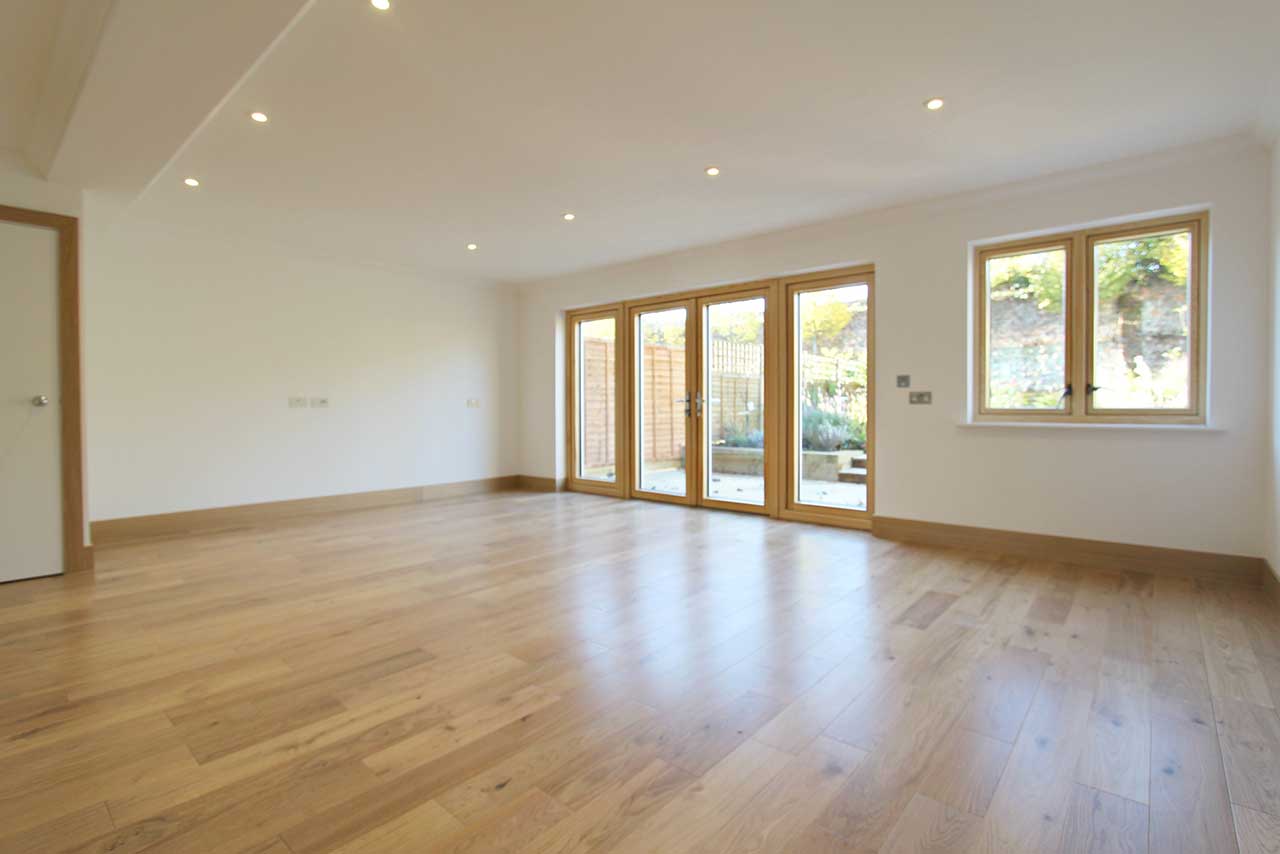 Electric Underfloor Heating vs. Water Underfloor Heating
So, you've decided you want to heat your home with UFH but how do you choose between an electric and water-based system?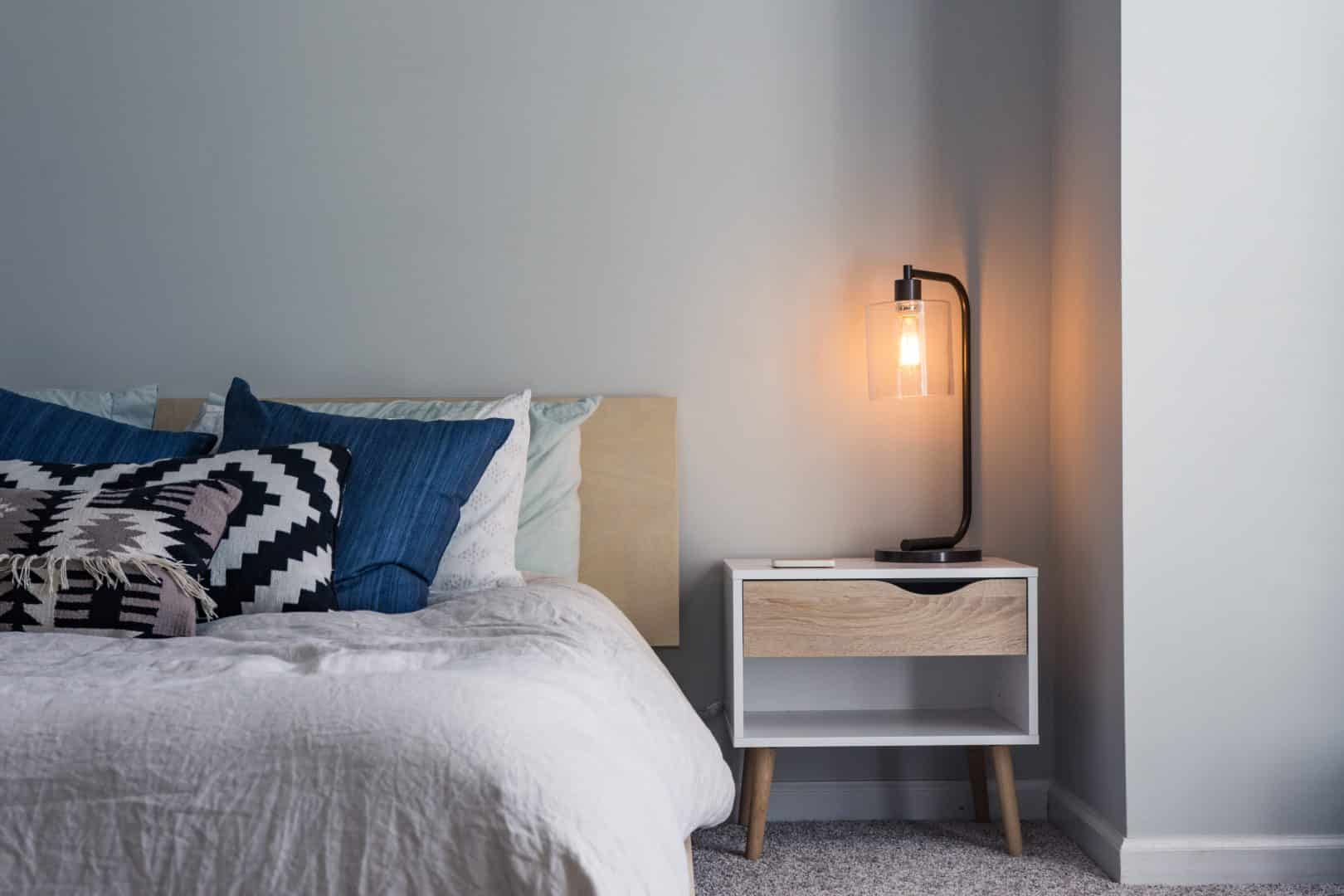 Buying the perfect bedroom heating system
Discover the costs and details of an energy-efficient bedroom floor heating system.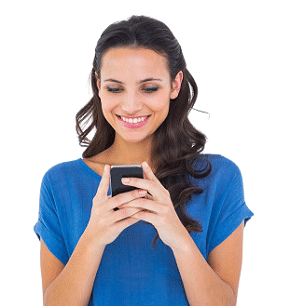 Get a Free Instant Quote Today
Offering great value for money and quick installation times, discover the perfect electric floor heating system for your home.