Underfloor heating is a cleaner, smarter way to heat your home. Using radiant heat technology, UFH is more energy-efficient than other heating methods by gently warming the people and objects in the room directly, from the ground up. With this increased efficiency you can also look forward to big savings on your heating bills too.
If you're considering floor heating as part of an upcoming home renovation project, we understand you may have questions and concerns about whether this is the right heating solution for you. In this expert guide, we'll review the pros and cons of underfloor heating, including the many pros:
The increased energy-efficiency of UFH
The low maintenance of Warmup's heating systems
The freedom of design and adaptability of floor heaters
The safety and ease of installation
And a couple of the potential cons, including:
The costs involved
The impact on floor heights
(+) Energy Efficient Heating (+) Effortless to Run (+) More Space & Design Freedom (+) Works with all floor coverings (+) Safety and Comfort (+) Ease of Installation
(-) Installation Cost (-) Installation Time (-) Floor Height Issue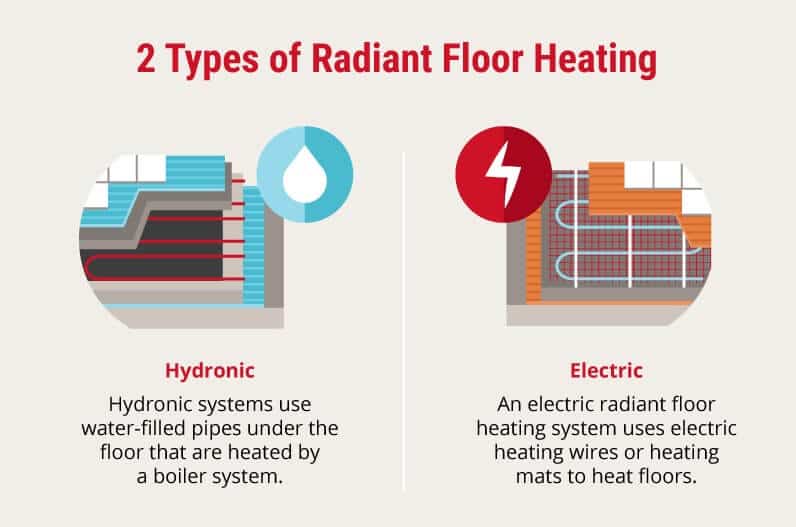 Pros of Underfloor Heating
1. Energy Efficient Heating
There are two types of radiant heating, electric UFH and water-based systems. Both provide heating in a room from the floor up for consistent, efficient warmth. Warm water systems pump gently heated water through pipes to create a comfortable temperature, whereas electric systems use electric heating cables installed beneath the floor to generate heat.
Traditional radiators need to be heated to a high temperature (between 65-75 degrees Celsius) in order to heat up a room effectively, whereas floor heating only needs to run at a temperature of 29 degrees Celsius or less, depending on the floor finish, in order to warm the room. These lower temperatures consume less energy and can help keep your energy bills far lower.
Furthermore, radiators heat the air nearest them first, which is why rooms heated by radiators are prone to "cold spots", meaning that the air feels cold in the middle of the room and very hot next to the radiators. This usually results in opening a window above the radiator to bring some fresh air in, and there we go again, letting all that energy paid to warm up the house escape out of the window. Radiant heat provides warmth from the floor up throughout the room without any cold spots or stuffiness in the area being heated.
To summarise, unlike traditional radiators which can make a room feel chilly at times and too hot at other times, underfloor heating does not overheat – instead, it achieves the desired temperature set by you using a system-specific thermostat. Radiant heat could help save you up to 40% on your heating bills thanks to the efficient way it warms a home.
Radiant heat provides an average saving of 15% on heating bills thanks to the efficient way it warms a home
2. Effortless to Run
A key benefit of underfloor heating is that once installed, the systems require almost no maintenance whatsoever and Warmup provide extensive warranties for all our products for total peace of mind.
Electric systems will not need regular servicing whereas water underfloor heating systems may require the occasional review to make sure everything is working correctly.
All Warmup heaters should be controlled by a system-dedicated thermostat which enhance the energy-efficiency nature of UFH and can also provide programmable heat schedules or automatic heat functionality too. This means you will not even have to think about your home's heating; our systems will always heat your home at the right temperature and at the right time for you.
3. More Space & Design Freedom
With underfloor heating systems, you're able to design your dream house without bulky radiators taking up valuable space on the walls. Even the most modern radiators take up room, so imagine the design freedom you have with heated floors – you can decorate the walls as you wish without having to plan around radiators.
Floor heaters can be installed in every room of your home and can be used as either the primary heating source or as a secondary heat source to work alongside your existing heating system. View our informative illustration below to see how a new UFH system can bring radiant warmth throughout your house.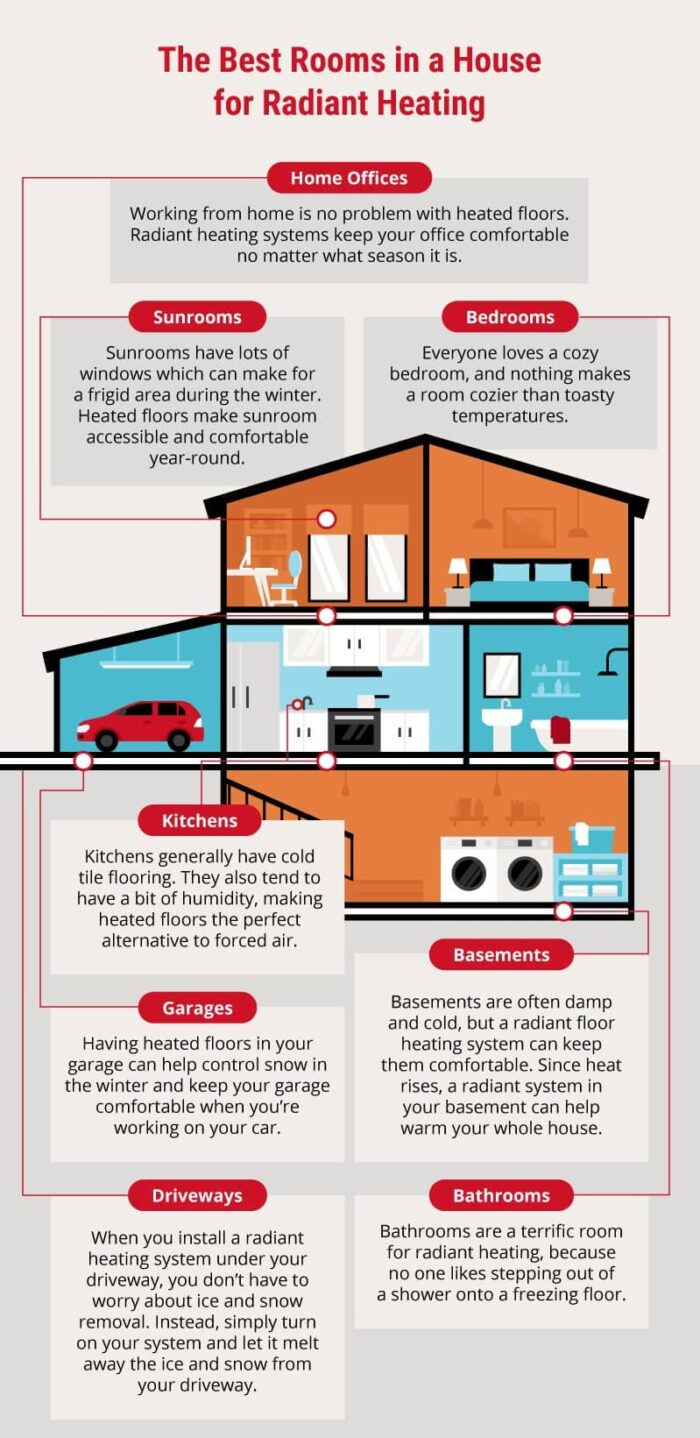 4. Works with all Floor Coverings
Underfloor heating gives you the freedom to design your home as you wish, making the most of all the wall and floor space. And you're still free to choose the floor type that you want as floor heating works well with floor finishes of all kinds – such as laminate, wood, tile, stone, carpet and more.
5. Safety and Comfort
When you have underfloor heating, you no longer need to worry about sharp edges or hot surfaces of radiators when younger family members are in the house. The heating system is safely tucked out of the way and won't get too hot to the touch.
Radiant heat is also much better for the air quality in a room since it keeps the air fresh and oxygen-rich. On the other hand, high temperatures caused by radiators increase discomfort and reduce oxygen levels. The thermal circulation from air rising to the ceiling and then back gets all the dust going in circles which will not happen with a floor heating system.
6. Ease of Installation
UFH systems are easier to install than you may think. Suitable for both new-build projects and retrofitting as part of a home renovation, our electric and water systems can be installed in a room in as little as 1 – 2 days depending on the scope of your project.
Many of our electric systems offer rapid installation times. The StickyMat System features a self-adhesive backing so you can quickly sticky the heater to the subfloor and directly tile over it with no need for screeds. Hydronic underfloor heating systems take longer to install but offer even lower long-term running costs.
All floor heating installations should be conducted by a fully qualified installer who has worked with UFH before. If you're looking for an installer for your upcoming project, we may be able to recommend a professional working in your area from our Warmup Pro network of installers.
Cons of Underfloor Heating
1. Installation Cost
Electric systems offer rapid installations times, with many systems able to be fitted in an average sized bathroom in just 1-2 days. The price of installation will vary depending on your chosen system, the size of the room and the fee of your installer; you can expect to pay between £200 – 300 a day in labour costs. You will also need to call out a qualified electrician to connect the system to your power supply, this may take a few hours and costs will vary here too.
If you're looking an installer to fit your new electric floor heater, get in touch with us and we may be able to recommend one of our Warmup Pro Verified Installers working in your area.
Water-based systems take longer to install due to their more complex installation requirements. This means installing a wet underfloor heating system will cost more money however the lower running costs provided by wet systems can offset this initial price. Find out more about the costs of installing a water underfloor heating solution and see which system is best for you.
2. Installation Time
Some electric underfloor heating systems require the application of a self-levelling compound so you should factor in the time it takes for this to completely dry before the floor covering can be put in place – this is usually a day or two. However, some of our systems, such as the DCM-PRO Heated Decoupling System can be tiled directly onto, making installation very quick – sometimes less than a day in a smaller room.
Hydronic underfloor heating systems take longer to fit, often requiring several days to install completely, although this typically doesn't matter too much as these systems tend to be installed as part of a bigger new-build or renovation project. You should also be aware that if you specify a system that requires screeding, the time it takes to cure the screed should also be factored in to your project timeline.
3. Floor Height Issue
If you're planning on retrofitting underfloor heating, a common concern is the impact the system may have on floor heights. In renovation projects, it's understandable that you won't want to increase the floor build-up when ceiling heights are fixed.
Most of Warmup's electric systems will have a negligible effect on floor levels. For instance, the StickyMat system has a system-depth of just 3mm and can be installed directly within a layer of tile adhesive so won't impact on floor heights at all. The popular DCM-PRO Heated Decoupling System is a slightly thicker system so may raise floor levels very slightly.
Water underfloor heating systems require a deeper installation technique using screeding so are typically recommended for new-build projects. However, our Total-16 System is a great choice for refurbishment projects as it is a low-profile with a depth of just 16mm.
Underfloor insulation is also always recommended when installing a new floor heater and this can raise floor heights too, however Warmup's Insulation Board can be purchased in thicknesses of just 6mm.
Read more about underfloor heating's impact on floor build-up.
Summary: Is Underfloor Heating Worth It?
Underfloor heating is an easy and energy efficient way to warm your home, and to keep your toes cosy. Although the cost of installing radiant heating is higher than the installation cost of traditional radiators, there are various options available to suit your budget and it's worth keeping in mind that underfloor heating provides substantial cost savings on your energy bills in the longer term.
When renovating your bathroom, underfloor heating is especially worth thinking about. You will save a lot on the labour cost if the flooring is being lifted up and changed anyway. The comfort and the cost savings of running the system on your heating bills will work out to your advantage in a longer run.
> ESTIMATE your underfloor heating RUNNING COST HERE
> VIEW the Warmup underfloor heating PRODUCT RANGE HERE