Water floor heating systems (also known as hydronic or wet systems) are a type of underfloor heating solution that pump temperature-controlled hot water through pipes below your floor's surface, providing radiant warmth to the room above. Warmup's range of water UFH systems are simpler to install than you might think and their enhanced energy-efficiency can offer significant savings on your heating bills too.
In this guide we will look at:
The pros and cons of a hydronic system for your project
How our new online tool for wet systems makes getting a quick quote easier than ever
The cost of purchasing some of our most popular systems
Finding an installer for your project
How much you can expect to pay for a complete installation
Is a Wet Underfloor Heating System suitable for installing in my project?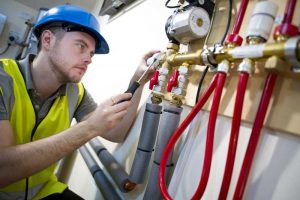 Water UFH systems can be installed with almost all floor coverings and in all room types and can be connected to a variety of heat sources, including condensing boilers and air and ground-source heat-pumps. They are typically recommended for new-build or large-scale renovation projects due to the installation process; whereby deep levels of screed or insulation may be required. However, if you are looking to install underfloor heating systems as part of a smaller home renovation project, our Total-16 System is a great option, at only 16mm deep it will have a negligible effect on floor build-up, or one of our electric systems may be more suitable for your needs.
How much does a Warmup Hydronic System cost to purchase?
Whilst costing more than electric floor heaters, due to their lower running costs Warmup's wide range of hydronic systems provide long-term, cost-effective heating for your home. Our easy to use online quoting tool will show you exactly how much the perfect system will cost to purchase. Simply enter the size of the room's dimensions, its floor construction and then select your preferred thermostat and hydronic system. You can also amend such details as heat source, heat transfer and thermal conduction values for a more accurate result.
Our easy to use free online quoting tool will show you exactly how much the perfect system will cost to purchase.
System Costs for Screeded Floors
Hydronic systems are commonly installed within a layer of concrete screed, which gently conducts the warmth from the heating pipes upwards into the room. Warmup have a selection of systems for use in screeded floors including the Forte, Metro, Nexxa and Clypso systems. Each system features a layer of insulation onto which the heating pipes are connected before a screed is poured over. These systems over great value for money however they do require a more labour-intensive installation.
The cost of the Clypso System in a screeded floor for a 25m2 room with a heated area of 21m2 would be from £917.62 ex. VAT with an included 4iE Smart WiFi Thermostat.
System Costs for Overlay Floors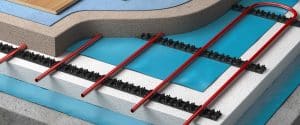 Overlay floors require no screeding, therefore offering a quicker and affordable installation. Our best systems for overlay floors are the Total-16 and Contura systems.
The Total-16 dry system also features in-built insulation, resulting in a hydronic system that is only 16mm slim – ideal for single-room renovations. Specifying the Total-16 System for a 25m2 room with a heated area of 21m2, with an accompanying heating controller would cost from £2,326.86 ex.VAT.
System Costs for Joisted Floors
Joisted floors are typical in period homes, with battened wooden joists supporting a timber sub-floor. We offer two different systems for joisted floors: the Tectora and Econna Systems.
Purchasing the Tectora System for a heated floor area of 21m2 with a thermostat would cost from £1,260.43 ex.VAT.
Can I install Hydronic UFH myself?
We recommend that all UFH systems are installed by a qualified installer who has worked with floor heaters before. If you are an underfloor heating installer and looking to hone your skills, consider joining Warmup Pro – our professional platform that brings together a community of heating installers and provides training courses, exclusive warranties and rewards and access to new jobs.
Find out more about installing water underfloor heating systems
Can you help me install an underfloor heating system?
If you're thinking about purchasing a system and looking for an installer to work with you, get in touch with us and we may be able to recommend a local water UFH installer in your area. You can also get more advice by speaking with our Global Projects Division, a team of experts who can design and install a bespoke hydronic system for larger domestic and commercial projects.
How much will it cost to install my specified system?
Water underfloor heating systems will be more expensive to install than an electric heater but as we explored earlier, their energy-saving nature make the outlaying cost of installation well worth it. Typical labour costs vary widely based on the scope of your project; your chosen system and installation requirements, the size of the rooms in which it is to be installed, your location and the heat source used.
Approximate labour costs for a qualified installer may range from £200-400 a day and the time it takes to complete a UFH installation will also vary based on your project's requirements. As an example, the Total-16 System installed over a floor area of 25 square meters would take approximately 2-3 days to fit, leading to an estimated installation cost of around £700 (not including flooring installation or heat source installation).
Installing the Clypso System over 25 square meters would take approximately 1-2 days, not including the screeding process which will take several days to cure. An estimated installation cost for the Clypso system of £450 (not including screeding costs and heat source installation).
Like our electric systems, our hydronic systems are also covered by market-leading warranties, so you can expect a lifetime of warmth after purchase.
Founded in 1994, Warmup Plc is a certified ISO 9001:2015 British manufacturing company focused on the development of technologically advanced electric and hydronic underfloor heating solutions and heating accessories. Queen's Awards for Enterprise 2020