Wet underfloor heating systems are a brilliant heating solution for new-build homes and larger renovation projects. These systems radiantly heat rooms by pumping temperature-controlled water through underfloor heating pipes installed beneath the floor's surface. In this guide we will look at the benefits of installing a water system in an open-plan kitchen / living room and find out exactly how much how much one of our systems will cost for this type of project. You'll find out:
How wet systems are more affordable than you may think
The ideal floor finishes and sub-floor types to use
The best Warmup system for your open-plan space
How water floor heaters are installed
A prepared quote for the system and how to purchase it
Is a water floor heater affordable for my open-plan living space?
If you're considering a complete renovation of the ground floor of your home or building your dream home or new conservatory from the ground up, water floor heating systems offer great value-for-money. While these heating solutions are more labour-intensive to install, they provide fantastic low long-term running costs – meaning you could save as much money on your energy bills as it costs to purchase a system. Wet systems are also perfect for installation with ground or air-source heat pumps, offering a more sustainable heating solution for your home and even greater cost savings.
We offer a wide range of water systems (also known as wet or hydronic underfloor heating systems) that are suitable for all project types, rooms and floor finishes. Below you can see a quote for one of our wet systems for an open-plan kitchen / living room – we'll explore how we prepared this quote through the rest of this article.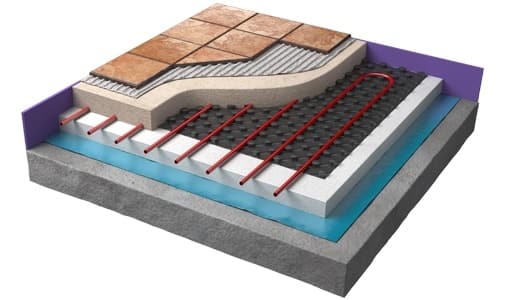 Total Cost for Living Room Water UFH System:
From £703.15 (excl. VAT)
Specifying the project details for your quote
Hydronic systems can be very simply divided into two categories; those that utilise a 'wet' installation method, whereby the heating pipes are submerged within a layer of screed, and those that offer a 'dry' installation, which do not require this. For this UFH quote package, we'll choose a 'wet' installation method – so we'll specify a concrete screeded construction. As we've touched on, installing a heater within a screed is mostly recommended for new-build projects or ground floor refurbishments because screeding will substantially increase your floor levels and will therefore impact on ceiling heights. If you're working on new-build project, you should include a floor heating system in your architectural plans to take into account this floor build-up.
All water systems can be installed with any floor finish but always make sure your chosen flooring is safe to use with UFH. For this quote we'll select a Laminate floor covering for its ease of installation and flexibility for use in large, open-plan rooms.
What is the heated area size?
Water floor heaters are best used in larger spaces as the radiant warmth produced by these systems can disperse more efficiently across larger areas than electric systems. For this quote we'll choose a total floor area of 24 M/2 for a typical open-plan living room with conjoined kitchen. But it's worth noting we'll also need to remove any floor space that is covered by fixed objects that don't require UFH, such as kitchen cabinets. In this circumstance, we'll remove 4 M/2 for cabinets, leaving us with a heated area of 20 M/2 for our open plan kitchen / living room.
The perfect hydronic system for your home
Warmup's Clypso System is a popular choice for floating screeded floors and perfect for installing in your living room renovation or new-build project. It features everything you need for a lifetime of warmth in your home and offers a clear-cut installation. The Clypso System uses an innovative heating pipe which is 'stapled' to its accompanying insulation panels before being connected to the stainless-steel Manifold and your heat source. All our water heaters can be connected to a variety of heat sources including gas-boilers and ground or air-source heat pumps.
Controlling the Clypso System with our 4iE Smart WiFi Thermostat can help improve the energy-efficiency of the system and assist in providing savings of up to £378 a year on your energy bills.
Can I install the system myself?
All wet systems should be installed by a fully-qualified installer who was worked with underfloor heating before. As we have previously discussed, these heaters require an intensive installation process including possible excavation of your subfloor. The Clypso System is installed onto the subfloor before being submerged in a layer of concrete screed. Screeding is also a time-intensive process, as the concrete must 'cure' after it has been poured before any floor finish can be installed. This curing can take anywhere from a couple of days to over a week.
Due to the time requirements and skillset needed for this kind of installation, fitting a water underfloor heating system in your home may cost much more than the system itself. But remember these outlaying costs should be measured against the long-term cost-savings of floor heater. If you're considering installing a hydronic system in your upcoming project, get in touch and we may be able to recommend one of our Warmup Pro installers or refer you to engage with our Global Projects Division.
Can I install a wet underfloor heating system in my home renovation project?
While the Clypso System is perfect for a new-build project or total ground-floor renovation project, it is not suitable for installation in retrofitting in smaller room refurbishments or using on upper levels of typical homes. Instead, out Total-16 System is a great option for these kinds of applications. The Total-16 System is a low-profile water system that doesn't require a deep level of screeding and at only 16mm, won't impact too heavily on existing floor levels.
How do I buy a floor heater?
Below you'll see our finished living room underfloor heating quote. You can use our innovative online quote tool to find out how much a water system would cost for your open-plan kitchen / living room and even purchase the system online instantly.
This hydronic quote form is a fully comprehensive tool that factors in a range of variables including heat-loss, room volume, structural impacts and more. Because of this, you may want to ask your installer to complete this quote to produce a truly precise breakdown for your project.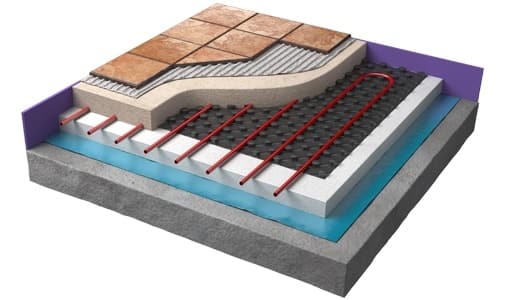 Total Cost for Living Room Water UFH System:
From £703.15 (excl. VAT)