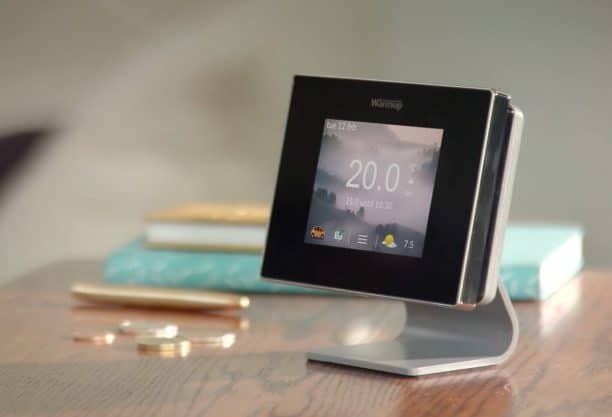 Smart Central Heating Control
The 5iE Wireless Smart Thermostat works with central heating and hydronic underfloor heating systems and is a result of 20 years of innovation and research on efficient heating by Warmup. The advanced technologies within the 5iE automatically control your heating for you and work alongside Warmup's MyHeating™ app which, when used alongside Warmup's AutoSwitch™ app, can save you up to £378 per year on your energy bills.

 Use with your existing boiler and radiators
The 5iE's stand mounted display can be placed anywhere in your home and communicates wirelessly with your boiler via the included Boiler Receiver unit – an advanced piece of technology that assists in bringing your ideal room temperature to wherever you are in your home. Working with our free-to-download MyHeating app, the 5iE Wireless Smart Thermostat controls your heating automatically with our built in SmartGeo™ technology – allowing the 5iE to learn your routines and monitor your heating schedule. Intuitively learning when you are leaving and returning home, this means you will never come home to a cold house again whilst also reducing your energy usage and bills by up to 25%.

 Saving you money
Warmup's AutoSwitch app complements the 5iE and MyHeating app by ensuring you never overpay an energy bill again through tariff switching. 80% of the UK's population is paying too much for their energy usage because suppliers usually increase rates after the initial twelve-month 'Welcome Period'. Using AutoSwitch allows you to automatically switch energy suppliers effortlessly, every year, so that you never overpay for your energy usage again – saving you up to £210 per year, on top of the 25% savings on your heating bills you can make as a 5iE user.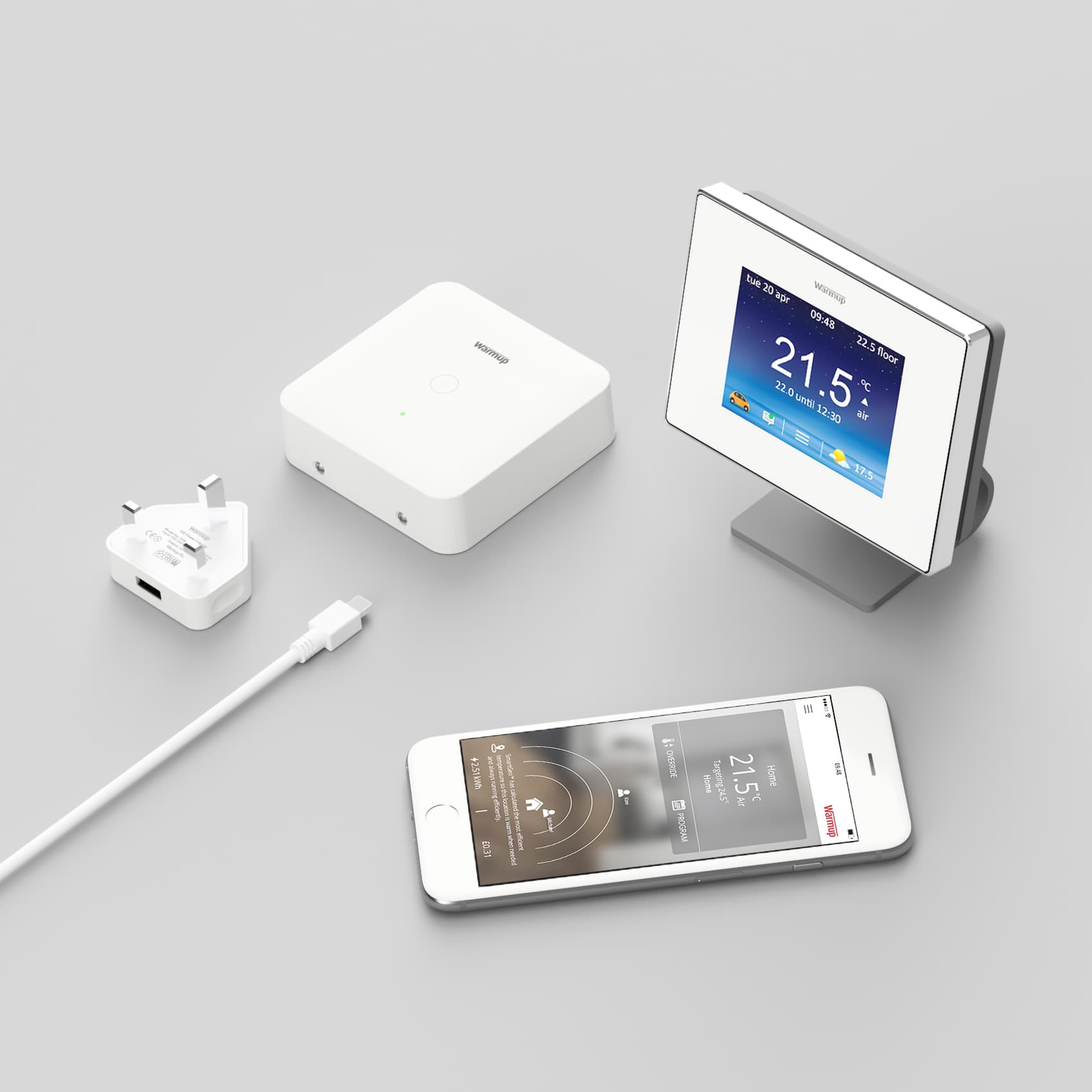 Smart Technology
The 5iE Wireless Smart Thermostat has been designed to complement and expand on the fantastic features of the award-winning 4iE, by giving compatibility with standard central heating systems. The addition of the wireless Boiler Receiver and Power Base transforms the standard 4iE into a smart wireless control for central heating systems. The unique features of the 5iE used together with Warmup's MyHeating app deliver you optimised, automatic heating and continuous cost-savings.
MyHeating app
The 5iE works with your free MyWarmup account and the free MyHeating app, giving access to unique features like SmartGeo. The MyHeating app is designed to be easy to use with Natural Language Programming. The setup is quick and easy to use.
Learn more about the MyHeating app here >
SmartGeo
Warmup's unique innovation SmartGeo controls your heating for you; intuitively and automatically. The SmartGeo feature is based on two technologies:
The location services built into smartphones
Capability of learning your routines
The sophisticated algorithms of SmartGeo ensure an accurate and optimised heating schedule for your home.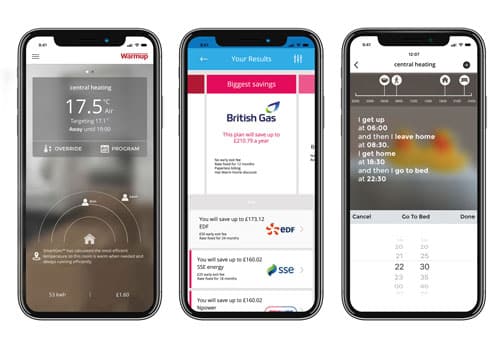 Saving you up to £378 per Year
Over the past 4 years, UK households have paid £8.5 Billion too much for their energy. This is because when you sign up with an energy supplier, you will get their best tariff for the first twelve months just to get you on-board. After that initial contract period is up, you are automatically moved to their standard rate – often at a significantly higher price. AutoSwitch works in the background to keep you on the lowest tariff every year, effortlessly and automatically – saving you an average of £210 per year.
Using your new 5iE alongside Warmup's MyHeating App and SmartGeo technology is the most efficient way of heating your home. The MyHeating app communicates with the 5iE, letting it know how far you are from home to ensure the house is comfortable when you arrive. This, combined with the routine-learning abilities of the 5iE, allows the 5iE to only use energy when you need it, and never waste any when you don't – saving you up to £168 per year.
The combined savings of using the 5iE alongside AutoSwitch and MyHeating can be up to £378 per year.
AutoSwitch
AutoSwitch searches for the best energy tariffs available and gives you the opportunity to switch energy suppliers automatically, every year. Never overpay an energy bill again.
Learn more about the Autoswitch app here >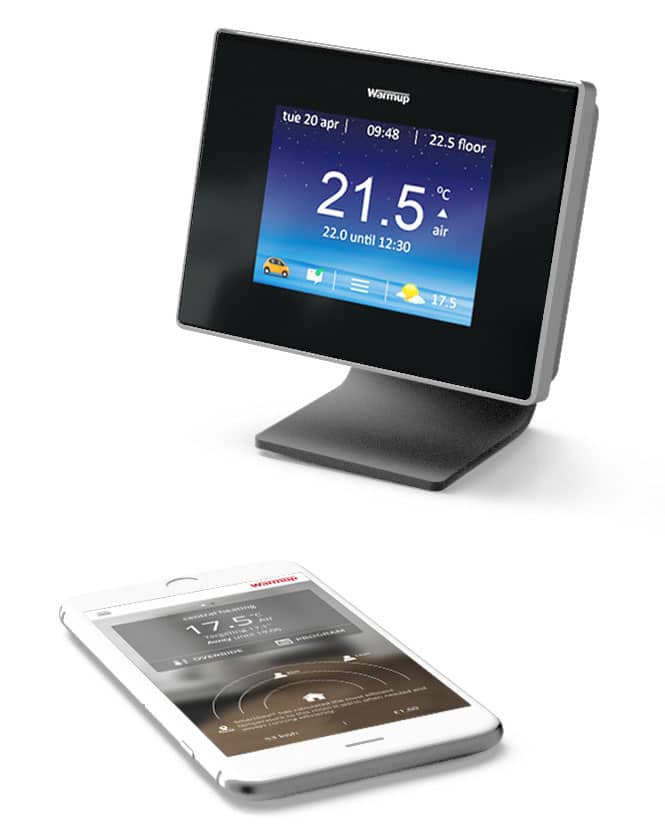 Personalise Your 5iE Thermostat
Customise your 5iE with uploadable photo backgrounds on the full-colour display.
Choose from a range of textured Overlays in realistic metal and wood effects or upload a custom design to give your 5iE a unique look.
Use the personalisation options in the MyHeating app to change the look of your 5iE. You can try out different custom backgrounds and themes with a live view of your actual device on the screen.
You can even point the camera on your phone at different surfaces to see how your customised device will look on different wall coverings.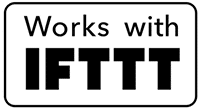 Connect the 5iE with your Smart Home via IFTTTThe 5iE Wireless Smart Thermostat is compatible with IFTTT (If This, Then That) – allowing you to link the 5iE with your home's existing Smart technologies such as the Amazon Echo or Google Home. View our Applets or create your own, to make your home truly a Smart Home.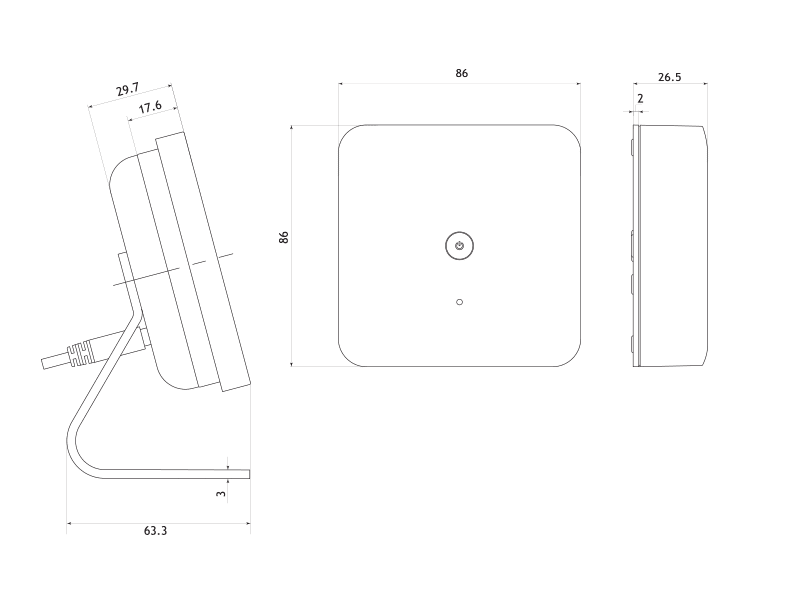 Compatibility
Compatible systems include Combi, System, LPG boilers, heat pumps, or similar. Any heat source which requires one of the following;
230V AC normally opened
230V AC normally closed
Volt-free normally opened
Volt-free normally closed
Low voltage input not to exceed 3A.
The boiler manufacturer or manual will be able to confirm if your boiler is compatible
Technical Information
Manuals



Thermostat

| | |
| --- | --- |
| Dimensions (Assembled with 4iE face) | 90 x 120 x 18mm |
| Screen Size | 3.5″ |
| IP Rating | IP33 |
| Operational Temperature Range | 0°C – 50°C |
| Operational Humidity Range | <95% RH |

Powerbase

| | |
| --- | --- |
| Dimensions (Assembled with Thermostat) | 120 x 121.4 x 63.3mm |
| Power Supply | 5V DC, 300mA |
| IP Rating | IP30 |
| Operational Temperature Range | 0°C – 50°C |
| Operational Humidity Range | <95% RH |



Boiler Receiver

| | |
| --- | --- |
| Dimensions | 86 x 86 x 26.5mm |
| Power Supply | 230V AC, 50Hz |
|  IP Rating | IP40 |
| Maximum Relay Load | 3A, 250V |
| Operational Temperature Range | 0°C – 50°C |
| Operational Humidity Range | <95% RH |
| Fuse | T1.6A, 250V |



Wireless

| | |
| --- | --- |
| RF Range (Open Air) | Max. 500m |
| Communication Band | 868 MHz |
| Radio Frequency Standards | EN 301 489-1 v1.9.2 / EN 300 220-2 v2.4.1 / EN 62479:2010 / EN60950-1:2006/A2:2013 |



Troubleshooting

Equipment

Click below if you are experiencing issues with the 5iE equipment such as the Thermostat face of the Boiler receiver



Wiring Diagrams



Frequently Asked Questions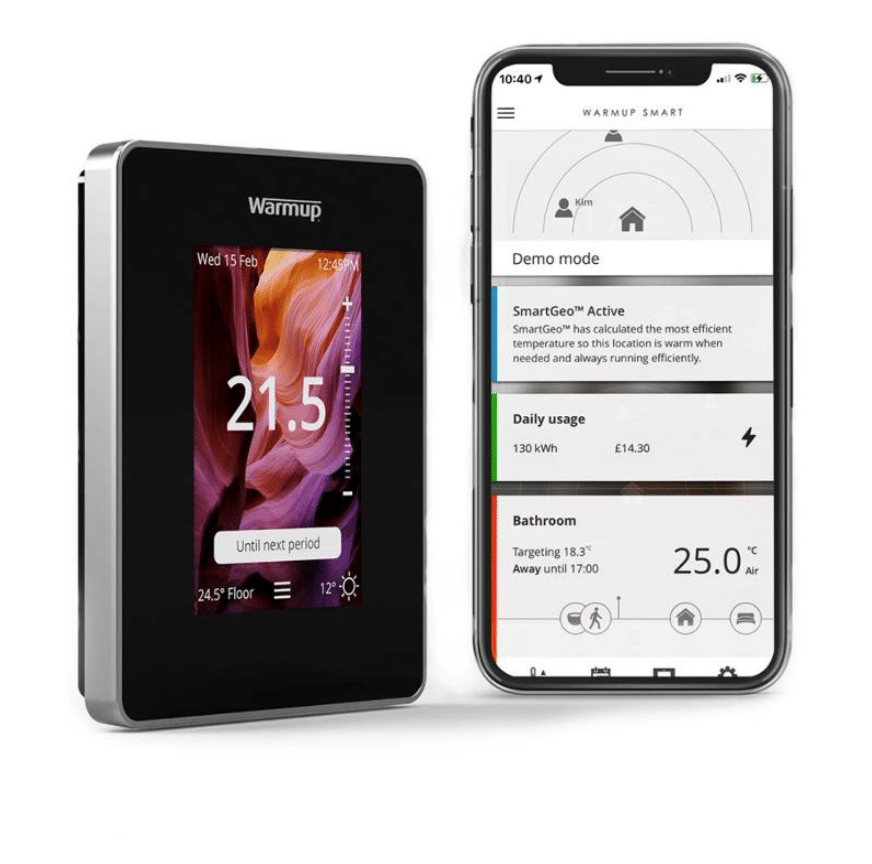 Smart Thermostats
Warmup Smart Thermostats make heating your home effortless, using innovative technologies to learn your routines.