Snow Melting Cables
The Warmup Snow Melting Cables protect against snow and ice build-up over both concrete and asphalt surfaces to improve accessibility and avoid accidents.
For more information please contact our Project Division on 0345 345 2288.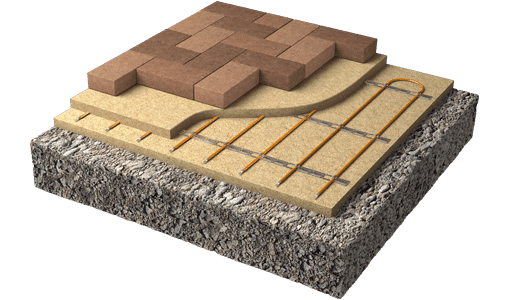 The snow melting cables for concrete and asphalt applications are available in a variety of lengths, allowing you to heat as small or large area as you need.
Concrete Heating Cable
Suitable for installation under concrete to keep pedestrian areas safe and clear of snow and ice.
Asphalt Heating Cable
Suitable to be installed under asphalt to keep pedestrian areas safe, clear of frost and ice.
Keep driveways and paths clear and safe
The system provides the right heat at the right time, keeping driveways  and paths free of ice and snow automatically.
Reduce maintenance costs
Surfaces remain frost-free, so damage due to frost is reduced.
Safety Net Installation Guarantee
If you accidentally damage the heating system during installation, return it to Warmup and we will replace it with another heater of the same make and model free.
10 Year Warranty
This product comes with a 10 Year Warranty. We are completely confident in the standard of our products.
Other products from our outdoor range
Self Regulating Cable
The Warmup Self-Regulating Cable protects against dangerous build-up of snow and ice on roofs, within gutters and downpipes and prevents pipes from freezing.
Patio Heaters
Patio heaters are the perfect choice for outdoors in courtyards, conservatories and gardens.