Metro Rail System
The Warmup Metro System is designed for use within either a floating or a bonded screed floor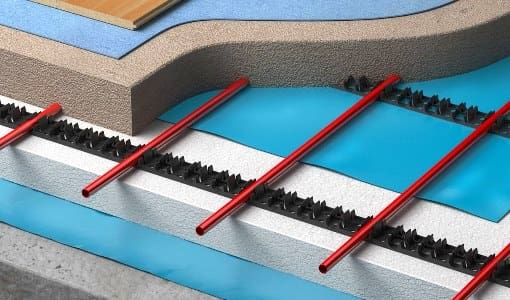 Metro Rail System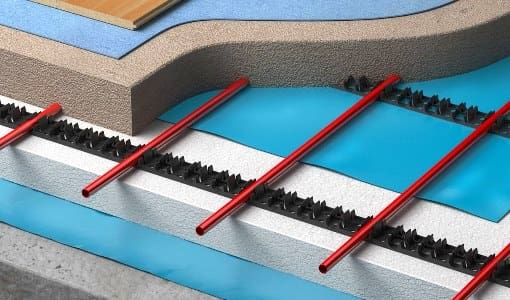 The Warmup Metro System is designed for use within either a floating or a bonded screed floor
 Ceramic, Stone, Wood / Laminate, Vinyl, Carpet
  Small & Large Areas
  Regular Shape
  New Build
  Screed & Concrete Floors
For use with Floating or Bonded Screed Floors
The Metro Rail System utilises a track that fixes to the insulation to securely hold the heating pipes in place, in an optimal layout. It is ideal for use with either floating or bonded screed floors and offers a quick and efficient installation. It is suitable for use with any Warmup heating pipe and is recommended to be installed with the Metro Insulation board.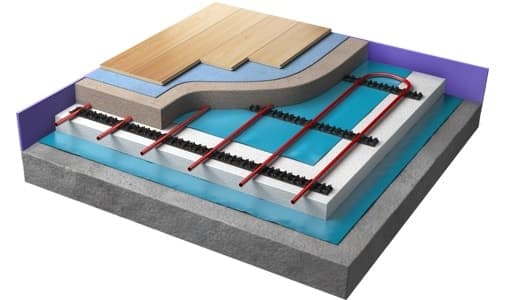 Designed to allow quick and easy installation
The rail provides guidance on how to install the pipework quickly and at the correct design spacing levels.
Holds the pipe at the correct level
Holds the pipe at the correct level prior to screeding to ensure there are no hot spots.
Quick And Easy Rail-Based Installation
The system uses pre-moulded retention clips that attach the heating pipe to the rail. The rail features a self-adhesive backing for quick installation and are positioned in parallel runs on top of the insulation layer. The rail and insulation are separated by a plastic membrane, which acts as a moisture barrier. The Metro Rail System allows pipes to be spaced at 50mm intervals.
The system holds the pipework into place until the screed is applied. UltraTile from Instarmac provides one of the best screeds on the market for this purpose. It is suitable for almost any floor finish and in particular where the flooring (wood, carpet or vinyl) may be replaced from time to time.
Safety Net Installation Guarantee
If you accidentally damage the underfloor heating pipe during installation, return it to Warmup and we will replace it with the same size and make of pipe for free.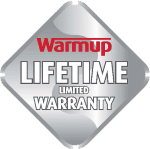 Lifetime Limited Warranty
The length of the warranty period depends on the type of pipe you choose. When you install this system with the Warmup PEX-a pipe, the pipe comes with a Limited Lifetime Warranty.