As floor heaters are installed directly beneath your floor finish, there may be some impact to floor heights but in many cases this floor build-up will be unnoticeable, as the heater can be installed directly within a layer of tile adhesive or fitted directly into the subfloor itself. If you're retrofitting floor heating as part of a renovation project, consider installing one of Warmup's low-profile electric or water systems, many of which won't raise your floor at all.
In this guide we'll answer all your queries about the impact of a floor heater on floor build-up levels and we'll review the depths of Warmup's range of electric and water systems, exploring which heaters are best for your project's requirements.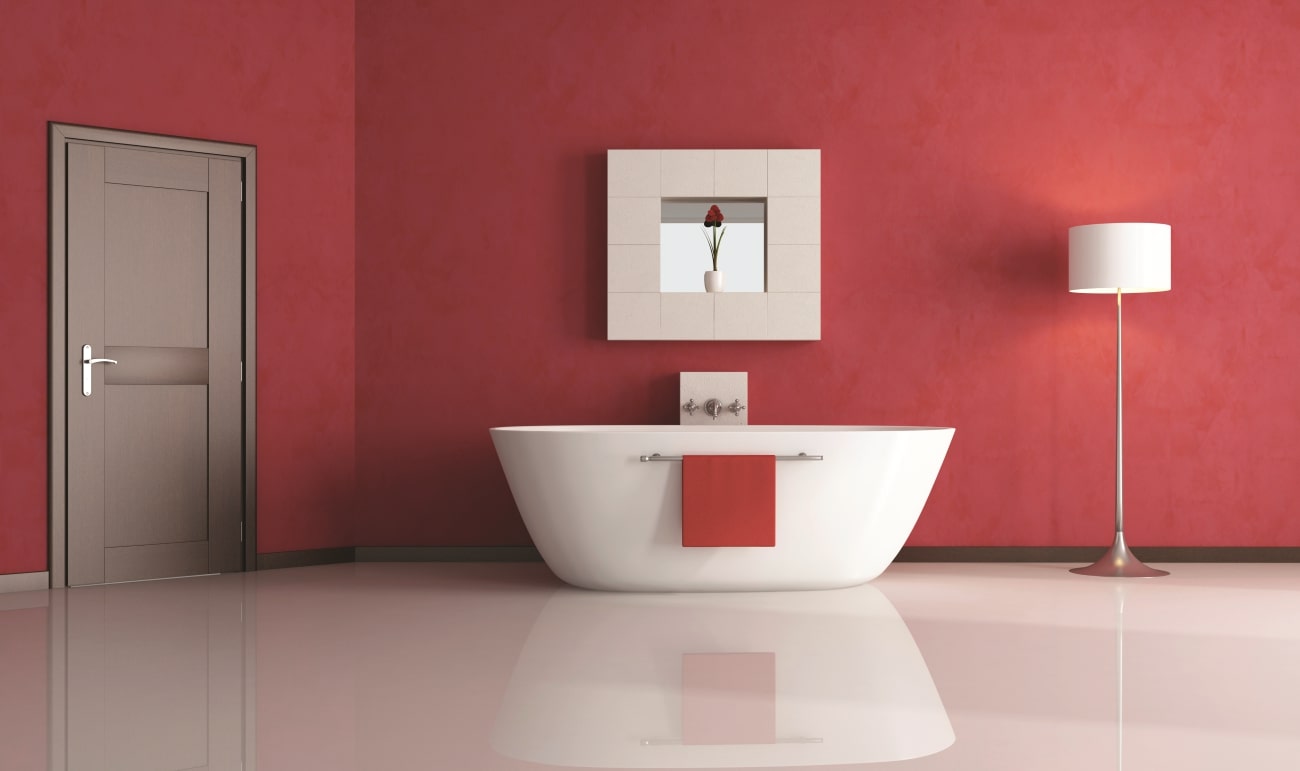 Why underfloor heating may add to the floor height
When considering an electric or water floor heating system for your home, remember that the heater itself will have little impact on raising your floors but its system-specific installation techniques, such as layers of insulation, levelling compound or screed, can add to the floor build-up height. However, these layers are necessary even if you're just simply changing the floor finish.
Electric systems thickness
Electric underfloor heating systems are typically slimmer than water systems, having less of an effect on floor build-up. Electric heaters are available as either heating mats or heating wire-based systems, both variants often being only a few millimetres thick. Some electric heaters can be installed within the layer of screed, tile adhesive or levelling compound used to fit your floor covering, meaning the system will not raise your floors.
Hydronic systems thickness
Water systems, also known as hydronic systems, utilise heating pipes and frequently require a deeper installation, sometimes being submerged in the concrete screeded subfloor itself, which helps distribute the heat into the room evenly. However, Warmup also offer low-profile water floor heaters that can be installed 'dry' – without the need for screed. Both electric and water systems are recommended to be installed with appropriate levels of insulation, which can also have an impact on flooring build-up.
How thick is floor heating insulation?
Insulation is important to install alongside an underfloor heating system as insulation helps the heater perform at its most efficient by greatly reducing heat loss. Our Insulation Boards are recommended for use with most of our electric systems and are available in a range of thicknesses from 6mm – 50mm, so you can find choose the perfect insulation that won't raise your floors too high. Our water systems typically come with inbuilt or accompanying insulation panels, which are available in depths ranging from the Total-16 System's 16mm to the thickest 100mm EPS Insulation Boards.
Retrofitting low-profile floor heating in your renovation project
Unlike a new-build project, certain elements like doors, windows and ceiling heights are fixed in a renovation project, so if you're considering retrofitting a floor heater in your existing home, a low-profile floor heater that won't raise floor heights will be the most suitable option. These systems may not produce enough heat as the primary heater for a larger space, so we recommend always carrying out a heat-loss calculation before installing a floor heater as you may need a specific system.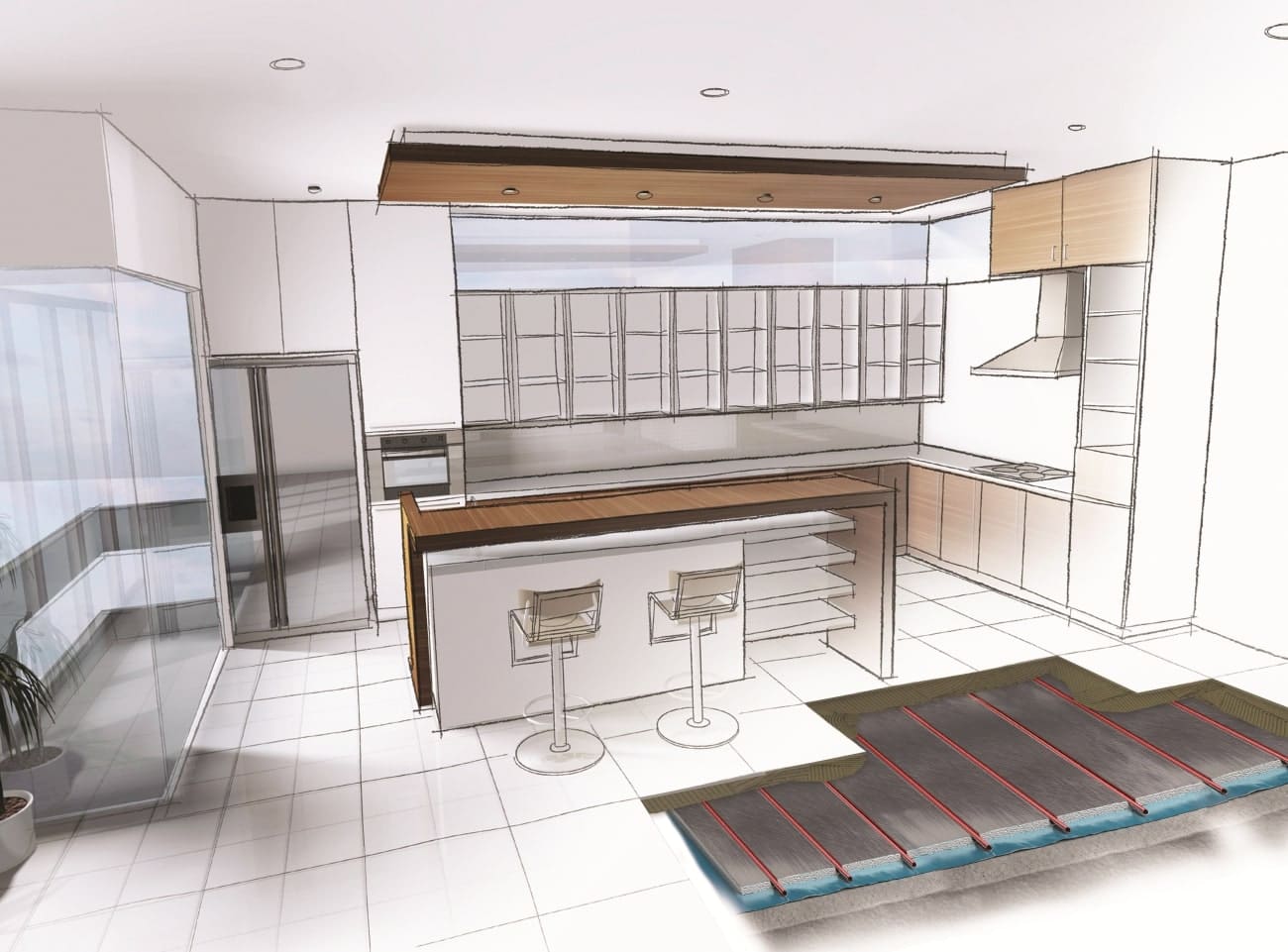 What's the best low-profile electric system for my project?
Our Loose Wire System uses the thinnest heating wire on the market, at only 1.8mm it can be installed directly within a layer of tile adhesive with no impact on floor heights.
The popular Stickymat System is only 3mm thick and features a self-adhesive backing, so a separate adhesive is not needed to attach the heater to the subfloor thereby minimising the floor build-up even more.
Our Foil Heater offers a 'dry' installation with no need for adhesives or levelling compounds; when installed alongside its accompanying Insulated Underlay and Dual Overlay systems it has a total depth of just 7mm.
What's the best low-profile hydronic system for my project?
The Total-16 System has been specifically designed to have as little impact on floor build-up heights as possible. It offers a system depth of just 16mm, making it the ideal water underfloor heating system for all kinds of renovation projects.
Our Tectora Joisted Floor System is perfect for battened or suspended timber floors and utilises the space between timber floor joists for the accompanying insulation panels, greatly reducing the impact of the system on floor heights.
Flooring heights in a new-build project
New-build projects allow for a deeper installation of an underfloor heating system as you can take the heater's dimensions into account during the architectural planning stage. This means if you're building your dream home you can define the ceiling heights in relation to the thickness of your chosen floor heating, therefore you don't have to worry about the impact of a heater on flooring build-up.
Hydronic systems are typically recommended for new-build projects. Many of these require a layer of concrete screed to encompass the system, something that wouldn't be suitable for renovation projects due to their necessary depths. If you're planning a new-build project, get in touch with our Projects Division who may be able to assist you in specifying the most suitable floor heating solution.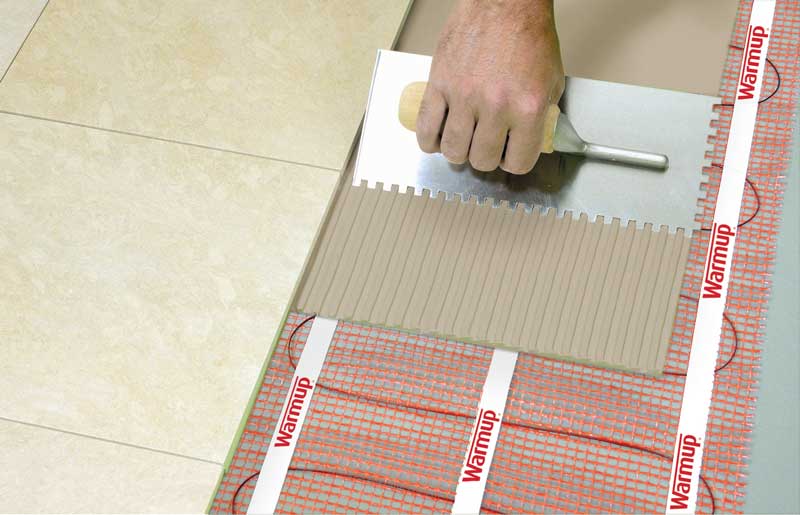 Screed depths with underfloor heating systems
The Clypso System is a popular hydronic heating solution and has been designed for use with floating screeded floors. It is installed within a 50-75mm deep layer of screed and is suitable for heating all floor finishes.
If you're constructing a project using reinforced concrete subfloors, our Forte Grid System is an ideal water floor heater. It uses the 16mm PEX-A heating pipe which is tied to a metal gridwork frame and submerged in a layer of concrete, typically about 150mm deep.
The Inscreed Cable electric heating system also requires installation within a concrete screed depth of 50 – 100 mm.
Which water systems offer a 'dry' screedless installation?
If you're looking for a hydronic system that doesn't require a deep layer of screed and therefore won't substantially raise floor levels, the Contura Floating Floor System provides a completely dry installation. It is suitable for use with floating floor finishes and utilises ultra-thin aluminium diffusion plates to distribute a consistent, even level of heat. The screedless installation of this system also makes it ideal for both new-build and renovation projects.
You may also be interested in: