When we think about floors, it's tempting to only consider the floor finish and its compatibility with underfloor heating, but the floors in your home fulfil a much greater role. Not only do they provide a foundation for the room but they also help with insulation levels, soundproofing, and comfort. In this guide we'll review the several layers of a floor's construction, examining how each layer has its own specific purpose for the stability of your property. You'll discover:
How joists support your floor
What we mean by a subfloor
What constitutes as an underlay layer
The best floor types to use with UFH
How to purchase underfloor heating
What do floor joists do?
Whether you're building a new-build home or renovating an older property, it's likely that your floor is being supported by floor joists. Joists are the supporting beams that make up the lowest layer of the floor construction. They are typically made of lumber or engineered wood or metal and support the subfloor whilst also helping to distribute the weight of the floor evenly. The span of your floor joists is determined by the type of flooring installed. For example, a hardwood floor will require shorter spans than a carpeted floor. The thickness of the floor joists also depends on the type of flooring.
How do I install floor heating with floor joists?
We offer a range of hydro heating systems that have been specially developed for use with joisted floors. The VLo Econna-12 System can be installed over both battened and joisted floors, leaving the void between the joists free for insulation material and other services. Electric floor heating systems cannot be installed below or within floor joists, as they must be installed above the next layer of the floor construction; the subfloor.
What is a subfloor?
The subfloor is the layer of floor above the joists. It provides structural support for the finished flooring material and is typically made of either plywood or concrete, and is attached to the joists with nails or screws. In some cases, the subfloor may also be referred to as the structural floor, since it is the layer that provides the strength and stability for the entire floor. The subfloor is important because it provides a level surface for the installation of your new underfloor heating system and the finished flooring material. In addition, the subfloor helps protect the floor covering from moisture and other damage.
Can I install floor heating directly onto the subfloor?
Yes, you can. However it is recommended that underfloor heating should be installed with insulation to improve the responsiveness of the system. If your project's subfloor is uninsulated, we offer a selection of high-quality insulation boards and panels to purchase for all projects.
Why is underlay or floor insulation important?
Underlay or floor insulation is a layer of material installed between the subfloor and the floor covering or between the subfloor and the floor heating system. Floor insulation is important in reducing heat-loss in your home whilst rapidly improving the heat-up times of a floor heating system. There are different types of underlayment, each with their own purpose; for example, some underlayments are designed to reduce contact noise. Thicker layers of insulation and underlay will offer more sound absorption and thermal comfort, but they can also be more expensive. Once installed, you won't see this underlay material, but it will play an important role in the longevity, cost-savings and performance of your heating system.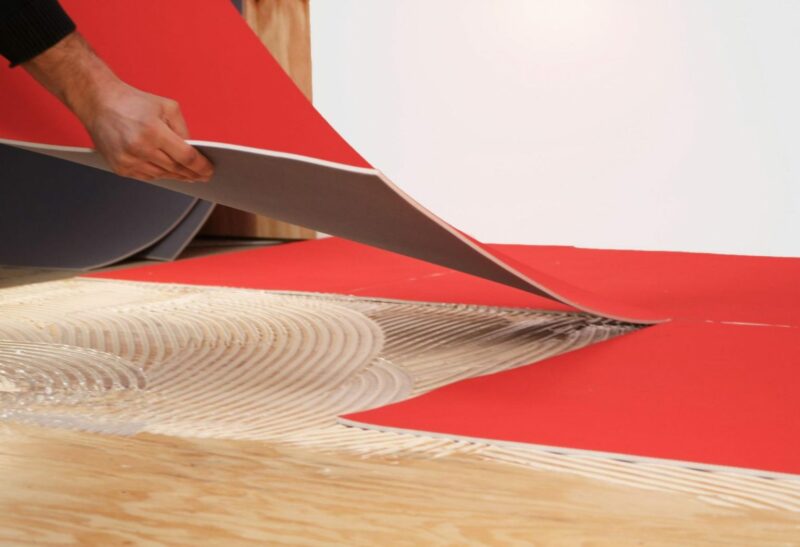 What's the best floor finish to use with UFH heating?
Underfloor heating can be fitted in every room of your home and with almost every floor finish/underfloor-heating/floor-coverings but some systems have been specifically designed for specific flooring options. With UFH, your floor finish acts as a giant radiator which provides gentle warmth throughout the room, by heating the objects in the room rather than the air. When choosing a type of floor covering for your property, it's important to consider your needs in terms of heating, durability, appearance, comfort, and maintenance requirements.
Tile and Stone
Tile and stone are a popular choice for flooring because they are durable and easy to maintain. The most popular types of stone flooring include slate, granite, and marble. There are three main types of stone flooring: solid stone, engineered stone, and laminate stone. Solid stone is 100%-natural stone and is the most expensive type of stone flooring. Engineered stone is made from a mix of natural stone and man-made materials, and it is more affordable than solid stone. Laminate stone is the least expensive type of stone flooring, and it is made from a thin layer of natural stone bonded to a man-made backing. Tiled floors are available in a variety of materials, with porceline and ceramic being two of the most popular options. Floor tiles are often scratch and stain-resistant, while stone floors are also resistant to water and moisture.
The best UFH system to use with tile and stone floor finishes is the DCM-PRO System. The DCM-PRO is an electric heating solution which features decoupling technology to help protect tiled floors from damage caused by environmental subfloor movement.
Hardwood and Laminate
Solid wood floors are common in period homes and still retain a sense of luxury and quality. These floors are comfortable to walk on and when sealed properly, resistant to most types of damage.
Laminate flooring is a type of flooring that consists of a composite material made of multiple layers. The bottom layer is typically made of a stabilizing material, followed by a layer of vinyl or High-Density Fiberboard (HDF). The top layer is a decorative layer made of melamine resin, which gives the floor its distinctive appearance. Laminate floors are available in various colors and patterns and can be installed over existing floors without extensive preparation or demolition.
Most of Warmup's water floor heating systems would be great to use with wooden floors or if you're interested in an electric system, the Foil Heater is also a great choice.
Carpet and Vinyl
Carpets and vinyl provide a softer floor surface for living spaces, bringing a more tactile feel to contemporary homes. Carpets can be made from various materials, including wool, nylon, polyester, and polypropylene. It is often used in residential and commercial settings for its comfort and aesthetic appeal.
Vinyl floors are especially popular in 'wet' rooms such as bathrooms and kitchens and are also widely used in commercial settings due to their ease of maintenance. There are two types of vinyl flooring: solid vinyl and composite vinyl (VCT). Solid vinyl floors are 100%-vinyl, while composite vinyl floors are made of wood fibers and vinyl. Composite floors are less expensive than solid vinyl floors, but they are also less durable.
The Foil Heater is the ideal choice for these softer floors when used in conjunction with the Dual Overlay System which will protect the heater from any load-bearing damage.
Choosing the best floor heating system for your home
Radiant floor heating is an energy-efficient way to heat a home, conserving energy usage and in turn, providing lower running costs than traditional heating options. Warmup systems are easy to install under any type of flooring, including carpet, hardwood, tile, and vinyl and feature market-leading warranties.
If you're considering a new floor heating solution for your home, get a free online quote today. We'll help you find the best system for your needs and tell you exactly how much it will cost you – within seconds. Warmup water floor heating systems can be purchased directly online, and our electric floor heaters can be bought in-store at one of our nationwide retail partners – find your nearest stockist today.