Thinking about upgrading your home's heating system? In this article we'll explore the main differences between underfloor heating and more traditional heating systems, showing you how a floor heating system is a smarter, more energy-efficient way to heat a home. You'll find out: 
How underfloor heating saves more energy than radiators

 

The ways a UFH system improves comfort and air quality

 

The cost-savings achieved by floor heating

 

How Warmup's systems make your home more stylish

 

Why floor heaters require less maintenance than central heating

 
Underfloor heating is up to 35% more efficient than traditional central heating systems
Central heating systems using radiators have remained more or less unchanged for nearly one hundred years and as such, these systems aren't as efficient at heating a home as they once were. Underfloor heating systems utilise radiant heat technology to warm a room in a much more environmentally friendly and energy-efficient way. Radiant heating warms a room from the ground up, directly heating the objects and people in the space, as opposed to central heating which uses convection heating to just heat the air of the space. This process reduces heat loss and uses less energy to reach optimal comfort temperatures compared to traditional radiators – reducing energy usage by up to 35%. 
You can choose between electric floor heaters and water UFH systems to bring these energy-saving benefits to your home. Our range of water systems operate at lower temperatures than other traditional systems whilst still retaining the same level of warmth and also improves the efficiency of the heat source, including low-carbon heat sources such as ground or air source heat pumps and biomass boilers. Our electric systems offer quick heat-up times and are perfect for bringing sustainable warmth to renovation projects.  
Floor heating makes your home more comfortable 
The air heated by a radiator rises towards the ceiling and once this warm air has cooled down, it falls down to the ground level to be heated by the convection of the radiator again. This creates a flow of hot and cold air and inevitably, hot and cold spots in your home with the possibility of overheating and underheating. Underfloor heating maintains an ideal level of warmth across the whole space, with no hot and cold spots and an even spread of heat.  
Floor heating also maintains the natural humidity in a room, whereas a radiator's convection of warm air tends to reduce humidity, which can make the heated area feel stuffy. Rising air temperature through conventional heating can cause discomfort and overheating, which in turn can reduce oxygen levels, and ultimately breathing problems if the air is too warm. Radiant floor heating provides heat where it is needed and reduces the risk of overheating.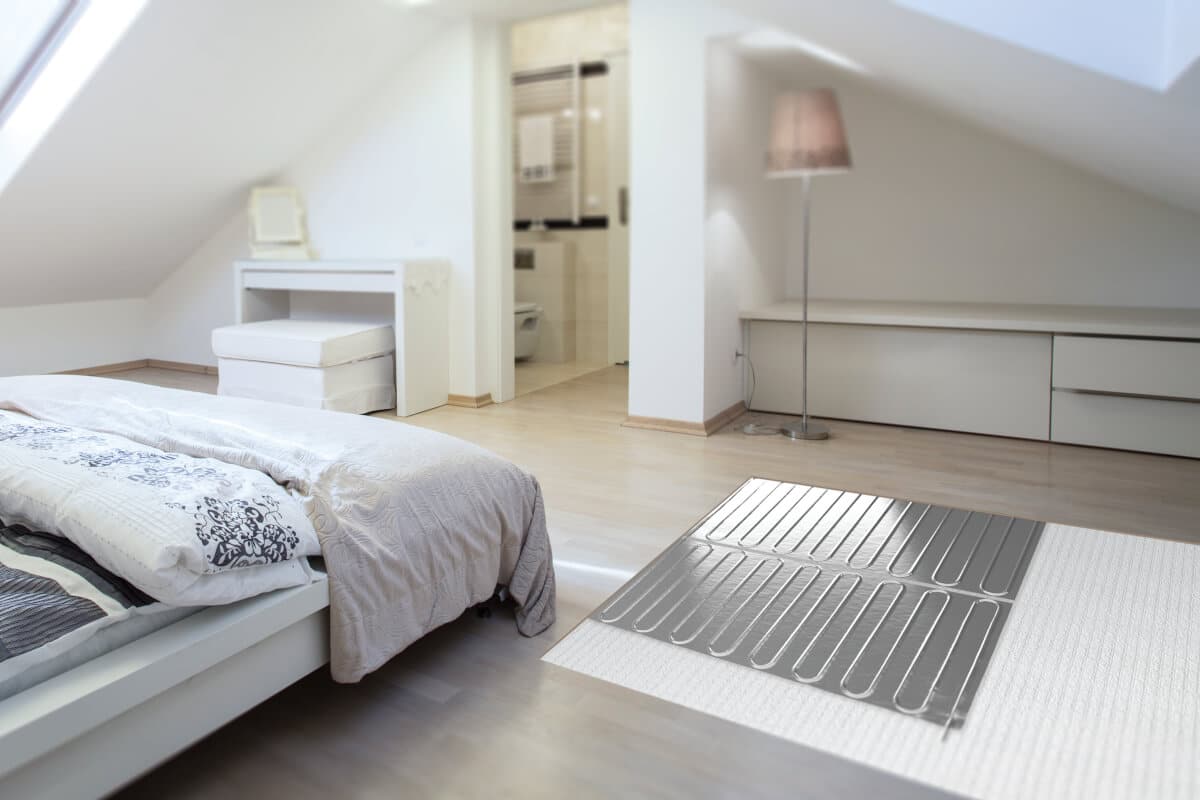 Underfloor heating offers lower running costs
The overheating and underheating typically produced by radiators results in an inefficient way to heat your home and can dramatically increase the cost of your heating bills. Underfloor heating can provide substantially lower running costs than central heating systems, saving you hundreds of pounds a year. Warmup's range of UFH systems provide quicker heat-up times and operates at lower temperatures than radiators whilst still producing the same level of warmth. 
You can enhance the cost-saving technology of floor heating by installing insulation and by using Smart multi-zone thermostats to control the system. Insulation improves the responsiveness of floor heaters and ensures that the heat produced by the system will not escape the space, lowering the levels of heat-loss in your home which in turn reduces energy wastage and therefore energy consumption.  
Smart Thermostats improve energy performance by ensuring only the spaces that are required to be warm are heated – typically referred to as 'zoned heating'. Underfloor heating allows you heat your home on a room by room basis, with a thermostat controlling each specific zone which greatly improves its efficiency. Conventional radiator systems, however, tend to heat up throughout the whole house at once, based on a central thermostat. This can cause overheating and under-heating depending on the thermostat location and is less efficient that heating individual zones. Our Smart technology also facilitates automatic heat functionality; offering radiant warmth at the right temperature, at the right time, automatically with less wasted energy.  
UFH makes designing your home easier than ever
Radiator systems require visible pipework which can disrupt your home's interior design, with wall space being allocated as necessary. This becomes extremely problematic especially in small spaces such as bathrooms, where every inch matter. But underfloor heating is a decorator's dream as it does not take up any wall or floor space as the heat source is within the floor itself. It will also not restrict the placement of furniture and gives full design freedom, allowing you to design your dream home with no limitations.  
A floor heating system requires little-to-no maintenance 
Unlike central heating systems, underfloor heating doesn't require much in the way of upkeep. Once installed, our range of systems can provide your home with sustainable, stress-free warmth without the need for servicing and many of our heating solutions come with lifetime guarantees. Learn more about the ease of maintaining UFH in our informative article.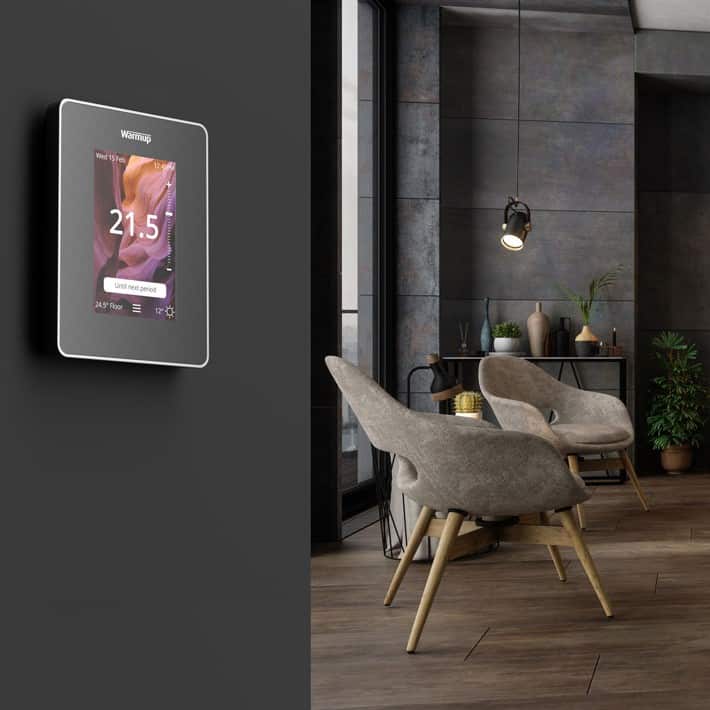 Can I replace my radiators with underfloor heating?
Yes, you can. Underfloor heating is great heating solution for both new-build homes and refurbishment projects and replacing your home's radiators with a new UFH system is possible depending on the property's heat loss. Conducting a heat loss calculation will tell you whether the heat output of a new floor heating system meets the heating requirement of the room or area; the maximum heat output must be larger than the maximum heat loss in order to have enough heat in the room. Want to learn more about heat loss? Read our expert article to find out how best to conduct a heat loss assessment.  
Floor heaters can also be used a secondary heating if you're looking to bring this energy-saving warmth to just one part of your home. Our collection of electric heaters are a popular choice for single-room renovations whereas our water systems are best installed in larger spaces.  
Interested in finding the best floor heating system to replace your radiator? Get a free, instant quote and we'll help select the most appropriate system for your needs and tell you exactly how much it will cost to purchase.