Electric floor heating systems are a popular heating solution for both new-build projects and home renovations. As well as providing energy-efficient warmth for your home, electric systems are often much quicker and simpler to install than you might think. In this guide, we'll explore the ease of installation of our range of floor heating mats and heating cables. You'll find out: 
The differences between heating mats and heating cables

 

How to choose the best heater for your home

 

Electric heating mat installation methods

 

Top tips for installing underfloor heating cables

 

How to enhance the energy-efficiency of floor heating

 
What are the differences between electric floor heating mats and heating cables?
Electric underfloor heaters come in two options for your home: heating mats and heating cables. An irregularly shaped room with many units or fixed objects to work around would benefit from the flexibility of a heating cable. Electric underfloor heating cables can be installed directly onto the subfloor, offering a bespoke layout design for your heated floor area whilst allowing a versatile heat output through the spacing of the cable.  
Electric floor heating mats are more suitable to install in larger, more regular-shaped rooms. These systems feature pre-spaced heating wires adhered to a mat backing and can be simply rolled out over the subfloor to cover large areas quickly.  
The best UFH option for your home will depend on the needs of your project, such as which room you want to heat, the floor type of the space and the heat loss of the property. Both heating mats and heating cables feature a low-profile design that will not raise floor levels and both will bring cleaner, more energy-efficient warmth to your home, saving you money on your heating bills. 
Choosing the best heating mat for your project
Warmup's range of underfloor heating mats are suitable for almost all floor finishes and room types. The StickyMat System is a popular heating mat choice to retrofit in an existing home as part of a single-room refurbishment. It features an ultra-thin electric heating wire attached to a mat featuring a self-adhesive backing which securely fixes the heater to the subfloor, without the need for a separate adhesive. The StickyMat is available to purchase in two different power variants, 150W/m2 and 200W/m2, offering precise heat output levels and it can be used with tiles, stone, wood and vinyl floorings.  
The Foil Heater is an ideal heating mat to use with floating floor finishes such as carpets, laminate and vinyl. A great benefit of the Foil Heater is that it offers a 'dry' installation with no need for adhesives or screeds. If you're considering installing the Foil Heater with a softer floor type such as carpet, it should be installed alongside our Insulated Underlay and Dual Overlay systems for a complete floor heating solution.  
Warmup also offer a unique wall heating solution with the StickyMat 3D System. This electric heating mat is ideal for bringing radiant heat and a touch of luxury to cold bathroom walls. 
Considering purchasing an electric floor heating mat for your upcoming project? Get a free instant quote today to find the perfect system for your home.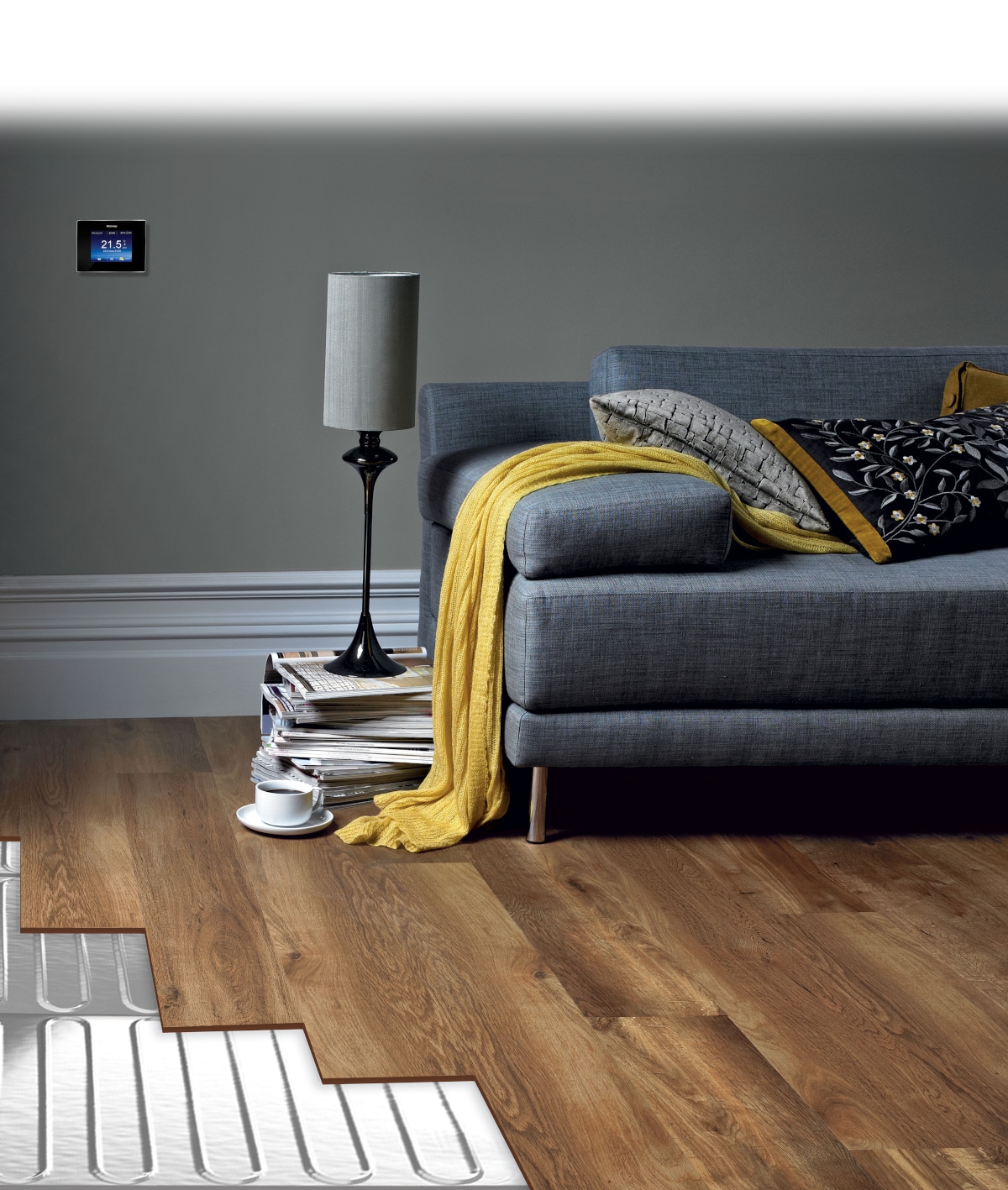 Video installation guides for electric floor heating mats
Every heating system has specific installation instructions and it is crucial to follow the installation manual step-by-step. Looking for installation tips for your new heating system? You can find everything you need to know in our Technical Support area.  
The StickyMat System's innovative self-adhesive backing securely binds the mats to the floor quickly and easily – reducing installation time by 35%. Simply adhere the mat to the subfloor before covering with your selected tile adhesive or levelling compound. The StickMat System can be installed in a regular-sized bathroom in under a day. Watch a video installation guide for the StickyMat System: 
We provide informative video installation guides for many of our products. You can also watch a step-by-step installation guide for the Foil Heater here.  
Can UFH mats be cut to fit different sized floor areas?
To select the most appropriately sized heating mat for your project, you should measure the floor area whilst remembering to subtract any fixed objects such as baths and cupboards to ensure you get the correct size mat that will sufficiently heat the space. 
The StickyMat System can be purchased in a range of sizes, from just 1/m2 to 15/m2 and you can install multiple heaters in the same project. Furthermore, the mesh matting of the StickyMat can be cut and flipped where necessary to fit the exact dimensions of the floor space. But you must ensure that if cutting and flipping the mat, you do not to cut or damage the heating cable itself – this may cause irreparable damage to the heating system. Should you need to extend the cables, the floor probe and power supply cables can be extended by a qualified electrician. Looking for more installation tips for electric underfloor heating? Read our informative article to learn more.  

What projects are heating cables suitable for?
Heating cables are great for installing in irregular-shaped spaces or rooms with many fixed objects and will allow you to personalise your heated floor area layout. The DCM-PRO Heated Decoupling System is available as a loose electrical heating cable and anti-fracture membrane combination and provides a bespoke, modular approach to the underfloor heated-area layout. The DCM-PRO System is especially popular in bathrooms and kitchens with wider ceramic or stone floor tiles due to its decoupling attributes, which prevent cracking and damage to the tiled floor finish due to lateral subfloor movement. 
The Loose Wire System's heating cable can be easily installed around fixed objects in a room, whether that's basins and toilets in bathrooms or washing machines and fridges in kitchens. This system can be applied to existing concrete or screeded subfloors, as well as directly onto insulation panels.   
The Inscreed Cable System is a great choice for new-build projects. It has been specifically designed for installation within concrete screeded subfloors and once installed, it can be covered with any flooring. The Loose Wire System and Inscreed Cable System can be used with all floor types as they will require a layer of self-levelling compound or concrete screed.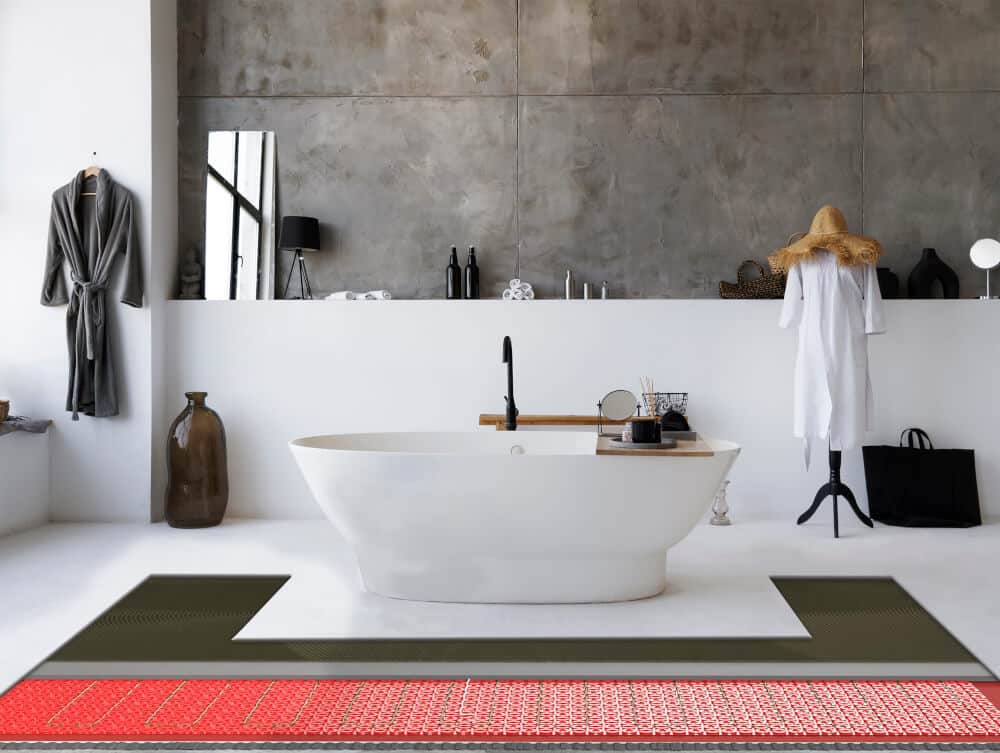 How to change the heat output of your floor heating cable system
Heating cables allow you to amend the heat output of the system by changing the spacing of the cable as you affix it to the subfloor.  
For example, if you're installing the DCM-PRO System, you can alter the spacing of the cable on the mat using its castellations to either increase or decrease the power output per square meter: the higher the density of cable channels, the higher the heat output. The recommended cable spacing is three castellations, or 90mm, which provides 150 Watts per square meter, also known as the optimal power output ratio.  
Learn more about the heat output of floor heating systems in our expert article.  
The versatile installation methods of the DCM-PRO System
The DCM-PRO System offers a hassle-free installation. Its heating cable can be installed tool-free into its accompanying membrane and it offers a flexible installation for a range of projects through its provision of a choice of two heating cables and two membranes. You can purchase DCM-PRO for standard wattage projects of 112.5 W/m² to 225 W/m² or for homes with low load supplies, you can select a heating cable offering a heat output of between 41.3 W/m² – 82.5W/m². Its two membrane options facilitate a truly bespoke installation too. The Peel-and-Stick membrane features a self-adhesive backing, offering 40% faster installation times than standard floor heating membranes. The DCM-PRO's fleece-backed membrane option has been designed to use with traditional adhesives.  
DCM-PRO can be tiled directly onto or it can used with self-levelling compound. The castellations of the membrane allow for easy pouring and spreading of this levelling compound, without the worry of any holes or air gaps. Always ensure that your chosen floor covering has been certified for use with underfloor heating.  
Watch a step-by-step installation guide to the DCM-PRO System: 
Maximising the efficiency of electric underfloor heating
All electric floor heating systems should be installed with floor insulation to enhance the system's energy-saving performance. Our Ultralight Underfloor Heating Boards help improve UFH heat-up times and prevent the heat produced by the system escaping into the subfloor below – greatly reducing energy wastage and saving you money on your energy bills.  
To bring accurate temperature control to your home, UFH systems require use of a system-dedicated heat controller. Warmup's 6iE Smart WiFi Thermostat is perfect to use with our collection of electric systems. The 6iE utilises SmartGeo technology to learn your routines; offering radiant warmth at the right temperature, at the right time, automatically and with energy-monitoring functionality and the ability to be controlled remotely, the 6iE can help to reduce your energy usage by 25%.