Underfloor heating is not only a more comfortable way to heat your home, it's also a much more energy-efficient heating method than traditional systems. In this guide we'll explore how our range of water floor heating systems can make our world a greener, cleaner place. You'll find out: 
The benefits of using underfloor heating instead of central heating systems

 

How UFH helps to lower a property's carbon footprint

 

Whether you can use a water floor heating system with low-carbon heat sources

 

How water systems improve your home's air quality

 

Top tips to make your home as energy-efficient as possible

 
Is underfloor heating better for the environment than traditional heating systems?
As countries around the world work towards becoming carbon neutral by 2050, the future of home heating is in more energy-efficient solutions that utilise sustainable technologies. Underfloor heating is much more efficient way to heat your home, helping to reduce energy usage by up to 35% compared to traditional radiator systems, whilst facilitating renewables and offering significant savings on your energy bills.  
The latest statistics on the environmental impact of heating our homes shows that in the United Kingdom alone, the carbon emissions of the domestic heat sector is around the same as that of all petrol and diesel cars. So, it's important for us to look at ways to improve the sustainability of our homes and installing a water floor heating system is a great way to lower your home's carbon footprint. Floor heating's innovative technology provides evenly distributed heat for any room in your home and we offer water systems to retrofit in home refurbishment projects and for new-build projects such as building your dream property from scratch.  
How will a water floor heating system reduce my home's carbon emissions?
Due to the increased efficiency of water floor heating systems over traditional radiator systems, significant CO2 savings are possible for your home. 
Central heating systems use convection heat to just warm the air of a space, taking long periods of time to heat up a room which results in wasted energy and increased reliance on fossil fuels for the heat source. Warmup's heating systems utilise radiant heat technology to gently warm the people and objects in a room directly and quickly. This process uses less energy and requires lower temperatures than traditional heating systems whilst still producing the same level of warmth. Central heating also relies on carbon-emitting heat sources such as a gas-fed boiler whereas UFH can be used with a wider variety of low-carbon heat sources, such as heat pumps, solar panels and biomass boilers. 
Interested in learning more about the many benefits of UFH? Read our article to discover how a floor heater could transform your home.  
"Underfloor heating can reduce energy usage by up to 35%" 
Are UFH systems compatible with heat pumps?
Heat pumps are a more sustainable heat source that takes the natural warmth from the environment and converts this into energy for your home to use. Ground or air-source heat pumps function at lower temperatures than an oil or gas boiler and because water UFH systems also operate at lower temperatures than other heating methods, it makes them an ideal system to use with heat pumps. 
Using floor heating with a heat pump will dramatically reduce the carbon emissions of your home whilst providing substantial savings on your energy bills. In some cases you could save up to £700 and reduce your carbon emissions by nearly 2000kgCO2/year. Learn more about the savings offered by floor heating and heat pumps in our expert guide.  
The VLo line of low-profile water underfloor heating systems are a great choice to use with heat pumps. Featuring excellent heat output with low water temperatures and slimline construction, the VLo line has been specifically designed to install in renovations.  
"A floor heating system can lower your home's carbon footprint by nearly 2000kgCO2/year"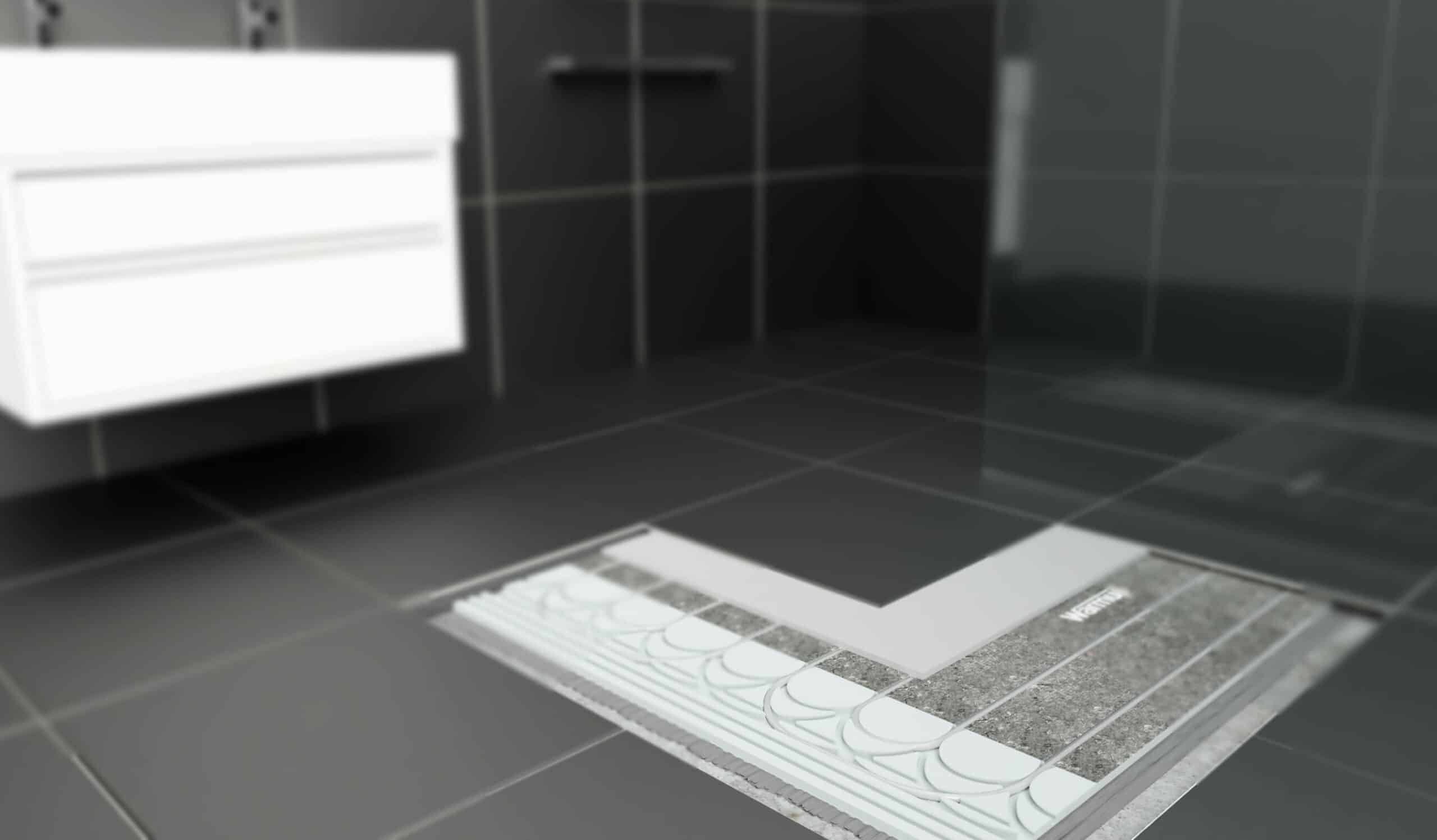 Will floor heating improve air quality?
Yes, it will. UFH offers a more consistent heating output than standard heating options, with less likelihood of overheating or underheating your home. Overheated rooms create a feeling of stuffiness which can impact your breathing so a floor heating system can help to create a healthier environment. And, unlike radiator-based heating systems, floor heaters can also prevent dust from circulating in the air of a room which can agitate allergies.  
How can I enhance the energy-efficiency of underfloor heating?
The energy-saving technology provided by a water floor heating system can be maximized by making sure your home is as well insulated as possible. An under-insulated home allows the heat produced by your heating system to escape the building which will therefore require more energy to keep it warm. As part of your heating specification, you should conduct a heat loss assessment of your property to make sure your new heating system will provide enough warmth for the space. We recommend that all new UFH systems should be installed alongside accompanying floor insulation which will help to reduce this heat loss whilst also improving the system's performance. Looking to reduce your home's heat loss? Discover everything you need to know in our informative article  
You can also maximize the energy-efficiency of floor heating by utilising Smart multi-zone heat controls. Smart controls can reduce your home's energy usage by up to 25% and provide intuitive, automatic warmth. The Konekt range by Warmup offers a wireless solution for controlling water underfloor heating systems. Its Smart technology allows you to set-up personalised, automated heat schedules in different parts of your home with the option of grouping heating zones together for even greater comfort and efficiency.   
Can I purchase a water floor heating system directly from Warmup?
Yes, you can. If you're interested in an energy-saving heating solution that can contribute to the global reduction of CO2 emissions then a Warmup UFH system may be perfect for your home. You can discover the best system for your requirements by using our online quoting tool. Simply enter a few basic details of your project and we'll find you the best heating option for your needs. You'll be able to purchase it directly online and we can even deliver it straight to your home.