Underfloor heating is a more sustainable way to heat your home, offering energy-saving warmth with low running costs. In this guide we'll discover some of the many benefits of installing a floor heating system as part of your renovation or new-build project. You'll learn how UFH can help:
Bring design freedom to your space
Save you money on your energy bills
Become a key part of your Smart home
Provide a low-maintenance heating solution
Improve your home's air quality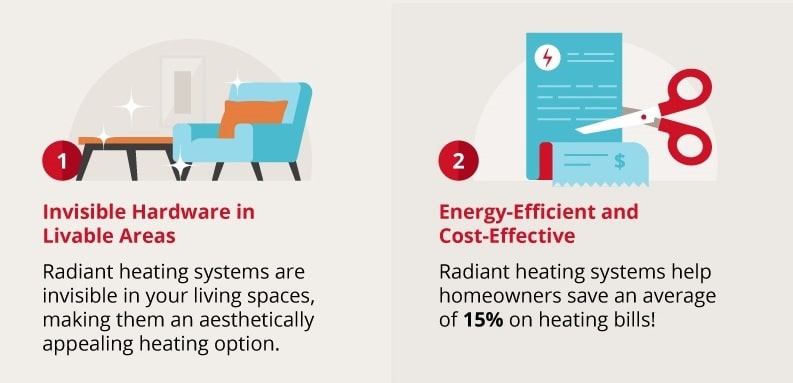 1. Floor heating is an 'invisible' heating method
Unlike other forms of heating, water and electric floor heaters are fitted beneath your floor finish so they provide the most discreet heating solution possible. The 'invisible' hardware of UFH makes it perfect for every room of your home and will allow you to create cleaner, more contemporary spaces in which to live.
2. Energy-efficient floor heaters provide big savings
Floor heating uses energy-efficient radiant heat technology to gently warm the objects and people in the space directly, as opposed to a central heating system which focuses on just heating the air. This process is up to 40% more efficient; requiring lower temperatures than traditional heating options whilst still providing the same level of comfort. Utilising Warmup underfloor heating could dramatically reduce your home's energy usage and in turn, reduce the cost of your energy bills. Installing a Warmup system with its accompany Smart controls and apps could save you up to £400 a year. Want to learn more about how UFH can save you money? Read our expert article to see what a difference radiant heating can make to your household bills.
3. UFH is Smart Home compatible
You can control your radiant heating system using a Smart thermostat for an intuitive, automatic heat experience that will also bring you even greater cost-savings. The 6iE Smart WiFi Thermostat is our latest development in Smart technology. It is the world's first UFH controller with a Smartphone touchscreen and offers remote heat control from wherever you are through its partnered MyHeating app. The Konekt Wireless Control system is an innovative range of heating controls for wet systems and central heating systems, allowing you to create a personalised heating solution with room-by-room management. Using a Warmup thermostat with your heating system will ensure your home is heated to the right temperature for your needs, at the right time for you, automatically. A Warmup Smart controller can also be linked to your other Smart devices such as the Amazon Echo and Google Home, helping you to create a fully realised Smart ecosystem in your home with voice-controlled heating.
4. Radiant heating systems bring total design freedom
Whereas standard central heating systems require the use of bulky radiators and wood-burning stoves need imposing chimneys, our range of floor heaters require no visible pipework so you can design your dream home with no disruptions. Want to create a stylish home with clean lines and a sense of space and airiness? Underfloor heating is the perfect choice for this kind of design freedom and Warmup offer solutions for all types of projects, from large-scale new-build constructions to simple one-room refurbishments. Find the best floor heating solution for your home in our underfloor heating buying guide.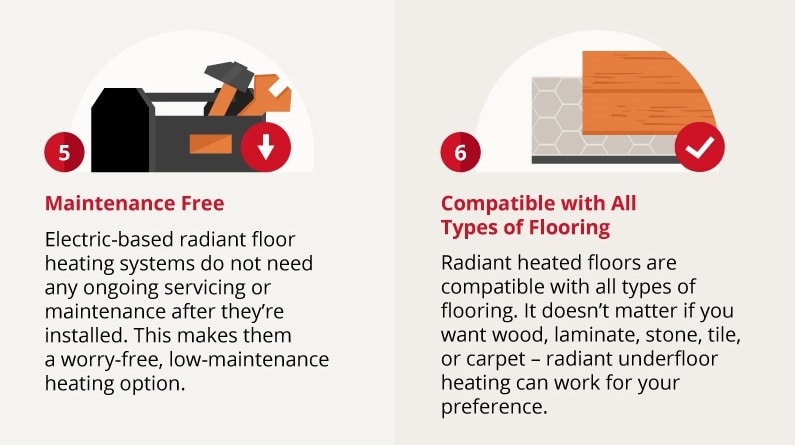 5. Floor heating is maintenance-free
Worried about the potential upkeep of your new heating system? Don't be! Once installed, our UFH systems require little-to-no maintenance and all our products are covered by extensive warranties for your peace of mind, with many of our heaters coming with lifetime guarantees. If you do encounter any issues with your new system, Warmup also offer 24/7 after-sales customer support.
6. Warmup heaters are compatible with all floor types
No matter your chosen final floor finish, from carpet to stone, laminate to vinyl; there's a floor heater perfect for your needs. The DCM-PRO Heated Decoupling System is an electric heater designed for use with tiled floors – its unique decoupling membrane helps prevent accidental damage to your tiles caused by subfloor movement. Looking for a system to use with softer floors? The Foil Heater is a great choice for use with carpeting and vinyl. Our range of water underfloor heating systems are suitable with almost all floor finishes, and we offer many low-profile heaters that won't impact on floor heights.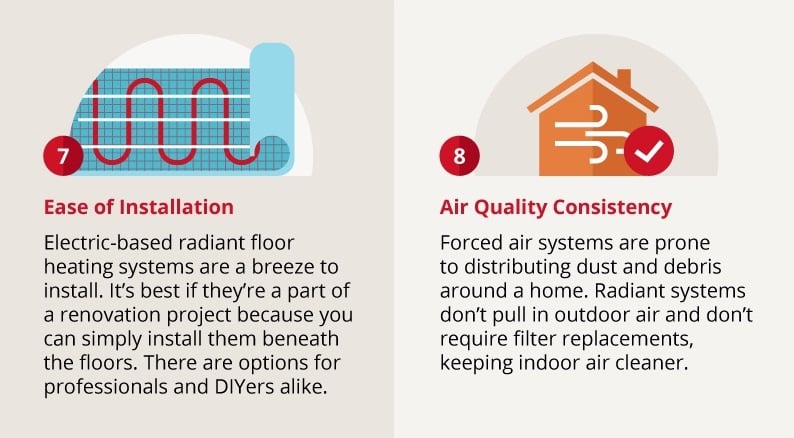 7. Our systems are easy to install
Electric floor heating systems offer rapid installation times, with some heaters being able to be installed be in a regular-sized bathroom in under a day. Wet systems (also referred to as hydronic or water floor heating systems) will take longer and cost more to install but their advanced design will result in even lower running costs in the long run. Each heater has a system-specific installation method and all systems should be fitted by a fully qualified installer who was worked with floor heating before. Looking for an installer? We may be able to recommend an expert working in your area from our network of Warmup Pro installers. Get in touch with us for more information.
8. Underfloor heating can improve air quality
There are many health benefits associated with a floor heating solution. Radiant heat is better for a room's air quality as it doesn't overheat a space, reducing the feeling of stuffiness often associated with traditional central heating systems. Floor heating also prevents dust from circulating in the air of a room which is another common complain about central heating. Installing underfloor heating in your home helps enhance its sense of wellness and comfort and will allow you to feel cosy all year round. Interested in purchasing an UFH system? Use our online quoting tool to find the perfect heater for your home in a few simple steps.