Building a new conservatory or extension is a great way to add living space to your home and specifying a good heating method for these rooms is key. In this guide, we'll look at how installing an underfloor heating system in a conservatory brings radiant warmth all year round, so you can use it comfortably throughout the winter months. We'll find out:
The cost of a conservatory underfloor heating system
The benefits of UFH for extensions
How to install the heater in your project
Which type of system is best for you
How to purchase a conservatory floor heater
How much will underfloor heating cost for my conservatory?
An underfloor heating system offers a more sustainable and energy-efficient method for heating conservatories and any home extension. Our range of electric and water floor heaters are affordable to purchase and offer low long-term running costs compared to traditional heating systems.
Below you can find a ready-made quote for a complete conservatory floor heating package. You can purchase this package as it is or personalize it using our comprehensive online quoting tool with your project's details. We will explore how we reached this UFH price for a typical conservatory within this article.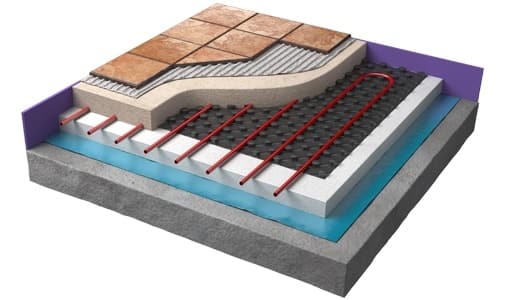 Forte Grid System for 24 M/2
4iE Smart WiFi Thermostat
Total Cost for Living Room Water UFH System:
From £838.50 (excl. VAT)
What are the benefits of floor heating for home extensions?
Whether you're renovating or building a conservatory, sunroom or a home extension, these rooms are perfect for heating with radiant floor heating systems. Our systems offer a 'zoned' heating approach – meaning you can control your conservatory floor heater separately to the rest of your home, thereby conserving energy usage.
Whilst conservatories and sunrooms are often thought of as summer rooms in which to enjoy the sunshine, installing a floor heater in your conservatory means making this room as warm and cosy as the rest of your home in the cooler winter months. As these types of rooms typically utilise such features as glass walls and ceilings, keeping the cold air out is crucial and the radiant heat produced by UFH is less likely to escape from conservatories than the kind of heat produced by central heating systems. Radiant heat heats the people and objects in the space directly from the ground up whereas central heat from radiators primarily focuses on heating the air of the room. Floor heaters are also a discreet heating solution, so you won't have to worry about where to place a cumbersome radiator in rooms with such large windows.
Can you put UFH in a conservatory or sunroom?
You can install a Warmup heating system as part of the sub-floor construction in a new-build extension project or retrofit a system in your existing conservatory. If you're building a conservatory from the ground up, it's a good idea to include the floor heating system within your architectural plans. Due to the use of glazed walls in these rooms, good quality insulation should be installed alongside the heater to keep the warm air within the space, and you should also undertake a heat loss calculation to ensure your choice of a heater can meet the heating requirements of the room.
Our Warmup Pro network of installers may be able to help you install a Warmup heating system in your project and the cost of UFH installation in your conservatory should be around £200 – 400 a day for a skilled installer who has experience with building regulations.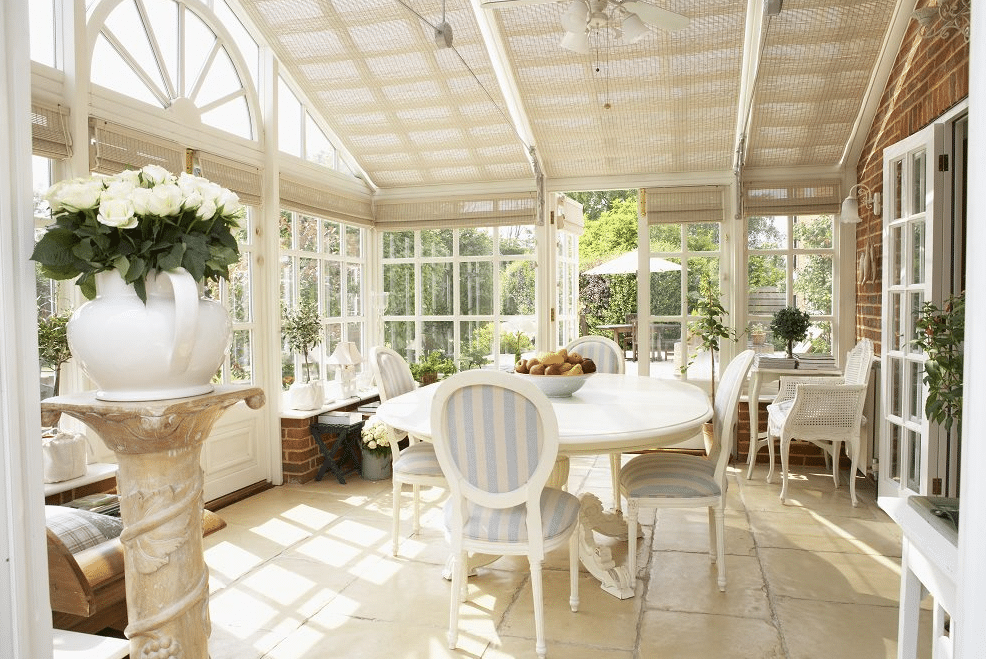 How to get a UFH quote for your conservatory
To choose the best radiant floor heating solution for your project using our innovative online quoting tool, we'll need to collate a few key details such as the subfloor type, floor finish and heated area size of your conservatory. For this article's prepared quote, we'll choose some standard details for an average-sized conservatory.
The subfloor type refers to the materials used in the construction below your flooring finishing – this could be a concrete screed, timber or joisted floors. For this quote we'll select a concrete screed as this is typical for new-build projects.
The heated area of the room refers to the square meterage of the floor that needs to be heated, not including areas permanently covered with fixed objects such as in-built units. For this prepared conservatory heating quote, we'll suggest a heated area of 24 M/2.
Underfloor heating is suitable for almost any floor covering but a popular choice for sunrooms and conservatories is ceramic tiling which is ideal for use with floor heaters due to the responsiveness of the material.
Is a water or electric underfloor heating System better for my conservatory?
Water floor heaters are perfect for installing in new home extensions, as many of these systems require installation within a layer of concrete screed which can be set during the construction of the room. If you're looking to bring some warmth to your existing conservatory, one of our electric UFH systems such as the StickyMat Electric Heating Mat would be a great choice as they offer rapid installation times with little impact on floor levels.
Best wet system for extensions and conservatories
An ideal Warmup system to specify in a new conservatory or home extension would be our Forte Grid System. Its floor heating pipes are connected to the reinforced steel gridwork within your conservatory's concrete screed subfloor and as such, it is suitable for use in rooms with heavy loads – such as glazed walls and ceilings. Using one of our Smart heating controllers to manage your new UFH system will enhance the energy-efficiency of the heater.
Purchasing your heater
Below you can find the prepared quote using the project details explored through this guide. Simply click 'Complete or Customise This Quote' to use our innovative online quoting tool and discover the precise cost of an underfloor heating system for your conservatory. You can purchase a wet floor heater online and even get it delivered to your project. It's also a good idea to ask your UFH installer to help you complete your quote for an accurate result.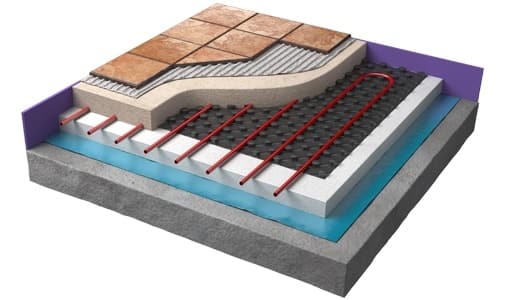 Forte Grid System for 24 M/2
4iE Smart WiFi Thermostat
Total Cost for Living Room Water UFH System:
From £838.50 (excl. VAT)