Electric patio heater buying guide to choosing the right solution for being able to dine al fresco, no matter the weather.
The British summer – there's nothing quite like dining al fresco to make you realise that perhaps the temperature isn't quite what you'd like it to be. Dining al fresco means in Britain being wrapped in blankets and accepting the likelihood of food being cold before your third mouthful…
Inevitably it would be ideal not to have to fly out of the country and head to the South to dine outside with the family, enjoy drinks on the patio and even, if I dare to wish, curl up with a good book at sunset.
Don't let the temperamental blighty weather prevent you from making the most of your outdoor space this season; outdoor heating solutions are the perfect way to get the most from the summer days and nights – without leaving you cold.
Take a look at our top tips below for clever ways to get the most out of the British summer with an outdoor heating solution:
1. OPT FOR AN ELECTRIC PATIO HEATER TO REDUCE COSTS
A huge five times cheaper to run than an equivalent gas heater, electric patio heaters are the ideal choice for those looking for value as well as warmth. What's more, there is no requirement for large, unsightly and often costly gas canisters or bottles. Simply plug in and enjoy.
2.     UNDERSTAND THE DIFFERENT TYPES OF ELECTRIC PATIO HEATERS AVAILABLE
Some electric patio heaters require fitting or mounting to walls whilst others are free standing. There are certainly benefits to both; a ceiling mounted electric patio heater is typically higher so can cast and distribute heat from a height, whilst free standing patio heaters are easier to manoeuvre and accommodate your needs. However, for total flexibility, consider a heater that offers both; the ability to be mounted as well as the option to stand or be used with a tripod. This means that, whatever the occasion, you can rest assured knowing that you have an outdoor heating solution to suit.
Another difference to consider is the type of wave that the heater uses. Short wave lamps produce heat in bodies and objects, then radiated to those close by. This means that a breeze or drop in temperature will not affect your heating. Medium and long wave lamps, however, heat the air itself.
3.   IDENTIFY THE BEST POSITION FOR YOUR OUTDOOR HEATING SOLUTION
Whilst flexible patio heaters that can be moved around as well as fitted are a bonus, if you know that you want to mount your heater, it is essential to understand the right positioning. Doing so will ensure that you get the very best projection of heat.
To achieve this, measure the area for heating (length x width x height) then direct the heater downwards towards the area that you'd like to heat. The more powerful the heater, the higher it should be mounted to ensure a wider distribution of heat.
4.  KNOW HOW TO LOOK AFTER YOUR OUTDOOR HEATING SOLUTION TO MAXIMISE SAFETY AND LONGEVITY
Ensure that any cables that connect the heater to the power source are tucked safely away and out of the reach of children. If you opt for a free-standing heater, be sure to take precautions that prevent children from touching the heating element / grill. Another point to consider with free-standing patio heaters is that they are placed on a flat surface to prevent tipping over.
Don't attempt any electrical maintenance yourself; as with any electrical appliance, it is essential that such work is conducted by a professional.
Given the temperamental British weather, it's highly advisable to opt for a waterproof patio heater that can cope with summer downpours.
5.     ADD SOME COSY FINAL TOUCHES
Consider adding fairy lights and soft furnishings (under cover) to create a warm atmosphere, as well as actual warmth with an outdoor heating solution. Candles give the magic touch to create an atmospheric vibe. Some interior designers recommend using rugs in a garden decor to enchant an inviting and comfortable space where you want to spend time in during those long summer nights.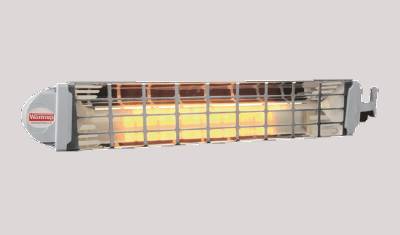 Learn more about Warmup Patio Heater on our website.
Underfloor Heating from the Worlds Best selling Brand, Warmup, starts from less than £200 and costs less than £20 per year to heat a typical bathroom floor – all with a lifetime warranty".