How To Keep Your Patio Frost-Free in Winter
Many homeowners put a lot of effort into creating a comfortable and inviting patio or paved garden area, just to find it unusable when the temperature drops below freezing in the colder months. Wouldn't it be great if you didn't have to lose access to this area of your home every winter? Wouldn't it be ideal if there were a way to make your patio people-friendly year-round? In this article we'll show how our collection of outdoor heating solutions won't let freezing temperatures take away your favourite place to sit and relax this winter. You'll learn: 
Common issues with traditional outdoor heaters 

 

The benefits of using Warmup Snow Melting Cables

 

Where you can use Snow Melting Cables

Other products to keep your home snow and frost-free

 
Problems with Standard Outdoor Heating Solutions
Heat Lamps and Lanterns
The best way to combat freezing temperatures in your outdoor areas is to add a little heat. Simply put, fire and ice don't mix, so if you want to keep your patio free of sleet and snow, you might want to add some warmth to your décor. Installing heat lamps and lanterns provide tons of heat and are relatively easy to store during warmer months. However, they can only counteract frost and snow in localised areas when in use and should never be kept on 24/7. 
Portable Fire Pits and Fireplaces
Portable fire pits or custom fireplaces are another idea to help keep your patio or driveway snow and ice-free. There are few things quite as fun and relaxing as snuggling up around a fire pit on a cold night and fireplaces also enhance your outdoor aesthetic, creating a fun, warm, and inviting atmosphere. The main potential disadvantage to these solutions is that again, they will only prevent ice build-up on cold nights if they are in use and the frost or snow will quickly resettle once the fire is extinguished.  
Snow Melting Cables for Frost-Free Grounds
Unfortunately, when the temperature drops too low, even some of the most high-end fireplaces, fire pits, heat lamps, and lanterns won't be enough to melt the ice and snow from your patio. It's also important to remember that standing ice and excess snow is not just uncomfortable, it's also a potential hazard which could cause severe damage to you, your family and friends, or your home. 
If you're looking for the best way to keep your patio ice and snow-free, you've come to the right place. Warmup's innovative radiant heat technology can also be utilised to help melt snow and prevent ice build in your outdoor areas.  
The Snow Melting Cable is an electric heating cable that helps keep your outdoor areas free from snow and ice in the winter months. This system is available for both concrete and asphalt application and is installed directly on a layer of asphalt or concrete and then covered with an additional two inches of material. This snow-melt technology brings radiant warmth across the whole surface of your patio or driveway, not just a small, localised area like fires and lamps. Snow melting systems are controlled by an easy-to-use accompanying thermostat so you can ensure your garden is frost-free when needed, even when you're not home.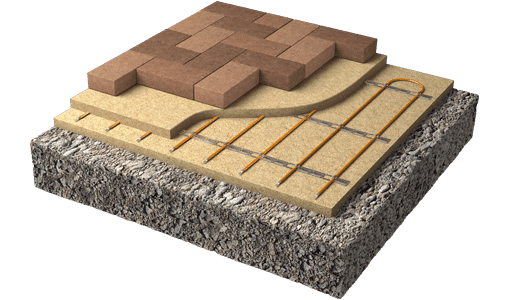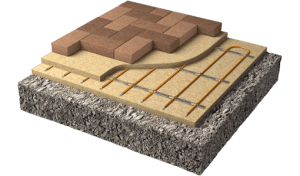 Where Can I Install Snow Melting Cables?
The Snow Melting Cable is a reliable and consistent heating source that will protect the external paved areas of your home. They can be used in a variety of ways, including: 
Patio and terrace heating

Keeping driveways frost-free for safe driving

Making sure paths and pavements are always safe

Paved garden de-icing

Ensuring outdoor sports courts are available to use in the winter

Prevent ice from forming on steps and ramps 

 
Can I Also Prevent Ice and Snow Build-up on My Roof or Gutters?
Unfortunately, heavy amounts of excess snow can cause severe damage to your home, including leaks, sagging ceilings, cracks in walls, damaged tiles, roof collapses, and water damage. Fortunately, our Self-Regulating Cables are an energy-efficient outdoor heating solution that prevents frost and snow building up on external parts of your house. They are ideal for roof de-icing, gutter protection, snow melting, pipe protection and fit almost all roof types. These cables are also available in a commercial grade, making them an ideal option for large-scale industrial projects as well. 
Self-Regulating Cables only use electricity when the ambient temperature drops to freezing temperatures or when snow is detected. That means you don't have to worry about constantly watching the weather, fearing a potential disaster. Self-regulating heating cables are heavy-duty and durable enough to cope with even the harshest weather conditions. Finally, since it self-regulates its output based on ambient temperature, it's more cost-efficient in the long-term. It can also be cut to length to be easily customized to any application. 
If you're looking for the most comprehensive solutions for protecting your home this winter, you've come to the right place. Warmup has decades of experience and is the leading provider of heating cable systems worldwide. Get a free instant quote today to discover the best radiant heating solution for your home and get in touch with us if you have any queries.