The Best Heating Systems for Mobile Homes
Making sure your mobile home is properly protected against the cold weather outside is an important step in creating a comfortable space. If it is not heated and insulated appropriately, you may experience a dramatic increase in your utility bills as your system works overtime to keep your house comfortable. In this guide we'll explore the best heating options for mobile homes and other smaller living spaces such as caravans, holiday chalets or garden rooms and work sheds. You'll find out:
The problems with traditional mobile home heaters

The benefits of underfloor heating for smaller homes and vans

How to make your space more energy-efficient

How much money UFH will save for a mobile home
Traditional

Mobile Home Heat

ing Options
Electric vs. Gas Furnaces
There are 2 main furnace systems that can be used to heat your mobile home – gas and electric. Electric systems are usually cheaper to purchase and install, but the long-term operational costs can be higher. Electric heat is quiet, and maintenance is easy on the wallet. A gas furnace will be expensive to install due to the piping required to bring the gas into the house, and the system is more complicated than an electric furnace. A major difference between the two systems is that gas burns and therefore emits a small amount of carbon monoxide, which can be dangerous if not constantly monitored. Alarms are inexpensive but must be maintained to ensure your safety.
Heat Pumps
Air-source heat pumps are popular as they can provide heat and air conditioning from the same unit, using the same ducting system. Compared to either an electric or gas furnace, heat pumps can be more efficient, resulting in lower energy bills. Heat pumps are great to use with wet floor heating systems – read our expert guide to find out more about heat pumps and underfloor heating.
Cooling and Heating Wall Unit
A popular alternative to full-sized heat pumps and furnace systems are wall units that provide heating and cooling, also called ductless systems. They are essentially mini heat pumps designed for single rooms. They can be mounted on any exterior wall and only require a small opening in the wall for the piping to pass through.
Propane Heaters and Space Heaters
Propane heating systems and electric and oil-based space heaters are low maintenance but will create hot and cold spots in the room as the heat is moved by convection. Compared to fireplaces, they take up less space, as they do not require the clearance from the wall that many wood and pellet stoves do.
Wood Stoves
The idea of tiny house or a caravan living brings to mind sitting around a glowing wood stove with a warm cup of coffee in the evening. Wood-burning stoves are less expensive than other automated heat systems but there are also some negative aspects. Wood stoves for tiny homes are small and will need to be filled multiple times if you want to keep the house warm. They are also high maintenance, since the stove must be cleaned regularly, and the flue must be kept clear to avoid fire damage. Wood stoves are also not an efficient heat source as they create a high carbon footprint.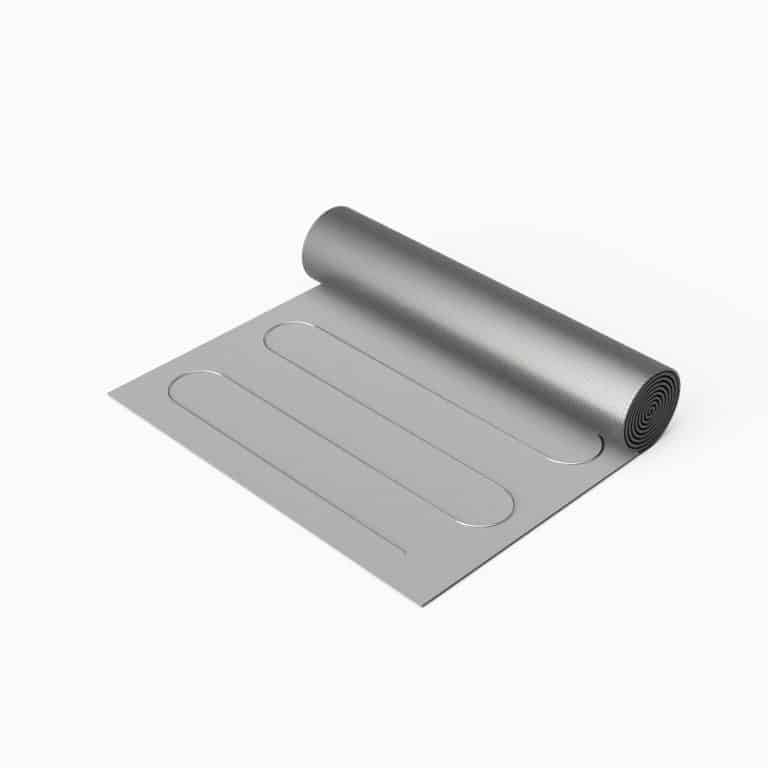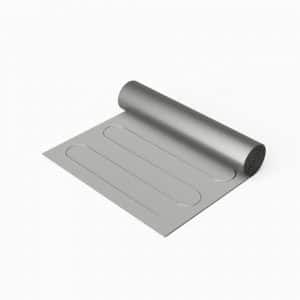 Why Radiant Floor Heating is Perfect for Mobile Homes
Underfloor heating is one of the most efficient and comfortable sources of heat that is available. And unlike many of the traditional heat sources for caravans and chalets, UFH is a much more sustainable heating solution.
Floor heating provides even heating throughout the space, because it heats the people and furniture in the room, not just the air like more traditional heating systems. Our range of underfloor heating systems do not require much space for equipment as the entire heat source is under the finished flooring and evenly heats your entire living area with no hot and cold spots. Combining a radiant floor heat system with a Smart thermostat allows you to let the space cool to a comfortable temperature while you are out and bring it up to the desired level right before you return, helping to save energy and reduce the cost of your bills.
For tiny homeowners who intend to be on the grid most of the time or are utilising solar power, an electric floor heating system is an ideal option. Warmup's Foil Heater would be perfect for mobile homes as it offers a 'dry' installation method, meaning you won't need to use a screed or tile adhesive and its low-profile design means it will have a negligible impact on the floor levels.
For larger mobile units or garden rooms and workshops, a water underfloor heating system could be a brilliant option. These systems (also known as wet or hydronic heating systems) can work with a gas-fed heating source or heat-pump and we offer a range of low-profile systems for spaces with lower ceiling heights.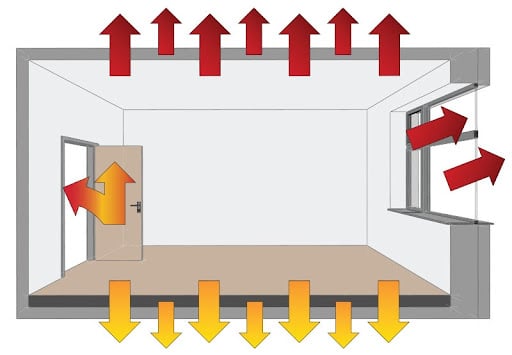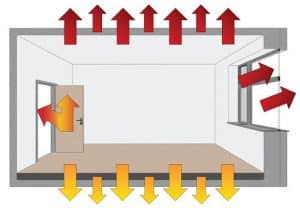 How

T

o

Increase Mobile Home

Energy-

Efficiency
Wall and Ceiling Insulation
If you live in an older mobile home, you may not have adequate wall and ceiling insulation installed. In fact, you may not have any. If you're considering underfloor heating for your caravan, then a great addition is Warmup's insulation. Floor insulation keeps the radiant heat heading upwards rather than losing energy downwards beneath the system.
Skirting
Adding skirting around the perimeter of your mobile home is a quick way to prevent cold air from infiltrating under your home. The skirting will also help maintain warmer temperatures underneath the home, which can prevent pipes from freezing during extended cold spells.
Smart Heating Controls
Using a Smart thermostat to control your heating system is a great way to reduce energy wastage and bring cost savings. The 6iE Smart WiFi Thermostat can help you save up to £400 a year on your annual energy bills.
The Cost and Cost-Savings of UFH for Tiny Homes
Warmup electric underfloor radiant heat systems are easy to install and offer low running costs. Whether you are shopping for a system for a tiny home, holiday park residence, a van conversion or adding supplemental heat in a new addition, underfloor radiant heat from Warmup provides quiet, clean, even heat at an affordable price.
If you're wondering how much a new system will cost for you, get a free instant online quote to find out the exact pricing. Simply enter the details of your project and we'll let you know the best heater for your needs. You can purchase an UFH system in person from your nearest Warmup retailer or even get a wet system delivered directly to your site.