Aiming to improve the sustainability and reduce the environmental impact of house building, passive housing is a popular movement in new-build projects across the world. Whilst commonly seen as requiring less heating than other forms of housing, passive houses still require an energy-efficient heating solution. In this guide, we'll be exploring these new types of homes and will learn about their heating needs. You'll find out:
What exactly is a passive house?
The best heating options for passive house building
The benefits of underfloor heating in passive houses
The best UFH systems to use
How to buy a passivhaus heating system
What is a passive house?
A passive house, also referred to as a passivhaus, is a type of home that is built to have a passive impact on our planet. Homes have high levels of carbon emissions, with some estimates stating that up to 40% of the UK's CO2 emissions come from households, mostly through inefficient energy consumption. As we look towards more sustainable methods of housing and housebuilding, passive houses are one of the key ideas to address this problem. Passive houses are typically very well insulated and have a much lower carbon footprint compared to other forms of new-build housing.
To build a certified passive house, there are several key principals that you must adhere to as set out by the Passive House Trust. These are:
No thermal bridging – ensuring there are no gaps in the construction of the house.
High-quality insulation – passive houses feature very high levels of insulation, keeping the home cool in the summer and warm in the winter.
High-quality windows – high-spec windows that keep the heat inside the home.
Airtight build – ensuring there is no escaping airflow from the outdoors in and vice-versa.
Mechanical ventilation with heat recovery – a ventilation system that can help with the heating and cooling of the home, bringing warmed fresh air from outside into the space.
How do you heat a passivhaus?
Due to the key passive house component of a mechanical ventilation system with heat recovery, lower levels of heat may be required compared to traditional homes, but further heating sources will be required for your comfort. The advanced construction of passive houses mean they make the most of environmental warmth through solar gains (the heat produced by the sun) and minimise heat losses through their insulation methods and airtight construction. If you want to find out more about solar gain, read our expert blog.
Typically, mechanical ventilation systems are combined with an electric or hot water post-heater to provide more thermal comfort but there are limitations to these heat sources. Common gas boilers used with radiators can also be considered however you should be aware that the high carbon output of this type of heat source may not comply with the energy limit for passivhaus building standards.
Renewable energy sources like solar panels and heat pumps are an increasingly popular choice for use in passive houses and both heat sources are perfect for use with underfloor heating systems.
Can I install underfloor heating in a passive house?
Yes, you can. Floor heating systems are a great choice for passive house projects, bringing radiant warmth to every room of your home. Using a Warmup underfloor heating system alongside a renewable heat source can also improve the energy performance of your home and provide you with significant energy savings. Underfloor heating can reduce your heating bills by hundreds of pounds a year compared to traditional heating options.
Water floor heating systems are a great choice for installing with a ground or air-source heat pump and are ideal for new-build passive house projects as they can be installed as part of the building's construction. Thinking about solar power? Our range of electric floor heaters may be a great choice for your passivhaus. Electric underfloor heating systems are great for retrofitting in homes and are especially popular to use as secondary heat sources in colder rooms.
If you're considering a UFH system for your passive house, then assessing the heat loss of the space is a key first step in ensuring your new heating system will provide you with the perfect level of warmth. Read our informative article to learn more about the importance of heat loss assessments.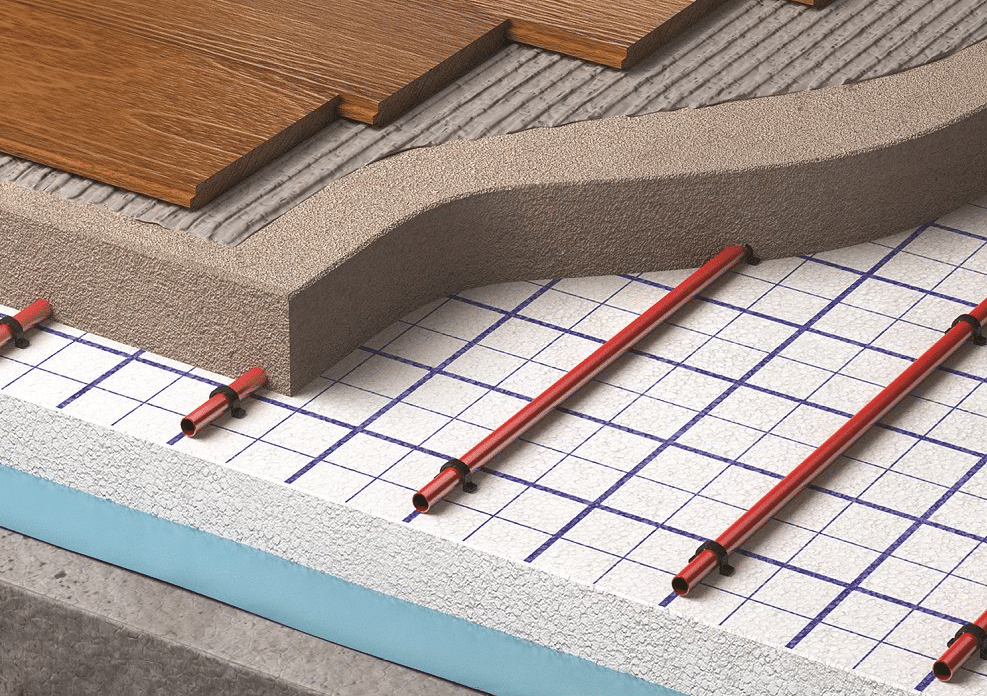 What are the best UFH systems for a passive house?
Our range of hydronic systems are perfect for use in passive houses. These systems pump gently heated water through pipes installed within the subfloor of your home to provide radiant warmth from the ground up. They can be used in conjunction with traditional boilers or heat pumps and offer a discreet way to heat your home, with no need for visible pipework or radiators.
Warmup's Clypso System is a perfect heater for passivhaus projects. The Clyspo System is designed for use in homes with floating screeded floors such as wooden floor finishes on top of a screeded concrete subfloor. Its accompanying high-quality floor insulation panels will make sure the heat produced by the system stays within the space and will enhance the overall insulation levels of a passive house. Water floor heating systems offer low running costs and installing the Clypso System in a passivhaus with an air-source heat pump will dramatically reduce your home's carbon footprint and save you substantial amounts of money on your energy bills.
Should I use Smart heating controls in my passivhaus?
Using Smart controls to control the heating system in your passive house is a great way to further increase the energy performance of your home. Warmup's collection of Smart Thermostats offer a zoned heating approach, meaning you can heat different areas of the house independently to each other. Warmup's controls also provide accurate, remote control and automatic heat functionality – making sure your home is heated to the right temperature, at the right time for you, from wherever you are. Using Warmup Smart multi-zone controls can save you up to an additional 25% on energy compared to basic thermostats.
How do I purchase a Warmup UFH system?
Considering buying an underfloor heating system for your home? Use our simple online quoting tool to discover the best heating option for your needs. Specifying a Warmup system for a passive house is easy and we'll let you know exactly how much each component of the system will cost. You can even arrange a delivery of a complete water floor heating system directly to your project's building site.