Thinking about redesigning your bathroom or wet room? Elevate the style and comfort of the space with our range of technologically advanced heating systems and accessories. This in-depth guide will show you how the Warmup Bathroom Collection can help you transform your bathroom into an oasis of warmth. We'll explore:
How our range of stainless-steel heated towel rails work to provide radiantly warm towels after a refreshing shower
The best electric towel rail for your bathroom
Where in a bathroom you can install towel rails
How to ensure a steam-free mirror every morning with a Mirror Demister
Why underfloor heating systems and wall heaters are ideal for bringing warmth to cold bathrooms and wet rooms
How insulation is essential for guaranteeing the most energy-efficient heating solution for your bathroom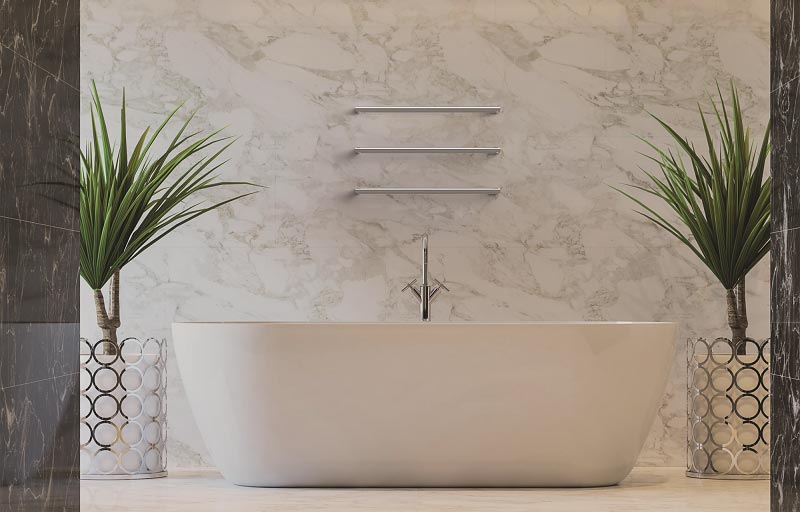 Creating a luxuriously cosy bathroom sanctuary
The Bathroom Collection brings together a range of innovative bathroom heating solutions to make your bathroom the cosiest room in your home. With our wide selection of underfloor heating systems, you can enjoy radiantly heated bathroom floors on a cold winter's morning and our stainless-steel, liquid-free heated towel rails offer warm towels after a long soak in the bathtub. If you're looking for a clean and clear mirror that won't fog-up after a hot shower, our Mirror Demisters provide a great solution while our StickyMat 3D System brings luxurious warmth to cold tiled walls.
How do Heated Towel Rails ensure warm towels after a cooling shower?
There is nothing better than a warm towel after a shower or bath, so if you're refurbishing your bathroom then consider installing a heated towel rail to add a touch of luxury. The Warmup range of towel rails offer stylish design with great functionality, at an accessible price point. The towel heaters utilise our electric heating wire technology to quickly warm your towels up to an optimal temperature with even heat dispersion. Because of this, the rails are liquid-free – meaning there is no risks of leaks and their high-quality stainless-steel construction mean they are also resistant to staining and corrosion, making them ideal for use in your bathroom.
The towel heaters are simple to install by a qualified installer and easy to use; you can control them through your existing RCD protected bathroom lighting circuit for automatic control or via a separate power button.
Is a Single-Bar or Multi-Bar electric towel rail more suitable for me?
Whether you're renovating a large family bathroom or sprucing up a smaller wet room or en-suite, there is a Warmup towel rail perfect for your requirements. Both our single-bar and multi-bar models offer ease of use and quick installation times.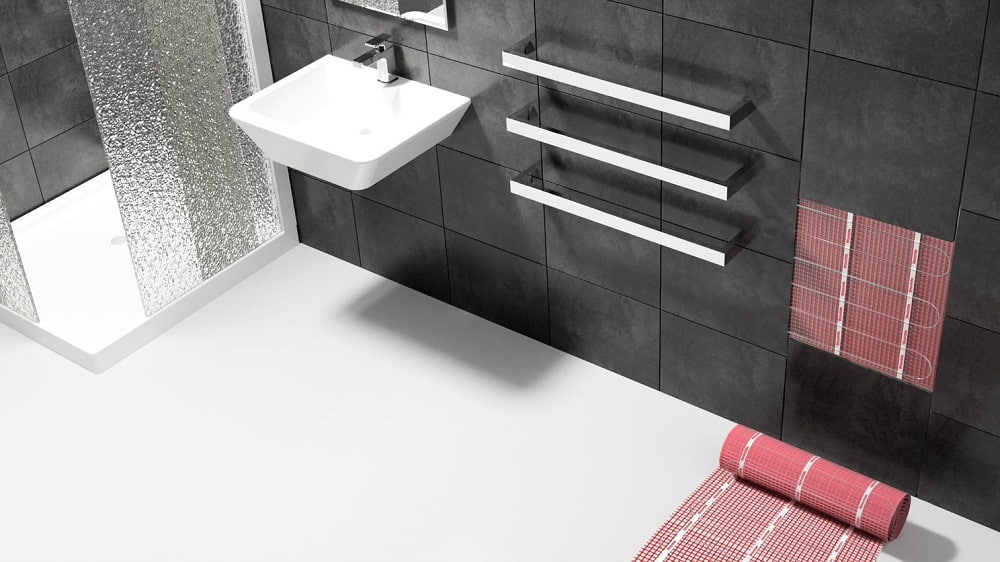 Modular Single-Bar Electric Heated Towel Rails for contemporary wet rooms
A small bathroom doesn't mean having to compromise on style and functionality and our Single-Bar Towel Rails are the perfect accessory for your wet room. They are available in two distinct styles; the Tulsi offers a rounded design and the Burdock rail uses a squared design. Both options can also be ordered in two different colourways; a polished finish and a brushed finished.
They provide great flexibility for heating towels in your bathroom as you can install them in a modular fashion. For instance, hang three polished Tulsi Heated Towel Rails in a row on your bathroom wall for a sculptural design statement.
Ladder-Style Multi-Bar Heated Towel Rails – perfect for larger bathrooms
A large family bathroom needs efficient and functional design and our collection of Multi-Bar Ladder Towel Rails are big enough to warm up all your household's towels. They use a more traditional ladder-style design and are available in two style options; the rounded Anise and the squared-off Hawthorn.
Both electric towel heaters come in a polished finish and there are three sizes to choose from; a 4-bar, a 6-bar and an 8-bar, so you can find the ideal rail to fit the dimensions of your bathroom.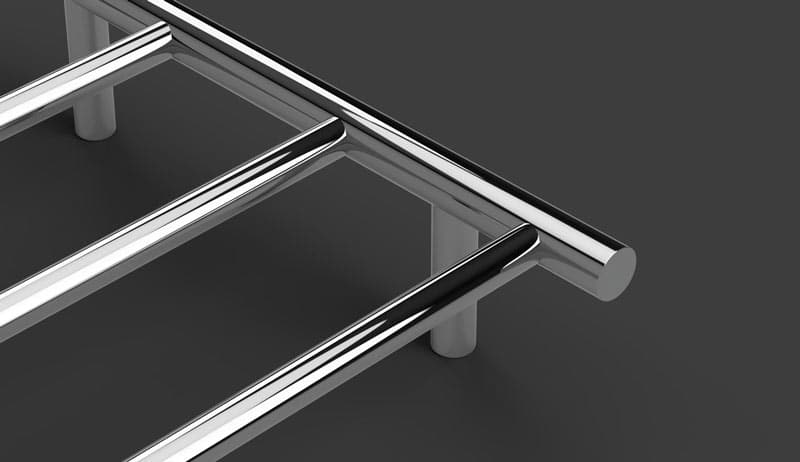 Can I install Heated Towel Rails anywhere in my bathroom?
Not anywhere. First of all, it is important to be aware of the different "zones" within a wet room or bathroom. There are three distinct zones: 0, 1 and 2.
Zone 0 is the area in a bathroom that has direct contact with a water supply, such as the sink, shower or bathtub. Zone 1 is the area beyond this centre of the water supply; extending 2.25 metres from the finished floor level and is the same width as the shower or bath. However, if a shower head extends beyond this, then Zone 1 continues to this height. Zone 2 is the same height as Zone 1 but extends 0.6 metres beyond the width of the shower or bath.
Products that are to be installed in 'wet' rooms typically feature an IP rating which stands for Ingress Protection and is the degree of protection for a products ability to withstand penetration by solid foreign objects and resistance to moisture.
Our range of towel rails have an IP55 rating which means they can be installed within Zone 1, 2 and outside of zones. As with all electrical installations, the circuit must be protected by a 30 mA Residual Current Device (RCD). All electrical connections must conform to the current BS 7671 Wiring Regulations and final connections to the main electricity supply MUST be completed by a Part P qualified electrician.
What are the benefits of a heated bathroom mirror?
Like many homes, your bathroom may offer little in the way of good ventilation – many bathrooms and wet rooms are without windows, relying on small fans to extract moisture from the air. A common side effect of this problem is fogged-up bathroom mirrors.
During and after a hot bath or shower, this trapped condensation will form on the surface of your mirror – so to combat this, install one of our Mirror Demisters to transform your mirror into a clean and clear heated bathroom mirror. Warmup's Mirror Demisters take the form of a flat, electrically heated film that attaches to the back of a mirror. They are fast to install by a qualified electrician and can be operated through the bathroom's RCD protected lighting circuit or with a separate controller.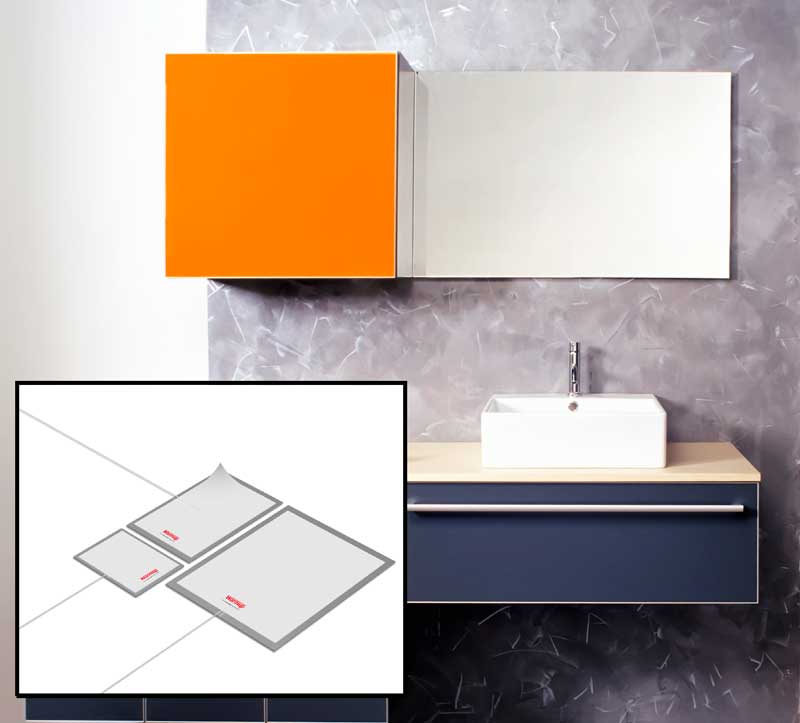 Will the Mirror Demister fit my mirror?
The Mirror Demister offers rapid heat-up times and is available in three sizes for a wide range of mirror sizes; Small – 260 X 360mm; Medium – 360 X 560mm; Large – 560 X 720mm. You can install more than one demister on the same mirror, making them perfect for heating large bathroom mirrors – their tessellated design also means they can easily be positioned across the back of mirrors.
Is my bathroom suitable for underfloor heating?
Bathrooms are an ideal room in your home to heat with an underfloor heating system and Warmup offer a variety of both water and electric floor heaters suitable for any new-build or bathroom renovation project. Choosing the best Warmup Underfloor Heating System for your requirements is dependent on a few things: the size of your bathroom, the layout of your bathroom and the chosen floor finish.
After selecting the ideal floor heater for your needs, Warmup systems are easy to use and quick to install and bring design freedom and energy-efficient warmth to cold bathrooms and wet rooms. Find out more about the benefits of heating your bathroom with one of radiant floor heaters in our blog Underfloor Heating in Showers and Wet Rooms.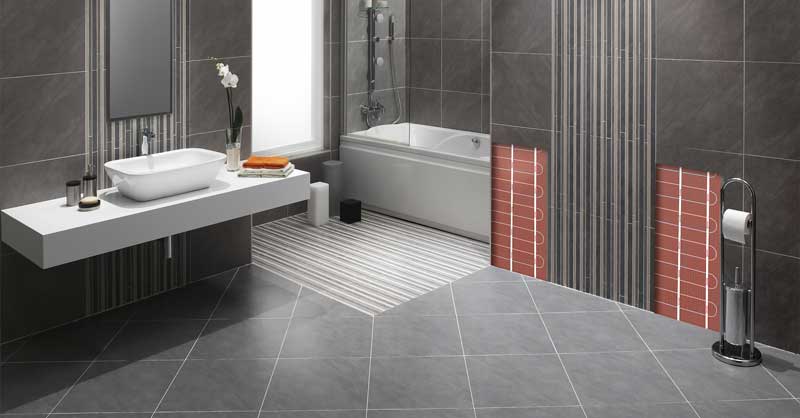 What are the benefits of a wall heating system?
The StickyMat 3D System brings radiant heat to tiled bathroom walls and when used in conjunction with a Warmup underfloor heating solution, provides a 360 ͦsense of luxurious warmth to the room. Wall heating is ideal for adding to the heated area of wet rooms and bathroom and also has the added benefit of helping to prevent condensation from forming on bathroom walls, keeping the room drier and fresher.
The system takes the form of electric heating mats featuring our renowned heating wire ready-taped on to a self-adhesive backed mesh – making it quick and easy to install by your installer. It is a low-profile heater that won't have any impact on your wall levels and can be easily tiled over with your chosen bathroom wall tiles. The StickyMat 3D System can be controlled using one of our underfloor heating thermostats.
How much does a heated wall system cost?
Our wall heating system is available to purchase in a range of sizes and price points, from £80 per M/2 RRP. The increased energy-efficiency of our systems will provide you with long-term lower running costs compared to more traditional forms of bathroom heating.
Will insulation improve the energy-efficiency of my floor and wall heating?
To maximize on the energy-efficiency of a floor heater and heated wall system in your bathroom, Warmup always recommends installing our Insulation Boards for walls and floors and using a Warmup Thermostat to bring further cost-savings by saving you money on your heating bills.
Our high-quality insulation reduces heat-loss and significantly improves the responsiveness of the heater. Our Insulation Boards are available in a variety of thicknesses and their unique properties also mean they can double as tile-backing boards too – perfect when using with our StickyMat 3D Wall Heating System.
Founded in 1994, Warmup Plc is a certified ISO 9001:2015 British manufacturing company focused on the development of technologically advanced electric and hydronic underfloor heating solutions and heating accessories. Queen's Awards for Enterprise 2020