Water Underfloor Heating Systems
Water, also called wet or hydronic underfloor heating systems are a popular choice for extensions and new constructions. The system uses water for heating, so it can be linked to virtually any heat source from a standard boiler to newer sustainable technologies, such as solar thermal energy or heat pumps.
Each system we provide is tailored during the project's design stage to get an optimal balance between the system performance and efficiency. Once complete, the lifetime warranty on our pipe provides true peace of mind that the system will continue to perform.
Contura Floating floor system is used where heating is installed onto a concrete or solid wooden subfloor for floating floors
View
Water Systems are ideal for:
  Zones over 25m² but compatible with all room sizes
  Whole house systems but suitable for single rooms
  Existing central heating systems
  New constructions
Bespoke Wet Underfloor Heating Solution
Warmup wet heating systems come designed and supplied with a full set of high-quality components and controls ready for installation. Systems are available in a number of configurations and components guaranteed to perfectly match your project and budget.
The choice of which water system to use is governed by two main factors:
The subfloor type
The finished flooring
Warmup has also a variety of pipes that will guarantee you to have the best possible system tailored to your specific project, installation, and budget. Warmup systems come with a choice of 3 pipe types:
PEX-A
PE-RT and
PE-RT/AL/PE-RT
Not sure? Find the ideal system for you
The Warmup product selector will guide you in the right direction when choosing the best water heating solution for your project.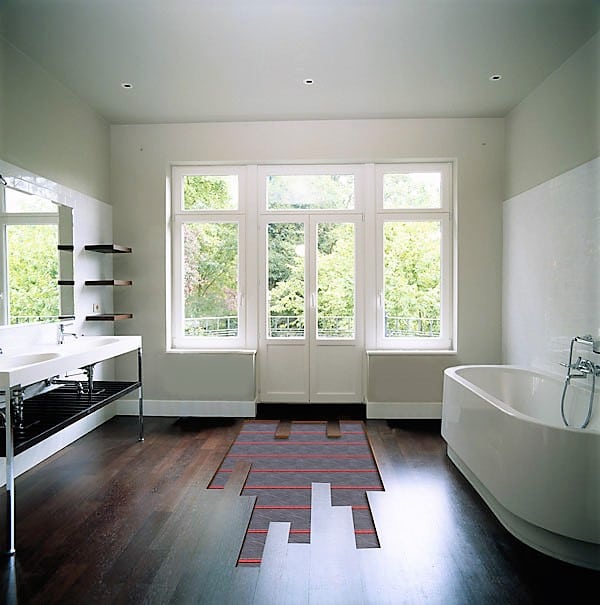 Warranty for Warmup Water Underfloor Heating
Warmup PEX-A hydronic pipe carries a Lifetime Warranty for greater peace of mind. All other pipes carry a 50 year Warranty.
Our unique SafetyNet Installation Guarantee means that if you accidentally damage the pipe on site, Warmup will exchange it with a new one free of charge.
What Is the Cost of a Water System?
Water underfloor heating is a highly cost-efficient heating system to run as it uses much less energy than a central heating system. Wet underfloor heating emits enough energy to bring your room to your comfort temperature at flow temperatures of 30-40 degrees. This is significantly less than the temperatures required by conventional radiators to bring your room to comfort temperature (60-70 degrees). This is due to the fact that hydronic heating systems spread the heat evenly across the floor surface and emit radiant heating through the objects of the room.
Water systems are particularly popular in energy efficient new build houses. You can calculate the running cost per m2 of your wet underfloor heating system here.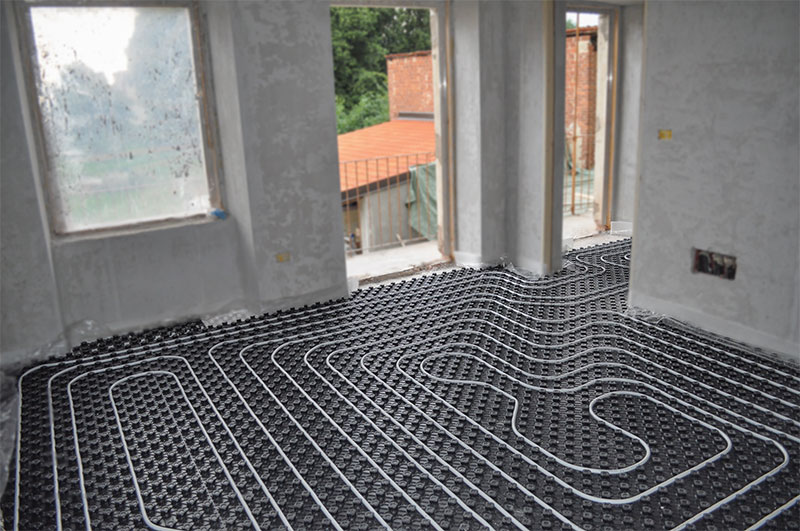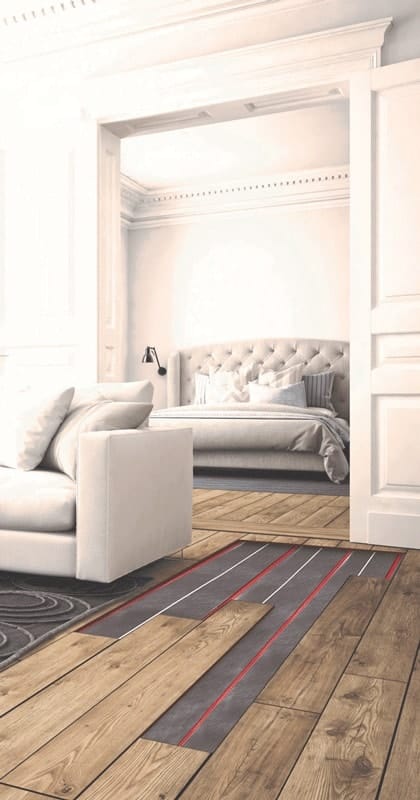 Installation
Water underfloor heating is usually installed within the subfloor construction of a building. Before starting the installation make always sure to read the installation manual and follow it every step of the way. The area must be dry and insulation conform to building regulations or practice and again, laid as per manufacturer's instructions.
The most common underfloor heating systems used with new-builds and renovations where floor heights are not an issue are the Clypso System and Total-16:
Clypso System is designed for floating screeded floors and does not get affected by changes in the floor covering weather wood, carpet or vinyl. Total-16 again is popular for its low build solution. The system features a 12mm pipe and 16mm total build-up with straight boards supplied with integrated aluminum heat diffuser plates.
Total-16 water system can be installed onto either concrete or wooden sub-floors and under almost any floor finish. Total-16 is laid down on the subfloor and it, therefore, is fast to install and it suits both new-builds and renovations.
If you are looking for an easy and quick installation of a wet system Warmup also offers a water underfloor heating kit. The kit is called HydroPack and it allows for a fast installation of a wet underfloor heating containing everything you need to install the system in hours.