Electric Systems are ideal for:
  Zones less than 270sqft but compatible with all room sizes
  Single rooms but suitable for whole house systems
  Renovations
Many still think quite incorrectly that underfloor heating is more expensive than radiators – a luxury that it is not accessible to everyone. Floor heating can be installed from small rooms to very large projects and it brings you cost-savings on your energy bills making it affordable luxury, suitable for every project.
Warmup underfloor heating heats up in minutes and runs at much lower temperatures (26-29°C) than radiators that typically need to be heated up to 65-75°C to reach your ideal comfort temperature in a room. This is because underfloor, or in other words radiant heating produces radiant heat that emits evenly across the floor making you feel comfortable in an instant, does not overheat a room which leads to wasting energy, and minimises heat loss.
Different Types of Electric Underfloor Heating Systems
All Warmup's electric floor heaters use BEAB-approved ultra-thin heating elements to quickly yet gently heat the floor surface. The heating wire with fluoropolymer coatings is ultra-thin at 1.8mm, and will not raise floor levels.
Electric Heating Mats
Warmup electric heating mats come either with a mesh and an already pre-spaced heating cable attached to it so that the heating mat can simply be rolled over the subfloor. Or, as a heated decoupling membrane and a heating cable that then is easily inserted within the castellations of the membrane. The heat output of the heated decoupling membrane can be determined by the spacing density of the heating cable in the mat.
Warmup StickyMat heating mat is a super thin electric underfloor heating system that does not raise floor levels. DCM-PRO Heated Decoupling Mat is the newest innovation from Warmup, allowing for fast installation and protection of your floor covering, specifically tiles from cracking from the seasonal temperature changes in the subfloor.
Heating Mats come in two different outputs; 150W/m² and 200W/m². The higher output is designed specifically for high heat loss areas, such as conservatories.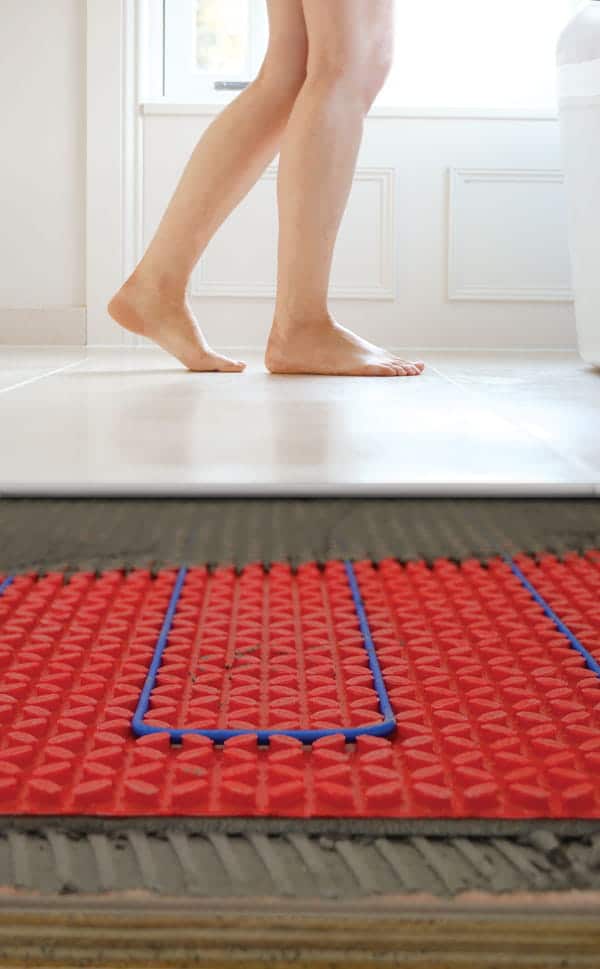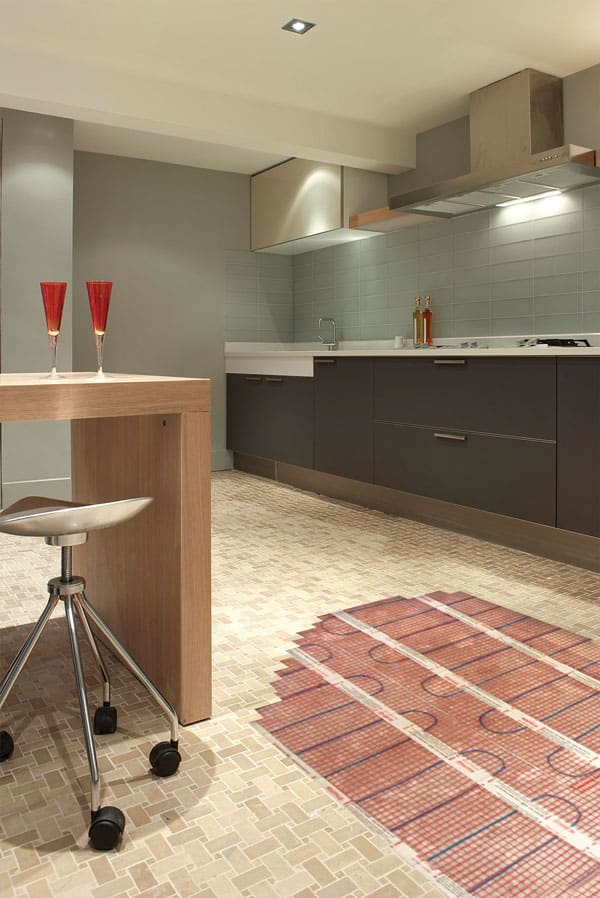 Heating Cables
Warmup heating cables, Loose Wire and Inscreed Cable come without a membrane and specifically designed for areas where you have many fittings to work around or irregularly shaped rooms when installing underfloor heating.
The Loose Wire system is an incredibly flexible and durable cable that can easily be maneuvered around fixings. Loose Wire comes in a minimum heat output of 150W/m², but it's variable depending on the spacing. The LWSWire system can be bought as an electric underfloor heating kit that contains the essential elements for its installation; the heating cable, primer, tape, roller anf foam and the installation manual. The Warmup Inscreed Cable is 6mm thick and is an ideal solution for heating screeded floors of any size. One of the most recommended screedings in the market to use are from Instarmac UltraFloor. Once installed, the heated screed can be covered with any flooring.
Foil Heaters
Warmup's Foil Heater is designed for installation under wood and laminate flooring or under soft and resilient floor coverings such as carpet, vinyl, and other floating floor finishes. The Foil Heater system is especially suited for large and regular shaped areas. Foil Heater's aluminum foil is apt to spreading the heat effectively and therefore the Foil Heater's heat output of 140W/m² is adequate for heating needs.
Insulation Boards
Using Insulation Boards with floor heating significantly reduces the heat-up times and running costs.
Dual Overlay
Dual Overlay is a free-floating subfloor for use with carpet, vinyl, and linoleum floor finishes.
Insulated Underlay
A thin polystyrene insulation barrier with effective acoustic properties to reduce contact noise. To be used with Foil Heater System.