Loose Wire Underfloor Heating
The Loose Wire System is designed for use within the adhesive layer under tiles or within a leveling compound under other floor finishes.
Guide Price
from £52.17 /m² ex. VAT
(Based on a 10m² purchase)
  Ceramic Floors
  Stone Floors
  Small Areas
  Irregular Shaped Areas
  Renovation
  New Build
  Screed & Concrete Floors
What Project Is the DWSWire Designed For?
The Warmup Loose Wire System (DWSWire) is designed to suit irregularly shaped rooms and rooms with many fixtures since the heating cable can simply be maneuvered on the subfloor around fixtures with ease. The spacing of the cable can be adjusted to your requirements in desired power output and to the layout of the room you are installing the system in. The Loose Wire is ideal for installation under ceramic or natural stone tiled flooring.
For regularly shaped rooms, Sticky Mat system offers a quick and precise installation alternative to Loose Wire. If you are looking to find an electric underfloor heating system to also protect the tiles, the DCM-PRO Heated Decoupling Mat is a practical solution for you. Alternatively, For floor finishes other than tiles, the Foil Heater System is the ideal solution as it does not require flexible tile adhesive or self-levelling compound, providing a completely dry structure upon which to install floorings such as carpet or laminate.
Qualities of The Heating Cable
The heating cable is the thinnest on the market, only 1.8mm so it does not raise the floor height visibly. The small cross-section of the heating element allows it to be installed without the need for a layer of a self-levelling screed. Install a Loose Wire System with a tile adhesive layer under tiles or with a self-levelling compound under other floor finishes.
Since installing Loose Wire does not require self-levelling screed, you do not lose any additional time or costs related to the drying of the system. Once the cable is laid down, the floor finish can be installed on top of it.
The Warmup Loose Wire System is suitable for all applications providing primary or secondary heating in all rooms or projects that adhere to Building Regulations.
Loose Wire Underfloor Heating Kit
Loose wire is easy to install because it comes in the form of a kit. The kit contains necessary elements for the installation of the Loose Wire System.
Ultra-thin, 1.8mm cable multistrand. The dual core heating cable is double insulated with an advanced fluoropolymer making it exceptionally durable and easy to tile over
Primer (for use of wooden subfloors)
Tape
Roller & foam
Installation manual
Note: Before beginning the installation of your DWS Wire heating system, please double check that you have the correct size and number of heaters for your project. If in doubt, please call the Warmup helpline 0345 345 2288
Ideal in small or irregular-shaped rooms
Ideal for spaces with a lot of fixtures or corners, e.g. a bathroom or a sunroom with curved or slanted walls
Quick installation
Single connection lead for fewer steps
Safety Net Installation Guarantee
If you accidentally damage the heating system during installation, return it to Warmup and we will replace it with another heater of the same make and model free.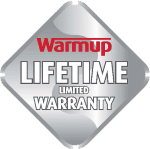 Lifetime Limited Warranty
This product comes with a Lifetime Warranty. We are completely confident in the standard of our products.
| | |
| --- | --- |
| Operating voltage | 230V: 50Hz |
| Cable Thickness | 1.8 mm |
| Inner / Outer Insualtion | Advanced fluoropolymer (ETFE) |
| Average Output rating | 150 W/m² |
| Cold tail length | 3m |
| Approvals | |
Price Guide
Choosing the correct control system is crucial in ensuring that your heating system works in the best possible way, efficiently and easily.
View Thermostats
Using Insulation Boards with under floor heating significantly reduces the heat-up times and running costs.
View Insulation