Underfloor heating is the ideal heating solution for the contemporary home and is the future of low-carbon domestic heating. It provides sustainable warmth with low running costs and can be installed in projects big and small. In this guide we'll explore 10 FAQs to help you decide which type of underfloor heating system is the best choice for you.
1. Are you building a new house or renovating your home?
Floor heaters are split into two types, water or electric, and Warmup offer water and electric systems suitable for both new-build and renovation projects.
If you're building your home from the ground up, a water (also known as wet or hydronic) UFH system is a great idea as you can install it as part of your building's construction.
For home renovation projects, our range of electric heaters are ideal as they can be retrofitted with your existing or new floor finish with little impact on the building.
2. Which rooms do you want to heat?
You can find the perfect floor heating system for every room in your home. Underfloor heating provides a 'zoned' heating approach – meaning the system can heat separate areas of your home and be controlled independently from each other or other heating systems through the use of a zone-dedicated thermostat.
If you're looking for a new system for just one room, then one of our electric heaters may be best.
If you're considering UFH for multiple-rooms or your whole house, you could install a larger-scale water underfloor heating system or a hybrid system of a mix of wet and electric heaters. Warmup also offer outdoor heating solutions to keep your driveway or patio frost-free in the winter.
3. How high are the ceilings in the room?
Taking into account the fixed ceiling heights of your home is important when considering UFH. We typically recommend electric floor heaters for renovation projects as their low-profile design means they won't impact on the existing floor's height.
If you are designing a new-build home, specifying a water floor heating system is a great idea. Some water systems must be installed within a layer of screed so you should include these dimensions in your architectural blueprints, so you can set the ceiling heights accordingly. Our Total-16 system offers a low-profile wet solution for both new-build and refurbishment projects and won't significantly impact on floor levels.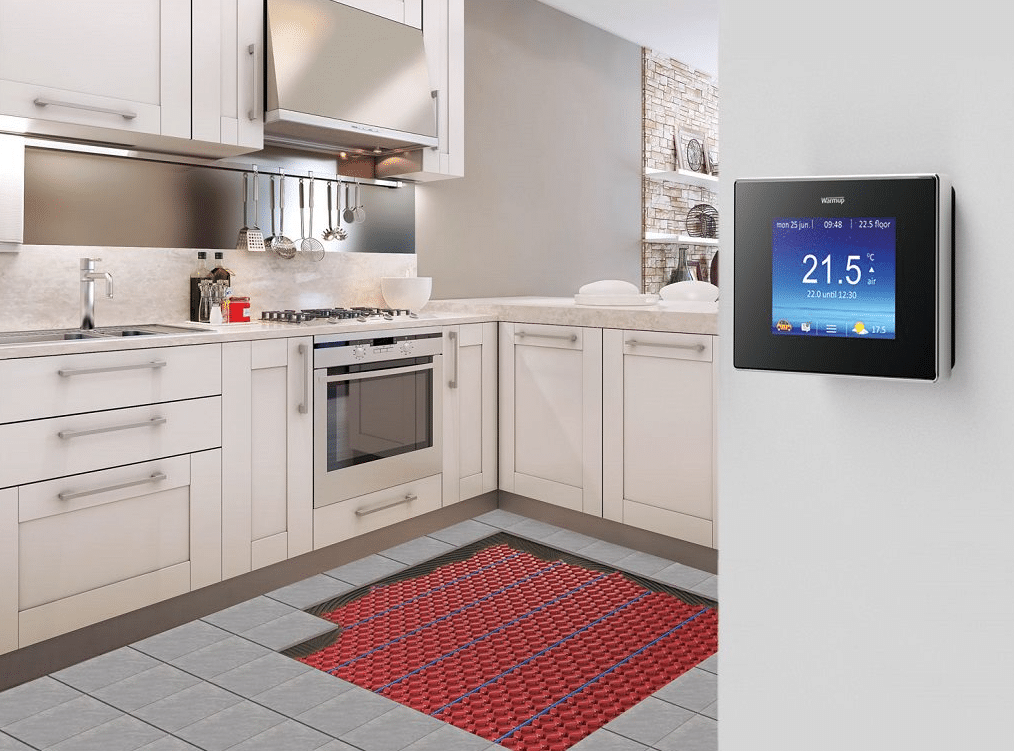 4. How big is the space?
Water systems are perfect for larger spaces such as open-plan living rooms, new home extensions or whole new-build residencies.
Looking for a new heating solution for a smaller room? Then one of our electric systems are a great idea. The StickyMat System is ideal for use in regular-shaped areas and is available in a wide array of sizes.
5. What is the flooring finish and subfloor type?
Warmup's systems can be used with almost every floor covering and we have systems to use with all subfloor types.
Tiled floors are a popular floor finish in contemporary homes and ourDCM-PRO Heated Decoupling System has been designed specifically for use with stone and ceramic tiles. Its innovative design features an anti-fracture layer which can help protect your tiles from cracking due to subfloor movements.
The Econna Joisted Floor System is a perfect water floor heater to install with traditional timber joisted or battened floors. If you're looking for a heater to use with carpets, then our Foil Heater could be the best selection as it's perfect to use with softer floor finishes.
6. What heat source are you considering?
Our Water underfloor heating systems can be used with a variety of heat sources such as a gas-powered boiler, air or ground-source heat pump and biomass boilers.
Electric floor heaters are connected to the mains electricity source which can be powered through the national grid or by the use of solar power or other domestic power generators.
7. What is your budget for the project?
Warmup's range of floor heating systems are competitively priced and offer substantial savingson your energy bills.
Electric underfloor heaters offer great value-for-money with systems starting at just £51.17 M/2.
If you're working on a larger project with a larger budget, consider a whole-house wet underfloor heating system; hydronic systems may cost more to install than electric systems but they offer lower long-term running costs. Use our easy-to-use online quote tool to find out exactly how much a Warmup system will cost for your home.
8. Have you conducted a heat-loss assessment?
'Heat-loss' is a term to describe the amount of heat that escapes from the inside of a building to the outside environment. Making sure your new underfloor heating system will produce enough warmth to combat your home's potential heat loss is crucial when selecting a system. Your installer can help you with a heat loss calculation and you can find out more about heat loss and UFH here.
9. Which type of insulation is best?
We recommend installing high-quality insulation with underfloor heating and Warmup produce a range of insulation materials suitable for use with all our systems. Insulation helps with heat loss and is critical for keeping the radiant warmth produced by your new system inside the room.
Floor insulation also increases the energy-efficiency of floor heaters and dramatically improves the responsiveness of your new system, facilitating faster heat-up times.
10. Do you already have an UFH installer to work with?
Choosing a builder or contractor who has experience fitting floor heating systems is important and we may be able to recommend an installer who works in your area from our Warmup Pro network of installers. All Warmup products feature market-leading warranties and installation guarantees so even if something goes wrong during an installation, we should be able to replace your heater for free.