Renting out a holiday apartment or a spare bedroom in your home to tourists visiting your area is a popular way to bring in some extra income and there are many platforms that can help introduce holidaymakers to homeowners. One of the key things to consider when creating a welcoming environment for your guests is choosing the perfect heating solution to provide a warm and comfortable stay. In this guide we'll explore how electric underfloor heaters are a great idea for vacation homes of all sizes. You'll discover:
The many benefits of a floor heating system for holiday lets
How easy a floor heater is to fit in your property
How the energy-efficiency of UFH can help save you money
The simple way to control underfloor heating
How electric floor heaters require no maintenance
What makes underfloor heating perfect for vacation rentals?
Underfloor heating systems use radiant heat technology to heat your holiday home from the ground up; directly warming the objects and people in the space, as opposed to a central heating system which primarily just heats the air. Our range of water and electric floor heaters are a much more sustainable way to heat a home as they require much less energy to reach comfort temperatures than traditional radiators – making them up to 40% more efficient.
Electric underfloor heating systems are ideal for holiday homes and short-term vacation lets because they offer a versatile, low-cost heating solution for you and your guests. Unlike central heating systems, the quick heat-up times of these heaters means your guests can enjoy precise warmth at the right time for their requirements, with no wasted energy. This means electric floor heaters are perfect for sporadic use – so you won't have to worry about unnecessary usage and unforeseen costs when your holiday home is vacant.
Electric heaters are available in two forms: a heating cable or a heating mat. Both types of heating systems can be used in new-build holiday homes and renovation projects as their low-profile design means they will not impact on floor heights. Choosing the best heating system for your vacation property is based on a few variables, namely the layout, floor finish and sub-floor type of the space. Use on innovative online quoting tool to discover the best floor heater for your property.
Is an electric floor heating system easy to install in my homestay?
All Warmup electric floor heaters are quick and easy to install by a qualified installer, with some systems offering installation in under a day. You can choose to fit a heater in just one room if you are interested in hosting guests in your own home or you can install a new underfloor heating system throughout the whole of your holiday letting.
The DCM-PRO Heated Decoupling System is electric floor heating cable that offers rapid installation times for rooms with tiled floor finishes. Your installer can simply fit the DCM-PRO cable into the accompanying membrane by hand, providing you with the optimal heating layout for your holiday home.
The StickyMat System is a popular heating mat to install in properties featuring regular-shaped rooms and can be used with floor types. It features a 1.8mm heating wire ready-spaced for optimal heat output on to pre-sized mats with a self-adhesive backing – simply roll out and stick to your subfloor.
The cost of installing floor heating will depend on the needs of your project, your chosen system and your installer's fee. A typical price of £200 – 300 per day would be a reasonable estimate for a fully-qualified installer. Read our expert guide to learn some tips of the trade in installing electric floor heating systems.
What are the best holiday home heating control options?
Thermostats provide accurate temperature control for floor heating systems, making sure the space is perfectly heated for the needs of your guests. Controlling an UFH system with a Smart Thermostat is a great way to also enhance the energy-efficiency of the technology and can save you up to an additional 25% on energy, compared to basic thermostats.
The Element WiFi Thermostat utilises simple touch buttons for accurate control of your electric floor heater and its sleek, unobtrusive design will suit any holiday home décor. The Element works alongside Warmup's MyHeating Smartphone app to learn the routines of your holiday home's occupants and provide automatic heat control; offering radiant warmth at the right temperature, at the right time, with no need to set up a schedule. With energy-monitoring functionality and the ability to be controlled remotely from outside the property, using the Element with Warmup's 'MyHeating' and 'AutoSwitch' apps helps reduce energy wastage and provides substantial cost-savings. You could also offer this remote heat control to your guests too, for a truly personalised holiday experience to remember.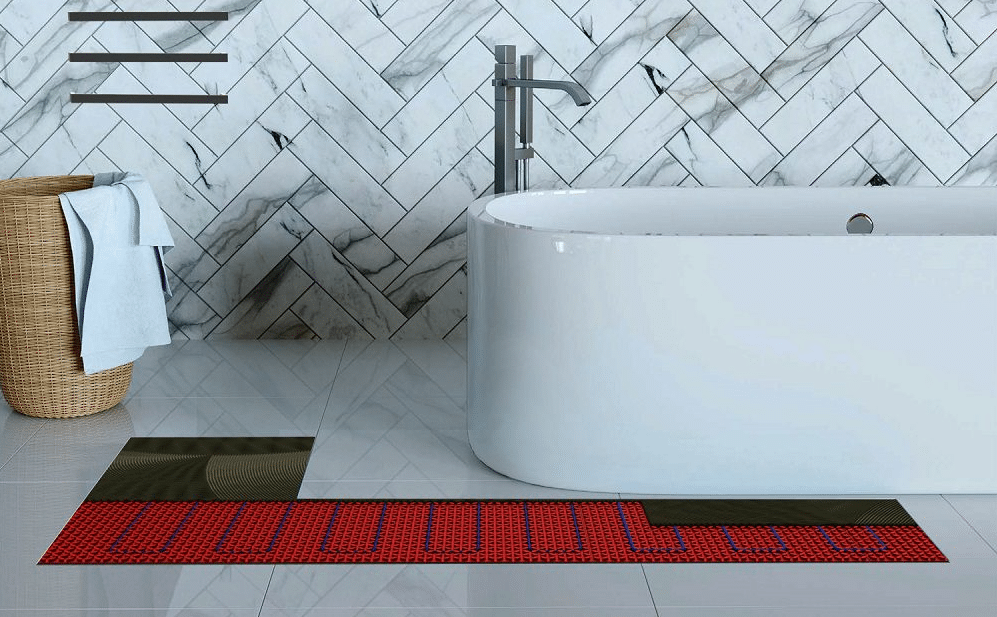 Will UFH save me money on my vacation property's energy bills?
The energy-efficient technology of UFH results in low long-term running costs compared to traditional heating options. Floor heating warms up a room much faster than a central heating system and requires less energy to do so. This can save you significant amounts of money on your holiday flat's energy bills whilst dramatically reducing the carbon footprint of the property.
To improve on the efficiency of underfloor heating and to help save even more money on your bills, a Smart Thermostat and accompanying Insulation should be installed alongside the floor-heater. Underfloor insulation helps reduce heat-loss whilst improving the heat-up times of a floor heating system – ensuring maximum cost savings for your property. Using a Warmup UFH system with insulation, a Smart thermostat and its accompanying Smartphone apps could reduce your vacation home's annual energy bills by up to £400. Find out more about how to save money on your energy bills in our informative article.
Do I have to maintain the floor heater in my holiday let?
One of the biggest concerns when operating a vacation rental business is the upkeep of the property. General wear and tear of the space is to be expected but ensuring your utilities run as smoothly as possible will offer you and your guest's a restful and relaxing experience.
Unlike traditional heating methods, electric underfloor heaters do not need frequent servicing. Once fitted in your holiday letting by a qualified engineer, they should provide easy-to-use radiant heat with no ongoing maintenance. This makes electric UFH a smart and hassle-free investment for all vacation homeowners. You can discover more about the benefits of having a low-maintenance underfloor heating system in our recent article.
Most of our heating solutions feature lifetime guarantees and all come with Warmup's renowned SafetyNet Installation Guarantee, so if something ever goes wrong during the installation process, we will replace your heater with a new one for free.
How do I purchase a Warmup system?
Our online quotation tool makes finding the best electric heater for your holiday home as easy as possible. Simple fill in the short form with the details of your project and we'll show you the perfect system for your needs as well as how much it will cost and how to purchase it.