Tiled floors are a great floor finish for contemporary homes and are perfect for use with an underfloor heating system. While tiles offer a low maintenance floor covering, there are some things to be aware of to ensure your tiles are kept in their best condition. In this guide we'll explore how floor tiles can become cracked and the best way to prevent this from happening. You'll discover: 
The top 5 reasons why floor tiles crack
How decoupling membranes work to help stop this damage from happening
Why floor heating is ideal for tiled floors
Which UFH system is best for preventing tile cracks
5 Reasons Why Floor Tiles May Crack
Improper Tiling Installation
Making sure you're installing your new tiles correctly, on a well laid substrate foundation, is critical in preventing potential damage to floor tiles. Tiles can crack due to a range of installation oversights. If you're laying tiles on a concrete subfloor, make sure the concrete screed is level, well cured and laid with the correct control joints in place to avoid any areas of vulnerability. Tiles can also crack and break due to improper use of expansion joints – the areas between the tiles which are grouted over to assist in the natural expanding and contracting of the floor surface. If you're using tiles in a bathroom, a waterproof membrane is a great idea to stop any possible water penetration which may affect the substrate and damage the floor finish. Tiles should always be installed by an experienced tiler.  
Low Quality Tiles
There are a variety of materials which can be used to make tiles, such as ceramic, natural stone, and porcelain. Lower quality tiles are prone to cracking so when choosing your new tiles, make sure they are of good quality and can withstand heavy loads and frequent usage. Read our guide on the differences between ceramic and porcelain floor tiles.   
Broken Tiles Caused by Impact
Accidents can happen and in the home environment, dropped objects can result in small breaks to a floor tile. The simplest solution to fixing cracked tiles caused by accidental impacts is to replace the single tile. It's a good idea to always keep multiple tiles spare in case of such incidents.
Heavy Objects on Floor Tiles
Heavy loads on tiled floors can result in hairline cracks or larger breaks. If you're installing floor tiling in a kitchen, make sure you don't lay the tiles directly under your cabinets or appliances such as the fridge or oven.  
Lateral Movement by Natural Causes
Lateral movement describes the event when the subfloor and floor finish expand and contract at different rates which can cause tiles to crack. This is typically caused by environmental reasons such temperate and pressure changes, construction 'settling' or moisture penetration to the subfloor. Installing a decoupling membrane with tiles is recommended to help absorb these lateral movements and protect the floor.
How Do Anti-Fracture Decoupling Membranes Prevent Cracking?
A decoupling membrane is a layer that sits between your subfloor and floor covering, which contracts and expands with these structural lateral movements of subfloors. This disconnection between the subfloor and flooring means as your house settles, the small movements of the substrate will not result in movement of your floor finish. This is of paramount importance when installing floor tiles, as such movement can allow cracks to form. Making use of a decoupling layer will protect your floor tiles from this potential damage.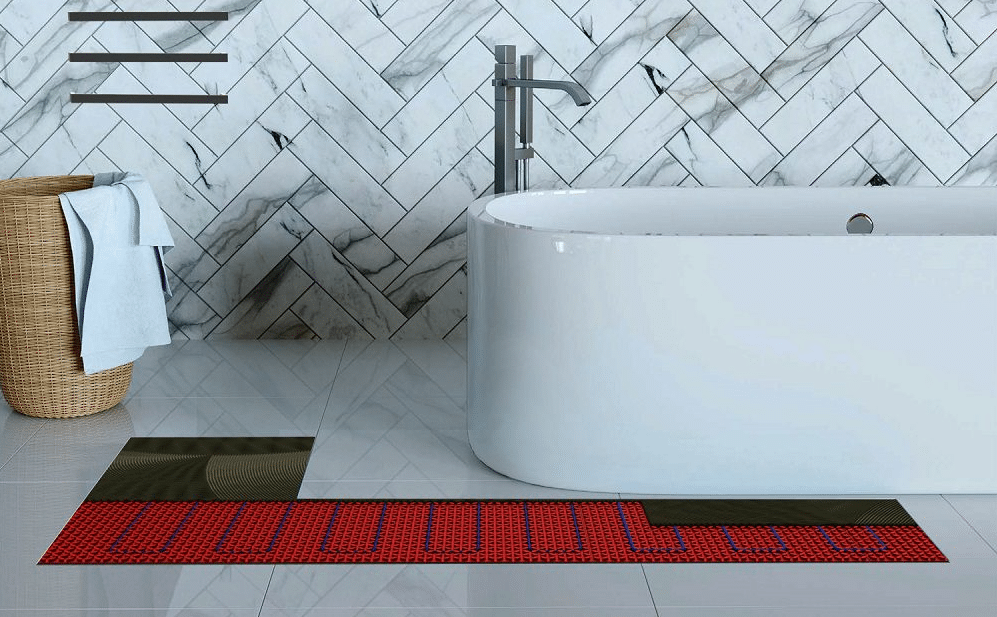 The Best Underfloor Heating System for Tiles
Underfloor heating is perfect for use with floor tiles due to their strong thermal properties and Warmup offer electric and water floor heaters for all tile types. Tiled floors are especially popular for kitchens and bathrooms for their hygienic quality but can remain cold to the touch. Underfloor heating takes the chill out of floor tiles, bringing sustainable warmth to your home and due to its energy-saving technology, can also provide substantial savings on your energy bills.   
If you're looking for the best UFH system to use with tiles in your home refurbishment project, our DCM-PRO Heated Decoupling System is a great choice. The DCM-PRO electric UFH system has been specifically designed for tiled floors as it features an innovative in-built anti-fracture decoupling membrane which, as we've explored, can protect tiles from damage caused by subfloor movement. The DCM-PRO System is simple and quick to install, featuring a cable which can be positioned by hand into the anti-fracture membrane to bring precise radiant heat to your tiled floors. 
How Do I Buy an UFH System for Tiled Floors?
You can find out how much the DCM-PRO Heated Decoupling System will cost for your home by using our easy-to-use online quoting tool. Simply enter the details of your project and you'll get accurate pricing for a complete UFH system and find a nearby retailer where you can purchase it.