Looking for a new thermostat for your radiant floor heating system? In this article, we'll look at the perfect heating controllers for both electric and water systems, so your home's heating runs at its most efficient. You'll learn:
The benefits of UFH controls
How Smart thermostats can save you energy and money
The best floor heating thermostat for electric systems
The ideal water underfloor heating controllers
What are the benefits of an UFH room thermostat?
Selecting the right controller is crucial for getting the most out of your underfloor heating system. Floor heaters are a much more energy-efficient heating method compared to traditional heating systems and a system-dedicated thermostat maximises on this efficiency, providing precise warmth while reducing energy wastage.
We offer a wide range of thermostats suitable for all floor heating solutions and each thermostat makes sure your room is heated to the appropriate level of warmth for your requirements by using sensors to detect the current environmental temperature of the space.
If simple on/off control is what you prefer, then our manual thermostats would be suitable for you. A digital underfloor heating thermostat is a great choice if you're looking to set up a basic heating schedule. If you're interested in functions such as remote control of your heater from your Smartphone or automatic heating, then our collection of Smart controls is best.
Why is a Smart underfloor heating thermostat preferable?
Underfloor heating offers low running costs and using a Smart thermostat to control your system can help you save over £400 a year on your energy bills. A Smart controller improves upon the benefits of a programmable thermostat by not just allowing bespoke heat schedules but by also providing automatic heating and access through your Smartphone via the Warmup MyHeating app. So, your home will always be a right temperature, at the right time, for you – greatly improving the energy-efficiency and sustainability of your heating system.
Which Warmup underfloor heating thermostat for electric systems is right for me?
Electric floor heaters are great for bringing 'invisible' radiant warmth to renovation projects as their low-profile design and simple installation methods make them perfect for use in any room in your home.
Almost all of our controllers can be used with a Warmup electric floor heating system but if you are thinking about purchasing a new system or want to upgrade your UFH thermostat, then our 6iE Smart WiFi Thermostat or Element WiFi Thermostat would be an ideal option. The 6iE is the world's first floor heating control utilising a Smartphone touchscreen. Its stylish, high-spec design with a full-colour screen makes operating your heating as intuitive as using your phone. Find out more about the benefits of the 6iE in our expert article.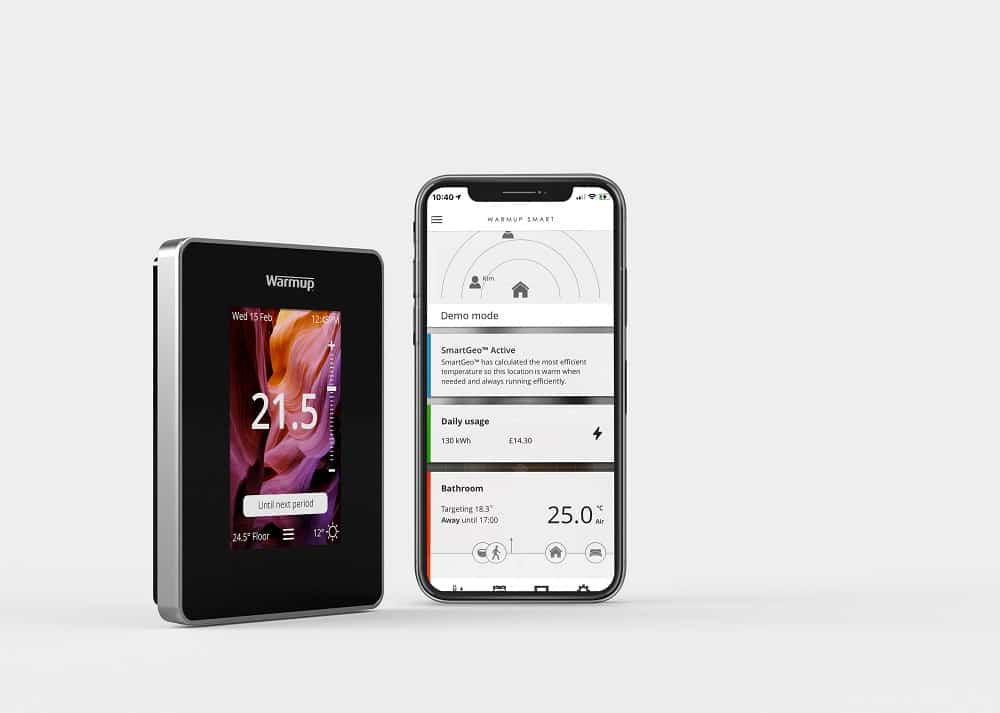 The Element WiFi Thermostat
The Element WiFi Thermostat is one of our latest innovations in floor heating control and has been designed with simplicity and functionality in mind. The Element can be used with all Warmup floor heating solutions and uses touch buttons with a clear, graphical display for accurate heat management. Its classic, discreet design means it will suit any home décor and it is fully compatible with our Smartphone apps, so you can enjoy radiant, automatic warmth and big savings on your bills.
The Element can be used in conjunction with the 6iE as part of a multi-zoned heating approach. Underfloor heating can be installed as 'zones' – meaning utilising separate systems for different areas of your home, with each zone controlled by its own thermostat. You can control multiple thermostats from the MyHeating app or through your My Warmup online portal.
What's the best hydronic underfloor heating thermostat?
Warmups range of water underfloor heating systems (also known as wet or hydronic systems) are perfect for larger new-build and refurbishment projects and can be used with most Warmup thermostats. However, the Konekt Wireless Thermostat is especially suited for wet systems as it is part of a technologically advanced set of controls developed for water floor heaters – making operating these systems easier than ever.
Konekt wireless underfloor heating thermostat
Water floor heaters are typically used to heat larger spaces, so these systems make use of multiple heating zones through inter-connected circuits of UFH pipework. The Konekt Wireless Control System optimises these heaters, creating a fully integrated management system to ensure that all of your home's heating zones are operating in harmony.
The range of Konekt Smart controls includes the Konekt Wireless Thermostat which monitors and regulates the temperature of your water floor heating system. The Konekt Thermostat doesn't require wiring to install, making the set up quick and hassle-free.
You can use this thermostat alongside the rest of the Konekt System including: the Konekt Wiring Centre which provides control for up to 10 hydronic floor heating zones; the Konekt Smart Hub and Konekt app for overall Smart control of the system and the Konekt Wireless eTRV's and Boiler 2 Channel Switch – both of which can also be used to link the hydronic floor heating system with a central heating system.
How to set an underfloor heating thermostat
All our thermostats are easy to use and simple to install and set up. You can find underfloor heating thermostat instructions, technical specifications and the underfloor heating thermostat manual for your selected controller in our online Knowledge Centre.
Looking to purchase a new thermostat? Get a free online quote today to find the best controller for your home or use our Store Locator to find your nearest Warmup stockist.