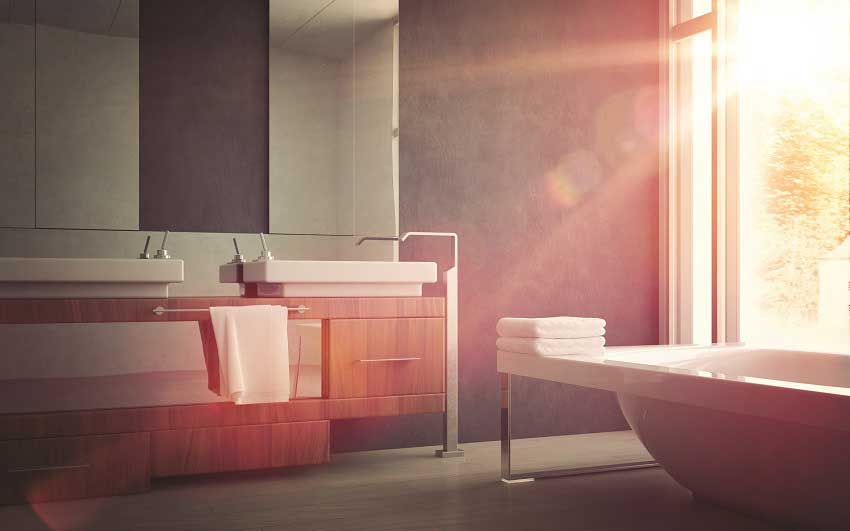 Thinking of installing a new Hydro heating system?
Find out more about installing water underfloor heating systems
Get a Hydro Quote
If you're planning a renovation project or building your own home, consider installing a Warmup floor heating system for a sustainable, radiant heating solution that can offer long-term savings on your energy bills. In this guide, we'll look at the costs involved in specifying a floor heater in your home, including:
How UFH can help save you money
The initial costs of an electric floor heating system
The costs of a water system
The lower running-costs of underfloor heating
How much a floor heater costs to install
Floor heating systems offer increased energy-efficiency
Underfloor heating uses radiant heat technology to gently warm the people and objects in a room from the ground up. This process uses less energy to reach optimal comfort temperatures than central heating systems, which purely focus on warming the air of room; an inefficient method of heating a space. Warmup's floor heaters also offer quicker heat-up times and run at lower temperatures than traditional heating systems whilst still retaining the same level of warmth; with this increased energy-efficiency, you can expect lower long-term UFH running costs too.
Cost of electric systems
Our electric floor heaters are perfect for renovation projects, providing an affordable heating solution for any room in your home. The cost of a Warmup electric underfloor heating system varies on which system you select and the size of the room you are installing it in. If you're thinking about UFH for a smaller room in your home, our popular StickyMat System offers great value for money – with prices starting from just £51.17 /m² + VAT (based on a 10m² purchase).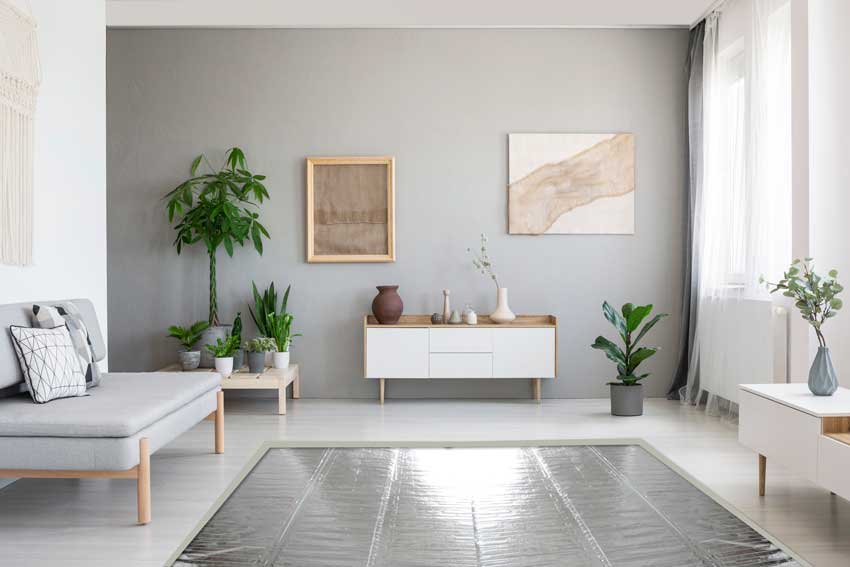 All systems require a dedicated heating controller and should also be installed alongside our cement-coated Insulation Boards which dramatically enhance the energy-efficiency of the system. Let's work out the total cost for underfloor heating in a bathroom with a heated floor area of approximately 4m²:
3.5 metres of StickyMat 150 W/ m² = £219.16+ VAT
Insulation Boards for 4 m² = £114.96 + VAT
4iE Smart WiFi Thermostat = £189.16 + VAT
Total UFH System Cost (RRP) = £523.28 + VAT
While this costing is based on recommend retail prices, many of our heating systems can be purchased at lower prices within our reseller network and your installer may be able to make use of trade discounts too.
You can currently purchase a Warmup electric heating mat system with insulation and a thermostat at Topps Tiles for a heated floor area of 4m² at the great price of just £354.76 + VAT. If you'd like to find out how much floor heating with Topps Tiles will cost you, get an instant online quote today.
Underfloor heating uses less energy to reach optimal comfort temperatures than central heating systems
Pricing of wet underfloor heating systems
Due to their specific installation requirements, water floor heating systems are typically recommended for new-build projects with larger heated floor areas however heaters such as our low-profile Total-16 System are ideal for renovation projects too. While they're more expensive to purchase and install than electric floor heaters, warm water systems (also known as hydronic systems) offer even lower long-term running costs due to using a gas-powered heat source or a ground / air source heat-pump.
We offer a wide range of hydronic underfloor heating solutions at different price points, each system designed for specific sub-floor types and installation methods. Our Clypso System is a great choice if you're building your dream home as it comes with accompanying insulation and is suitable for use with all floor types. Specifying the Clypso System throughout the ground floor of your project, with a heated area of 22 m² would cost an estimated £41.57/ m² + VAT RRP. To get an idea of how much a hydronic system would cost for your project, submit an online quote today.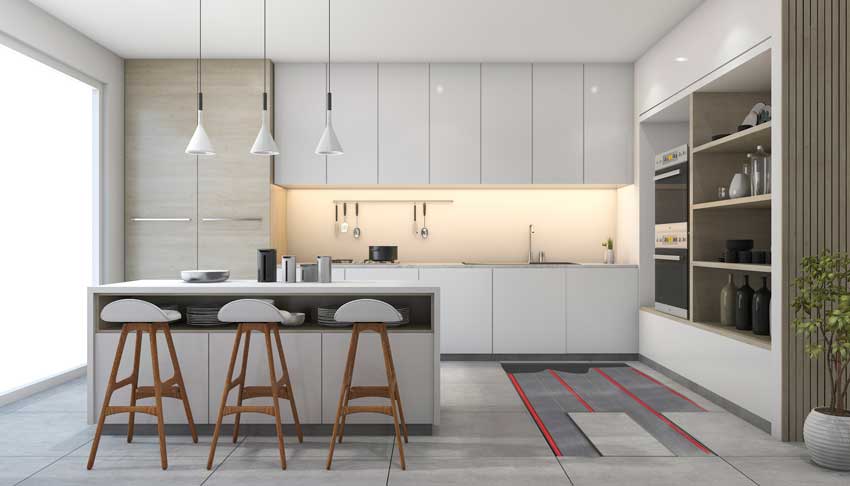 What are the running costs of a Warmup system?
Due to their energy-efficient attributes, a floor heating system can help save you money on your heating bills. The exact running costs of a water or electric floor heater in your home will vary on your home's design, your energy usage and your energy provider.
The table below shows the typical running costs of a Warmup electric system, worked out by the heated floor area and the number of hours it is used over the course of a day.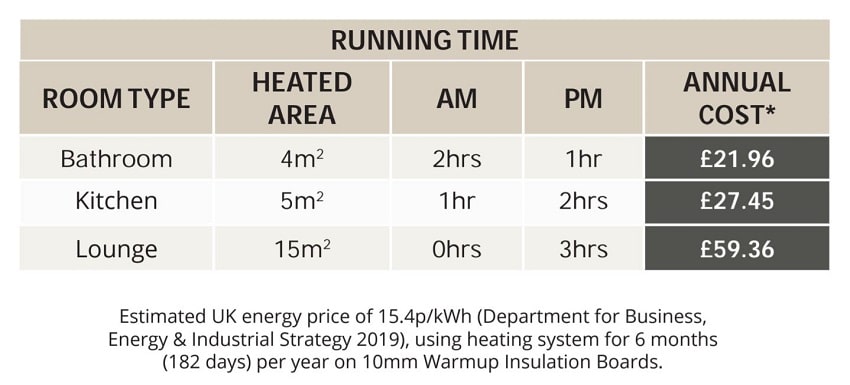 With rapid heat-up times, you can see that using a floor heater to warm up a small bathroom in time for your bath or shower will cost just a matter of pennies each day.
Wet floor heating systems offer even lower running costs as they can use sustainable heat sources such as biomass boilers and heat pumps and if using a typical combination boiler, the price of gas is still significantly cheaper than electricity.
You can dramatically increase the energy-efficiency of a floor heating system by controlling it with a Smart Thermostat and using high-quality insulation to stop any heat escaping.
Thinking of installing a floor heater in your home?
UFH is a cleaner, more contemporary way to heat your home and as this article has shown, it's also more affordable than you think. Electric systems are cheaper to purchase and install whereas wet floor heating systems have higher initial costs but lower long-term running costs. Use our online Product Selector tool or get a quote today to learn which system is best for you and how much you can expect to pay.
To receive these expert articles straight to your inbox, subscribe to our newsletter here.
---