The trend towards minimalist design with clean, clutter-free style and open–plan living areas has long been featured across interior design magazines, blogs, Instagram accounts and Pinterest boards. In this guide, we'll share inspiration and advice on bringing a minimalist look to your home.  You'll discover: 
How clever use of storage can transform your space

 

The ways in which wall treatments can impact your home's atmosphere

 

The differences between natural and electrical lighting

How your flooring and furniture can enhance a minimalist feel

The many benefits of floor heating to bring more space to your home

 
Consider s

mart storage

for

better organisation
Creating a clean, minimalist look in your home is easier than you may think. The secret is to take a "less is more" approach. Minimalist design is all about creating a sense of space, with fewer visible objects, furniture and fittings used that may disrupt a feeling of expansiveness. If you're wanting to bring a sense of minimalism to your home, one way to start your project is to consider how best to hide these objects from view. Things like bookshelves, kitchen utensils, decorative objects and day-to-day items like electric cables and paperwork left on a table can make a space feel very "busy" so one of the first things you'll require is good storage to be able to declutter and reduce the number of objects visible in a room. Floor-to-ceiling cupboards are a great idea and hidden storage solutions utilising unused space such as the eaves of a loft can become the perfect solution for keeping your possessions both well organised and hidden from view. Alongside these pieces of design clutter, it's also worth bearing in mind how some of the engineered aspects of your space may be preventing a minimalist feeling, for instance visible heating pipework can make a room feel less spacious. Smart technology such as underfloor heating, which removes the need for radiators and pipes, and cleverly boxed-in plumbing will enhance the minimalist aesthetic in your home.  
Pale walls

will create a

brighter

environment
White matt emulsion paint will open–up your room, greatly enhancing the minimalist look. Colour is not something to be avoided, but it's usually best to stick to white or off-white shades – such as soft greys and the palest shades of blue and creams – on the walls as it gives a cleaner style that helps to reflect light as opposed to darker shades which will absorb any light. Worried about a feeling of coldness? Don't be. With carefully considered artwork and good use of fabrications and technology, white rooms can actually help to create a sense of warmth. When selecting artwork, go for statement pieces as opposed to lots of separate works to make a strong impact in one or two specific areas of your home. Needless to say, outside of a few pieces of stylish artwork, you should keep the walls clutter-free so any radiators or other visual obstructions should be removed.
"Pale wall colours will reflect light as opposed to darker shades which will absorb light"

 
Good lighting

produces

a feeling of

more

space
When thinking about lighting solutions, the best way to maximise the minimalist style is to prioritise natural lighting. Natural daylight instantly improves the feeling of spaciousness in a room and famous minimalist properties across the world will typically feature walls of windows, skylights and wide French doors that diffuse the boundaries between the exterior and interior. Whilst installing new windows can be expensive, you could consider changing your window treatments or installing good-quality modern light fixtures to help bring this sense of space to your home. Shutters and blinds that can be fully opened and therefore expose the entire windowpane will give you a stronger minimalist feeling than heavy curtains, for instance. When choosing electrical light fittings, impactful and modern floor lamps, statement lighting with architectural touches and dramatic lamp shades work well to enhance airy rooms.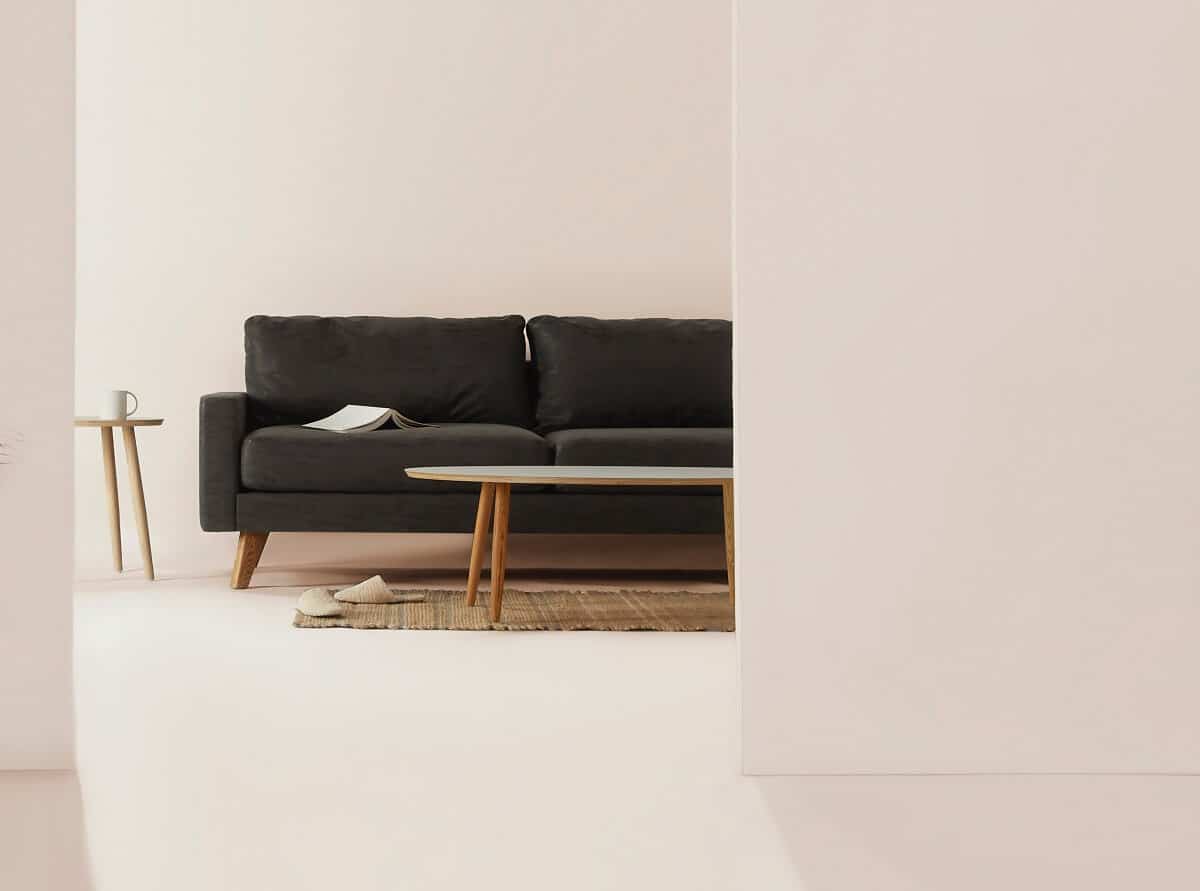 Clean floors

help to produce an expansive sensation
A great way to incorporate a minimalist design influence in your home is to choose a consistent floor finish that will work in every room of your home to create an expansive feeling. Classically stylish, hard floor finishes such as natural or engineered wood will work well in spaces with pale walls and lots of light. Pale carpeting is a good option too but you should remember that carpeting won't be suitable for a consistent whole-house floor finish as you can't use this kind of flooring in wet rooms such as bathrooms and kitchens. Light, large ceramic tiles also look fantastic in modern, minimalist homes and help bounce light around the space.  
Underfloor heating

provides

an invisible heating solution
Underfloor heating provides an "invisible" heating solution which makes it perfect for enhancing a minimalist style in homes. It requires no visible pipework, so your clean walls and floors won't be interrupted by cumbersome pipes and radiators. 
Warmup's wide range of electric and water floor heating systems are an ideal way to bring energy-efficient warmth and more space to your home. Many of our systems are designed for home renovation projects in mind, meaning the heating system will have little-to-no impact on the existing floor heights so you can install a space-saving heating solution without compromising the structure of your home. Floor heaters also require less energy to reach optimal comfort temperatures than traditional heating systems and with this increased energy-efficiency, you can expect lower long-term running costs too. 
Floor heating is easy to install and will give you complete design freedom when creating your new minimalist look. Wondering which system is best for your home? Get a quick instant quote today and we'll help select the best system for your needs and tell you exactly how much it will cost to purchase.
"Underfloor heating is perfect for enhancing a minimalist style in

your

home"
Floating

furniture

opens up

a room
To continue the feeling of expansiveness that your new flooring and floor heating solution have provided, it's a great idea to source new furniture that features a sense of weightlessness by staying clear of the ground. For instance, instead of a heavy sofa that sits on the floor, choose a style that features slimline legs and will therefore keep the sofa aloft, allowing the floor finish to continue beneath the sofa uninterrupted. The same design rule is true for beds and tables too; always try to select simple furniture that stays off the ground and avoid using these areas for storage. Looking for even more interior design tips? Follow Warmup on Instagram to get lots more style advice for your home.