Smart speakers are more than just a clever way to play music or listen to the radio; you can also use their in-built virtual assistants to help organise your schedule, search the internet and control other Smart technology in your home with just the sound of your voice. In this guide, we'll look at how you can control your Warmup underfloor heating system through a connected Smart Speaker. You'll learn: 
The benefits of controlling your home's heating using a virtual assistant

 

Which speakers are compatible with Warmup's thermostats 

 

How to connect your thermostat with Amazon's Alexa 

 

The quickest way to control your floor heating using the IFTTT platform

 

How to maximise the efficiency of your heating system using other Smart tools 

 
Can I control my

h

eating

s

ystem with a Smart

s

peaker?

 
Yes, you can. Warmup's range of electric and water underfloor heating systems can be voice activated through selected Smart speakers by using a connected Warmup Smart Thermostat such as our 6iE Smart WiFi Thermostat or Element WiFi Thermostat. 
Using a Smart speaker makes heating your home an intuitive and hands-free experience that simplifies and streamlines your life and personalises your heating to your exact requirements. You can simply ask your voice assistant to turn up your heating by a few degrees or turn it off completely. The zoning functionality of an underfloor heating system, whereby the system is split into different 'zones' which can be controlled independently of one another by a zone-specific thermostat, also provides a more bespoke heating solution when used with a Smart speaker. You can command the voice assistant to control a specific zone's heating, rather than your whole home which will dramatically reduce energy usage and in turn, help save you significant amounts of money on your energy bills. The compatibility of Warmup's Smart Thermostats and Smart speakers also means your heating can work in tandem with other technology in your home, for true home automation. For instance, you can set your floor heating to come on at the same time as your lighting or your heating could be lowered as soon as you close a WiFi connected door.   
Wondering what other benefits a Smart thermostat can bring to your home? Read our informative buying guide to help you choose the best controller for your needs.
Which Voice Assistants are Compatible with a Warmup Smart Thermostat?
Amazon's Alexa is a popular assistant used in a variety of Smart speakers, most specifically Amazon's own 'Echo' range and the Sonos collection. Controlling your Warmup heating using Alexa couldn't be easier, simply download the Warmup 4iE Alexa Skill and use it in conjunction with your Warmup Smart Thermostat and its partnered MyHeating app to enjoy the benefits of voice-controlled heating.   
  The Google Assistant software is primarily utilised in the Google Home range of Smart speakers but also features in speakers such as the Panasonic SC-GA10, the LG ThinQ and the Sony LF-S50G. To control your Warmup underfloor heating with the Google Assistant, we recommend using the IFTTT platform which can create connections and links between all your Smart home devices. Using IFTTT with a Warmup Smart Thermostat also provides compatibility with Microsoft's Cortana assistant.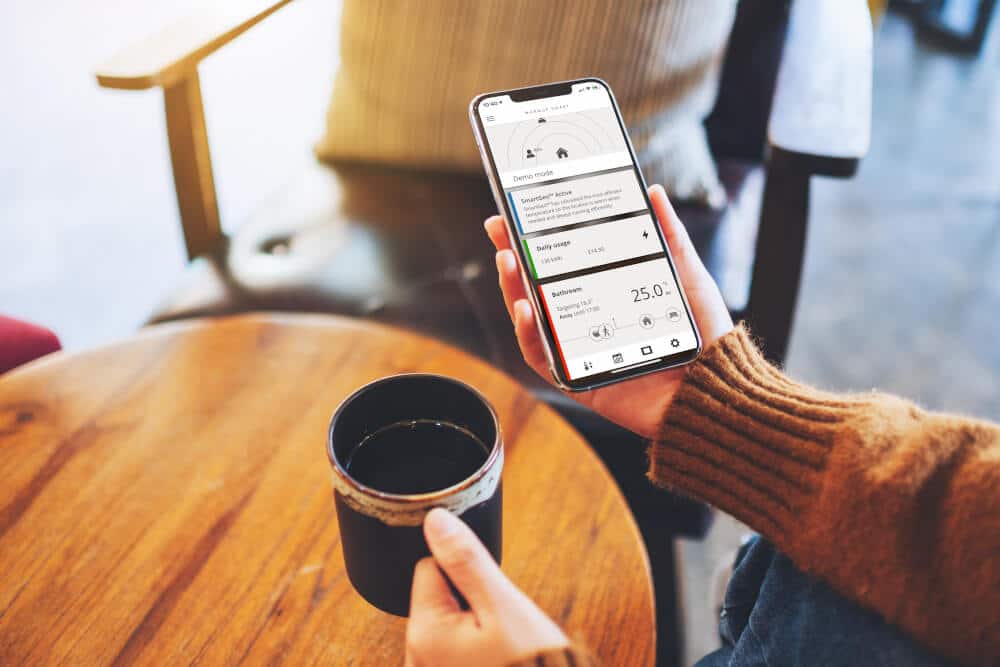 How to

c

onnect

your

Smart Thermostat with

Amazon

's

Alexa

 
Our range of Smart heating controls are compatible with Amazon's Alexa through the MyHeating app and the Warmup 4iE Alexa Skill. This makes controlling your heating as simple as saying "Alexa, set Bedroom Thermostat to 21 degrees".  
Follow these steps below to use Alexa with your Warmup Smart Thermostat.   
Download the

MyHeating

by Warmup app to your iOS or Android smartphone. 

 

Register an account and set up your Warmup Smart Thermostat as instructed 

 

Download the Warmup 4iE Alexa Skill in the Alexa app 

 

Open the Skill 

 
Log in with your Warmup account details 

 

Once you log in to the Warmup Skill, your thermostats will be shown in the Alexa app within the 'Smart Home' section. Your thermostats will be automatically named with the same names that you set in the MyHeating app but they can also be changed from within the Alexa Skill app.  

 

You can now command Alexa to operate your heating system.

 
Using Alexa with your underfloor heating system also allows you to group different Smart devices together, such as lights and thermostats, to create a 'Routine' for a fully automated, voice-controlled home. For instance, you could link your bedroom lighting to your floor heater and radio as part of a 'Morning Routine' so that when you wake up, you can say "Alexa, good morning" and your light's will come on along with the radio and your floor heating will start to warm up for a cosy, hassle-free start to the day.   
Download the Warmup 4iE Alexa Skill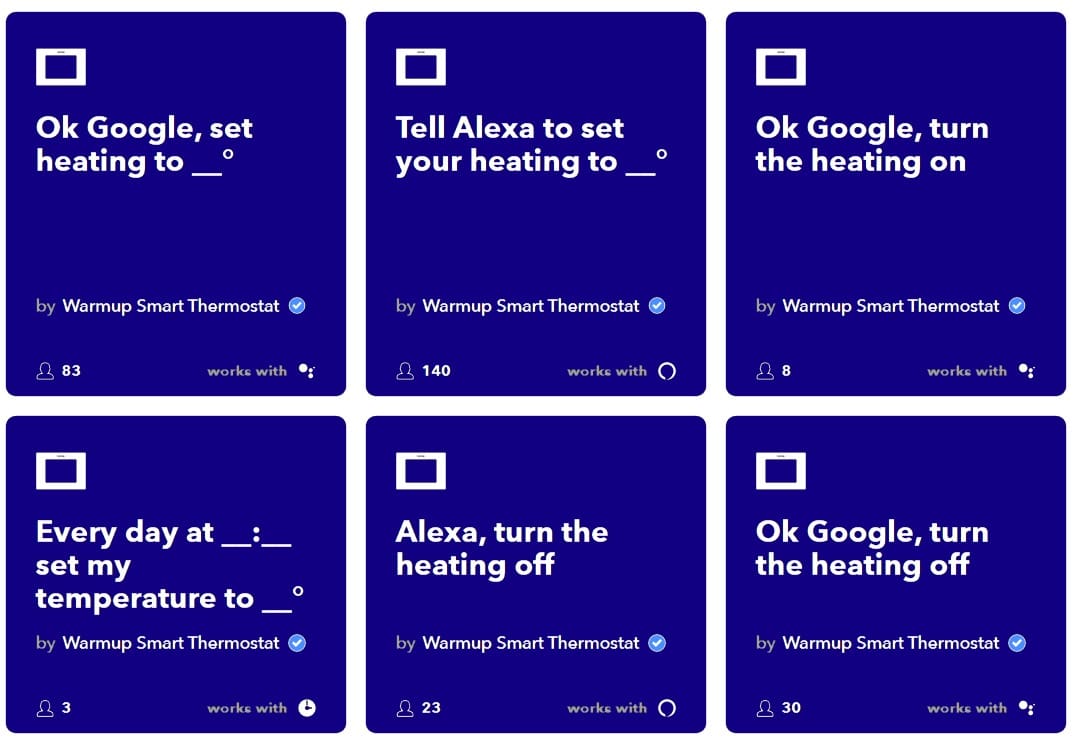 How to c

reat

e

an IFTTT

a

pplet to control your

f

loor

h

eat

ing system

 
The IFTTT platform allows you to create connections between your Smart home devices. IFTTT uses 'Applets' to facilitate synergy with your Smart home technology, wherein you create a 'Trigger' to result in an 'Action', for instance asking your Smart speaker (the 'trigger') to lower the temperature of your heating (the 'action'). You can also connect to other Applets such as a Weather Applet to do things such as turning up your underfloor heating when it's raining outside or sending your Smartphone a notification when the temperature of your home drops below a certain level.   
To start using IFTTT with your Warmup Smart Thermostat, follow these steps:  
Download the

MyHeating

by Warmup app to your iOS or Android smartphone. 

 

Register an account and set up your Warmup Smart Thermostat as instructed 

 
Go to ifttt.com and register your free account 

 

Search for the 'Warmup Smart Thermostat' Channel 

 

You will be prompted to login to the Warmup channel with your Warmup account 

 

Log in with your Warmup account details 

 

Once you log in to the Warmup channel, you can start setting up applets with other services 

 
You can get started with some of the pre-made applets on the Warmup channel or make your own to suit the requirements of your home.  

 
 View some of the suggested Warmup IFTTT Triggers and Actions  
The Smartest ways to improve the efficiency of your heating

system
The ability to control your home's heating system using just your voice is a great step towards a more efficient home and our range of Smart Thermostats are packed full of innovative features that can help improve your home's energy performance.  
 The MyHeating app for iOS and Android Smartphones facilitates Smart speaker heating control whilst also offering remote access, automatic heating and energy-saving functionality for Warmup's collection of heating solutions. Our AutoSwitch app is an energy-tariff switching tool which can provide you with huge savings on your heating bills. It searches the marketplace for the best tariff for your needs and can switch you automatically, always keeping you on the best price.  
 Warmup Smart Care is an enhanced customer service experience that provides real-time bespoke support for your home's Smart heating system. Using data received from your Warmup WiFi-connected thermostat, our team of experts can deliver remote diagnostics to help resolve most issues you may experience whilst assisting in improving your home's energy performance. And, if you're commissioning a heating solution for a large-scale project, such as a hotel or a commercial development, our Smart Thermostats are also compatible with several Building Management Systems. Warmup can provide software drivers for Control 4 and Crestron Installers to load inside these systems, allowing Warmup Smart Thermostats to appear and be individually controlled from within the interface.