If you're thinking about laying down new flooring as part of your upcoming home renovation, then it's the perfect time to consider installing underfloor heating as part of the project. In this guide, we'll answer a frequently asked question: which floor type is better to use with a floor heating system, carpets or wood? We'll explore: 
The different qualities of carpeting and wood flooring 

 

Which UFH system is perfect for carpets

 

How to choose the best heating system for wood floor coverings

 

The best way to control temperature limits

 

How to purchase underfloor heating for your home

 
The difference between soft and hard floors in 'dry' rooms
Carpets and wooden floors are typically used as floor finishes in larger, 'dry' rooms. A dry room is a room that doesn't feature water sources and plumbing fixtures such as the bathroom and the kitchen. These types of 'wet' rooms are more suited to a wipeable floor finish such as ceramic tiles, stone and vinyl. So, if you're renovating your living areas, bedrooms or hallways, then carpeting or wooden floors are a perfect choice – bringing a more natural, tactile feeling to the space.  
The main difference between carpets and wood floors are that carpets are a soft floor covering whereas wooden floors are a hard finish. This difference can impact on the floor build-up, such as what kind of insulation you'll use and more specifically, what kind of heating system is best for your home.  
What are the benefits of floor heating for my room?
We offer both electric floor heaters and water floor heating systems that are compatible with wooden and carpeted floors. Floor heating is a much more energy-efficient process than traditional heating solutions, helping to reduce energy usage by up to 35%. This kind of efficiency not only helps to lower your home's carbon footprint but can also save you significant amounts of money on your bills. You'll also enjoy the benefits of a discreet heating method – with no visible pipe work, UFH will improve your home's interior design and many of our systems are designed for home renovation projects, so they won't impact on existing floor levels. It's also a good idea to make sure that whatever carpet or wood finish you've chosen is approved for installation with underfloor heating.  
Does underfloor heating work well with carpeting?
Underfloor heating is ideal to use with carpeted flooring. These flooring types are a great way to make your home feel warm and cosy all year round and underfloor heating will enhance this feeling of cosiness. As a soft floor finish, carpeting can be affected by load-bearing weight – think about the indentations left by a heavy bookshelf or table legs on a carpet's surface – so the most important thing to bear in mind when choosing a heating system for carpets is selecting one that will be suitably protected so that it won't be damaged by these kinds of weights.  
You'll also need to be aware of the tog value of your selected carpet. The total tog of all materials used with your floor heating system should not exceed 1.5 tog to ensure that the system will provide a sufficient level of heat for the space.  
"Installing underfloor heating with softer floor finishes may require protection so your system isn't impacted by load-bearing weight" 
Choosing the best UFH system for carpeting
Warmup's Foil Heater is a great electric underfloor heating solution for carpeted rooms. It is available in prepared rolls of different sizes and because it offers a 'dry' installation, with no need for adhesives or screed, it can be fitted by your installer quickly and cleanly.  With softer floor finishes such as carpets, the Foil Heater is designed to be used in conjunction with Warmup's Dual Overlay System, a free-floating subfloor that protects the system from potential load-bearing damage. Floor heating is always recommended to be installed with sufficient accompanying insulation to improve the performance of the system and installing our Insulated Underlay underneath the Foil Heater will reduce the heat-up time by at least 50%, resulting in even more cost-savings.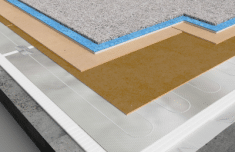 Can I heat my wooden floors with floor heating?
Wood floor coverings are a sophisticated choice for both modern and more traditional homes. There are many different types of wooden floor finishes – from natural wooden floorboards in a period home to new engineered wood and parquet to bamboo – but we offer floor heating systems suitable for almost all of these flooring types. Engineered wood is a great conductor of the radiant warmth produced by a floor heating system whereas solid wood finishes may need a greater level of insulation. It's also important to note that the slimmer and denser the wood then the quicker the heat-up time of the UFH system will be, which will greatly improve its efficiency.  
Can I use floor heating with laminate flooring too? 
Absolutely. Whilst laminate flooring has a different construction to natural and engineered woods, we offer a selection of systems that are compatible with laminate floor finishes. For both wood and laminate floor finishes, we recommended that the floor's thickness should be no more than 18mm to ensure optimal heat performance. 
"The slimmer and denser the wood, the more efficient your floor heating will be" 
Choosing the best heating solution for wooden floors 
A great water floor heating system to use with wooden floors is the VLo Ultra-12 Low Build System. As a low-profile heating system, it has been specifically designed with home renovations in mind, having little impact on floor heights whilst providing rapid response times. Its energy-saving, low-carbon technology will offer low long-term running costs and it can be used with both traditional boilers and heat pumps.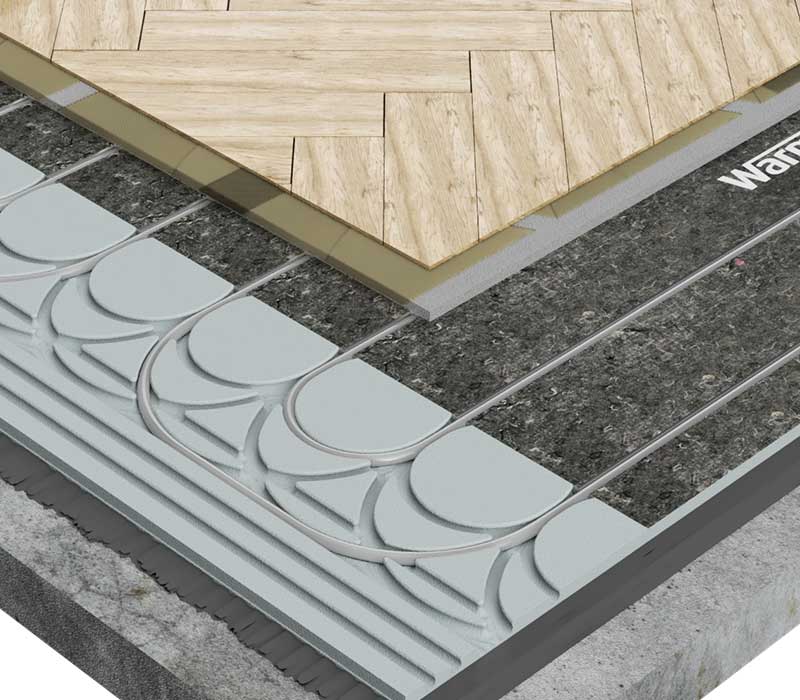 How do I control my floor heating system?
When using floor heating with wooden or carpeted floors, you should ensure the floor surface temperature must not exceed 27°C. You can control these temperature limits using a system-dedicated thermostat.  
Our 6iE Smart WiFi Thermostat is the perfect controller to use with the Foil Heater. It is the world's first UFH control to utilise a Smartphone touchscreen and offers automatic heating, meaning you'll be able to enjoy the right temperature, at the right time, without the need to set up a programme. Considering installing the VLo Ultra-12 Low Build System with your wood flooring? The Konekt Wireless Controls are tailor-made to control water floor heating systems.  
How do I buy floor heating?
Feeling inspired about installing underfloor heating with your new carpet or wooden floors? You can use our easy online quoting tool to instantly find out which heating system is the best for your project's needs and discover exactly how much it will cost.  
If you're interested in purchasing a water floor heating system, then you can buy one of these directly from Warmup and we can even deliver straight to your home. Our range of electric systems can be purchased in-store at one of our nationwide retail partners. All of our heating systems come with market-leading warranties and we offer 24/7 365 a year customer support.