Underfloor heating is up to 40% more efficient than traditional heating methods and with this improved performance you can look forward to substantial savings on your bills too. In this guide we'll explore how reducing the ramp-up time of your floor heating system can help save you even more money. You'll discover:
What "ramp-up time'' means
How faster UFH heat-up times results in lower costs
The cost-saving benefits of insulation with underfloor heating
How to buy a complete floor heating solution
What does "ramp-up time" mean?
The ramp-up time is the time taken for your heated floor to reach the desired temperature, this can also be referred to as the 'heat-up' time. During the ramp-up time, the underfloor heating system will be running at 100% power until it has reached the required temperature. Once the system hits this target temperature, it will only have to maintain that temperature by cycling on and off – meaning it uses much less power than during the initial ramp-up time. This means that the faster the system heats up, the less energy it uses, and therefore the cheaper it will be to run.
You can set your target temperature using a Warmup Thermostat or by using your thermostat-connected MyHeating Smartphone app. Smart thermostats will also enhance the efficiency of your floor heating system; using underfloor heating with an accompanying Smart Controller can save you up to £400 a year on your energy bills. Learn more about the many benefits of floor heating in our UFH buying guide.
How do I reduce my heating's ramp-up time to save money on my bills?
Installing insulation with a new floor heating system is critical to maximise on the performance of the system.
A new floor heating system may be cheaper than you think to install, and the enhanced energy-efficiency of underfloor heating can help lower your energy usage and save you money in the long-term. The heating experts at Warmup are constantly testing our systems and developing new technologies to find the best ways to optimise underfloor heating and provide the most convenient ways to reduce the running costs involved. Our extensive research conducted on the impact of insulation on energy usage has shown that quality floor insulation is key to improving your ramp-up times and in turn, help reduce running costs.
Installing insulation with a new floor heating system is critical to maximise on the performance of the system. Not only will using insulation with floor heating improve the system's ramp-up times but it also helps prevent heat-loss through the floors of your property, ensuring the heat produced by the system stays in the room. Reducing your home's overall heat-loss will dramatically improve the energy-performance of your home, allowing your floor heater to warm a space up quicker whilst also reducing energy wastage. Want to learn more about reducing heat-loss? Read our informative article to discover some top tips.
Which insulation solution is best for my underfloor heating system?
Our range of electric floor heaters are designed to be used with our innovative Insulation Boards. The Warmup Insulation Board directs the heat to where it needs to be whilst doubling up as a sturdy tile backerboard for increased heater stability. Made of extruded polystyrene, the board is faced on both sides with fibreglass mesh embedded into a thin cement polymer mortar. The board is tough and water-resistant and can bear impressive weight loads of 30 tonnes per square metre. It is available in varying thicknesses and is suitable for most applications.
Warmup's Insulated Underlay is a thin yet efficient thermal barrier that also reduces contact noise and resists moisture. It has been specially developed to complement the Foil Heater under soft and resilient floor coverings such as carpet, vinyl and linoleum.
All our water underfloor heating systems can be purchased with accompanying system-specific insulation and some systems feature built-in insulation for an even smoother installation. The Total-16 Low-Profile System is a perfect hydronic heating choice for retrofitting in renovation projects and its slimline design uses a built-in layer of high-quality insulation material for increased system heat-up times. Find out more about the many benefits of floor heating insulation in our expert blog.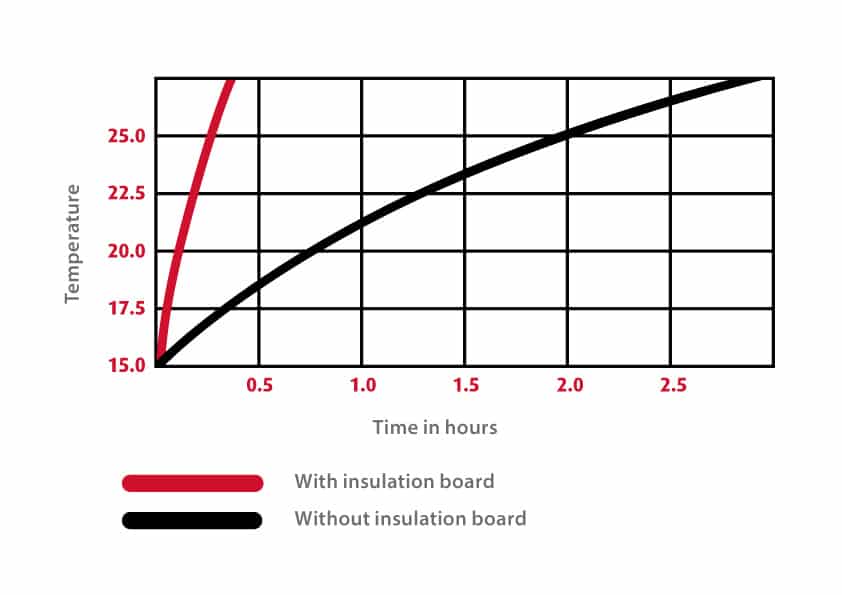 How much quicker will insulation improve UFH heat-up times?
Based on extensive research, when using Warmup Insulation Boards in conjunction with underfloor heaters, floor heat-up time was cut significantly. The floor can heat up in as little as 20 minutes when using insulation compared to over 2 hours on an uninsulated subfloor. That not only constitutes to an impressive saving on running costs but also means the time it takes for your floor to be warm and comfortable is significantly faster.
With electric under floor heating, the best place to install insulation is right beneath the heating system. The insulating material will stop the heat from spreading downwards, reflecting it back up to the floor finish instead. This is particularly pertinent when the subfloor is concrete as a non-insulated base can dramatically delay the heating effects from being felt through the final floor finish.
Below you can see an informative guide on the floor ramp-up (heat-up) times for Warmup's floor heating solutions with different subfloor construction. As you can see, high-quality insulation significantly improves the responsiveness of underfloor heating.
| | |
| --- | --- |
| Subfloor Construction | Heat-up Times |
| WBP Plywood | 45 min |
| WBP Plywood with Warmup Insulation Board | 20 min |
| Insulated concrete (insulation under screed) | 2-5 hours |
| Un-insulated concrete | 2-8 hours |
| Concrete with 10mm Warmup Insulation Board | 25 min |
| Concrete with 50mm Warmup Insulation Board | 20 min |
Where do I buy a Warmup underfloor heating system?
If you're looking for a more sustainable heating solution for your home that can reduce your carb on emissions and save you money on your energy bills, then get a Warmup underfloor heating quote today. Our online quoting tool allows you to purchase a complete Warmup system with accompanying insulation and a controller and it couldn't be easier to discover the perfect energy-efficient heating system for your home. Simply enter the details of your project and we'll show you the best system for your needs and tell you exactly how much it will cost. You can purchase a water floor heating system directly from Warmup and our electric heaters can be purchased in-person from one of our nationwide retail partners. Use the online store locator to find your nearest Warmup stockist.