Underfloor heating is the perfect way to bring energy-efficient warmth to both new-build homes and renovation projects. In this expert guide we'll explore the benefits of retrofitting a new UFH system in an existing property. You'll find out: 
Why UFH is ideal for renovation projects

 

The difference between 'retrofitting' and 'refitting' a system

 

The best floor heating systems for retrofitting 

 

The ease of installing floor heating in older properties

 

Great tips to save energy with floor heating 

 
Can I retrofit a floor heating system

as part of my

home

renovation

?
If you're planning a refurbishment project, you can absolutely install a floor heating system through a process known as retrofitting. This means installing a new heating system into an existing property with its existing subfloors, as opposed to fitting one in a new-build home. Warmup offer a range of electric and water systems that can be fitted into both new-build and existing homes. 
What's

the difference between retrofitting and refitting?
The terms 'refit' and 'retrofit' are easily confused. When it comes to floor heating systems, 'refit' would mean removing an existing heating system from one room and trying to install it somewhere else. However, underfloor heating systems should only be fitted once. This is due to a number of issues, such as: 
In the case of electric floor heating systems, the wires can be damaged when removing them from the adhesive and the floor finish, specifically tiles or stone. 

 

If the wire is attached to a mesh mat, it may prove impossible to remove the system without damaging it, as the mesh should be fully embedded in the adhesive.

 

A system can only be used for the room size it is designed for

 

It is also important to note that to refit a heating system would void any guarantee or warranty.

 
What should I

take into consideration

when

choosing a system to retrofit

?
A key concern when installing floor heating as part of a home renovation project is whether the system will have a significant impact on the floor build-up. Unlike new-build projects, existing homes have fixed ceiling heights and door levels so you should select a system that won't raise your floors too much. You can find out more about the impact of UFH on floor levels in our informative guide.  
Which UFH system

should I retrofit in my home?
Electric underfloor heating is well-suited for retrofitting applications, as these systems will have little-to-no impact on floor heights. The StickyMat System for instance, uses an ultra-thin heating wire and can be installed directly within the layer of tile adhesive when installing with tiled flooring – adding mere millimetres to your floor.  
The VLo line of hydronic floor heating systems feature a low-profile design, making them especially popular for home renovation projects where a low floor build-up is required. Each VLo system can be used with traditional heat sources and heat pumps and will provide a low carbon, cost-saving heating solution for both new-build and existing homes.  
You can discover the perfect system for your home and find out exactly how much it will cost to purchase by getting an instant online quote today.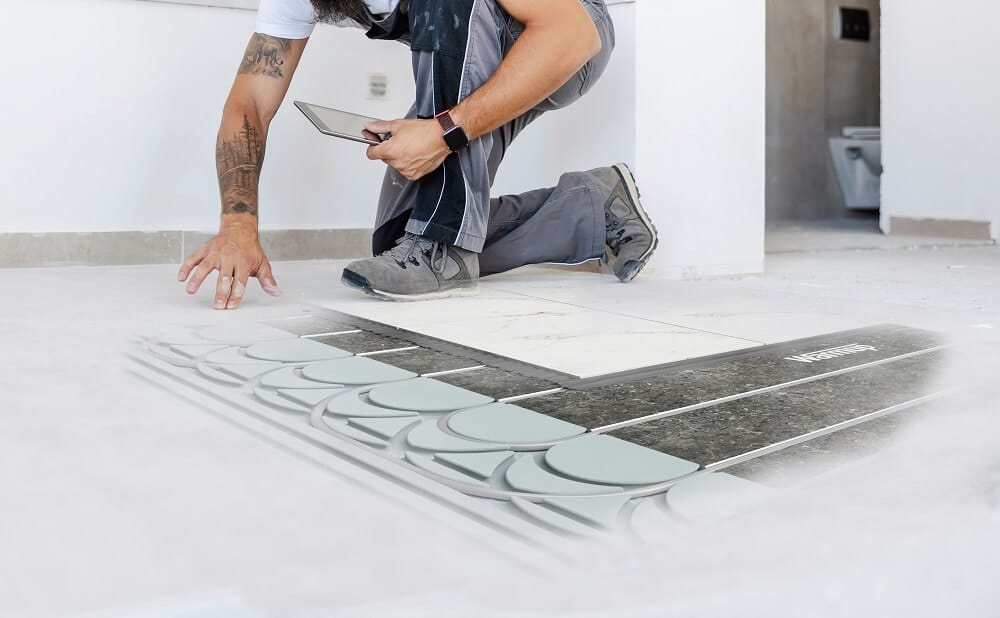 Top tips for retrofitting UFH
By selecting the most appropriate Warmup system for your needs, underfloor heating can be smoothly retrofitted in existing homes. When fitting your new heating system, the existing floor finish should be removed and replaced with new flooring as it may be difficult to lay the same flooring back down again without causing significant damage. We offer a range of heating systems available for many different floor coverings, including carpet, wood, stone, laminate and vinyl, as well as all subfloor types. It is advisable to ensure adequate subfloor insulation is also installed when retrofitting a UFH system. 
Fitting underfloor heating onto existing floors will require removing the floor covering, cleaning the subfloor and adding insulation before installing the new system and laying down a new floor covering above. When tiling or laying stone floors, it is always important to ensure the floor is sturdy and free from flexing – if in doubt, the floor might require additional strengthening through good quality plywood or other appropriate material. 
Electric underfloor heating system offers a quick and simple installation; however, it is important to involve a qualified Part P certified electrician in the project to ensure that the electrical distribution is designed and carried out correctly.  
How can

I enhance the efficiency of underfloor heating in my home

?
Floor heating is a more energy-efficient heating method for existing homes than traditional heating systems and with this improved energy performance you could enjoy substantial savings on your energy bills. But did you know that you can enhance this efficiency of your new heating system through good-quality insulation and Smart heating controls?  
Insulation is recommended for installation with floor heating to ensure the heat produced by the system is directed upwards and not into the subfloor whilst also reducing heat up times, allowing it to run as efficiently as possible. Our hydronic heating solutions use system-specific insulation that can come as part of your chosen heating system whereas most of our electric systems can be installed alongside our innovative Ultralight Underfloor Heating Board that provides 50% more even heating and 30% faster heat up times than standard insulation boards. Its 4-in-1 benefits help retain heat better, spread warmth more quickly, reduce noise and protect tiled floor finishes from damage caused by lateral subfloor movement.  
The advanced technology of our range of Smart heating controllers can help with reducing your home's energy consumption. Warmup's 6iE Smart WiFi Thermostat utilises SmartGeo technology to learn your routines, offering radiant warmth at the right temperature, at the right time for you, automatically. With energy-monitoring functionality and the ability to be controlled remotely, using the 6iE with Warmup's 'MyHeating' and 'AutoSwitch' Smartphone apps can reduce your energy usage by 25% and help save you hundreds of pounds a year on your energy bills.