Warmup's DCM-PRO Heated Decoupling System is a popular electric floor heating solution that has brought energy-efficient warmth to homes across the world. Its new update features a redeveloped membrane design which is now available in two options: the classic Peel and Stick, featuring a self-adhesive backing, and a new fleece-backing. In this article, we'll walk you through the many benefits of this innovation. We'll explore:
What kind of project the new fleece-backed membrane is best for

The ease of installing this system on uneven, damp subfloors

How the DCM-PRO membrane has been enhanced for optimal performance

How using levellers with DCM-PRO is smoother than ever
The benefits of DCM-PRO with even greater installation flexibility
DCM-PRO features a unique design that can help protect tiled floors from damage caused by lateral subfloor movement. It's an ideal electric floor heating solution for rooms of all shapes and sizes and its heating cable and membrane combination offers rapid installation times that allow you to enjoy energy-saving heat quickly. To provide even greater functionality, DCM-PRO has been updated with an optimised castellation design and two different membrane options to offer a truly versatile installation method for your home.
Fleece-backed membrane for coarse and uneven subfloors
The classic Peel and Stick membrane features a self-adhesive backing making it perfect for rapid installation on smooth, flat and level surfaces. But here at Warmup, we understand that flexibility is key to a successful project so we're offering a new DCM-PRO membrane with fleece-backing that has been designed to use with traditional adhesives on uneven subfloors.
The fleece-backed membrane is a great UFH solution if you're looking for a more conventional installation method. Using the fleeced option means your subfloors are not required to be smooth before fitting the heating system, which will save you time on additional preparation. The use of adhesive will absorb some of the subfloor's irregularities too.
Install with ease during the colder months
Thinking about installing UFH in your home over the winter? The DCM-PRO fleece-backed membrane is ideal for installation during the colder times of the year as it can be installed over damp floors, whereas the Peel and Stick membrane requires a dry surface to successfully bond. So, if you're fitting the system in a project with high levels of cold condensation in January for instance, the fleece-backed membrane installed with tile adhesive will facilitate a secure bond with the subfloor despite the environmental conditions.
Another benefit of using the fleece-backed membrane is that since tile adhesive typically takes 2-4 hours to dry, the membrane can be adjusted if you mislay it during the initial installation – meaning any laying errors can be quickly corrected with little stress.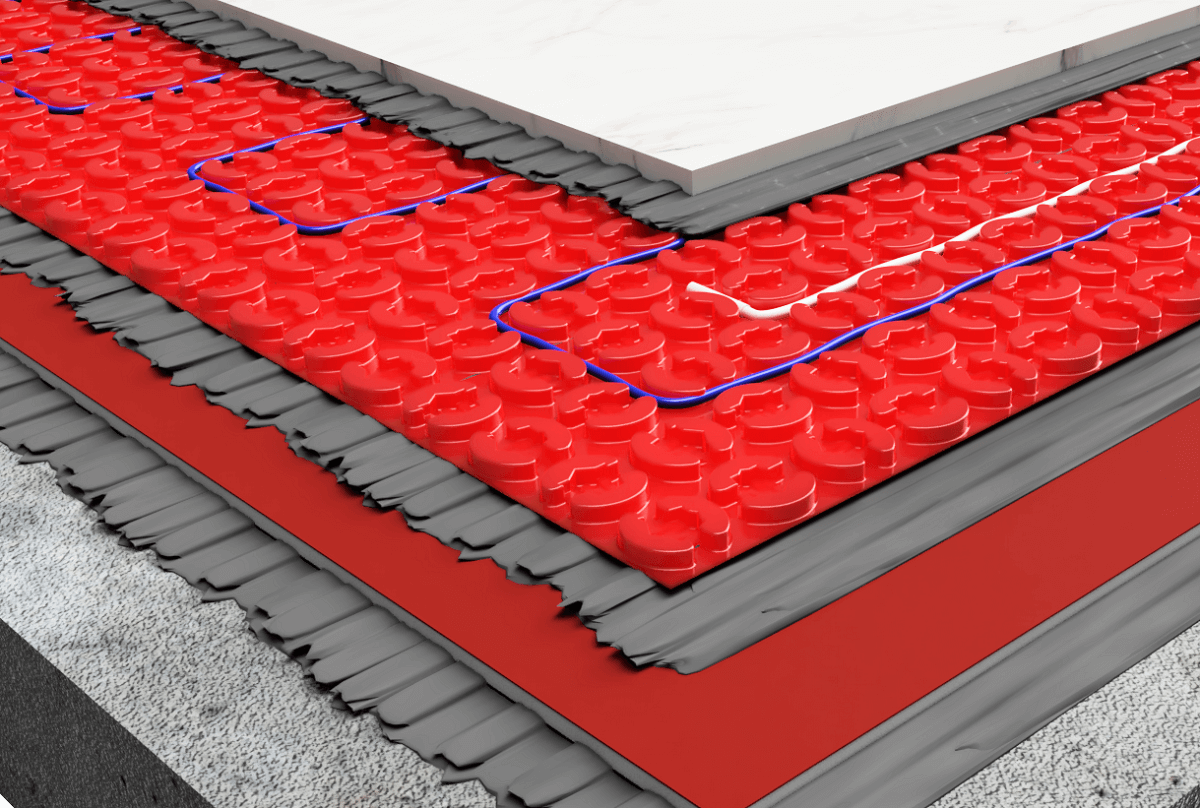 Updated membrane design for an even smoother installation
The new generation of DCM-PRO features an updated castellation design for an enhanced installation. Fitting the cables by hand within the castellations is now easier than ever and the softer material used for the membrane will provide less strain on your knees during installation too.
DCM-PRO still maintains an ultra-low profile so it will have a negligible effect on floor build-up height, making it the perfect heating solution for both renovation and new-build projects. It is available in clear, convenient sizes and should be installed with high-quality insulation and a Smart thermostat to assist in reducing energy usage by up to 35% compared to traditional radiator systems. Wondering how much money you could save with underfloor heating? Read our costs guide to find out everything you need to know.
Developed for use with self-levellers
DCM-PRO with a fleece-backing allows for a wider selection of levelling compounds to be used during installation. Some levellers may shrink while curing which can lead to tension cracks forming but the updated design of DCM-PRO can help prevent this from having a negative impact on your project. The fleece-backed membrane is approved by Instarmac for use with S1 adhesive, Level IT 2 and Level IT Ultimate levelling compounds, offering true versatility for your underfloor heating installation.
Where can I buy DCM-PRO?
You can find out how much DCM-PRO will cost for your home by getting an instant online quote and all our systems can be purchased from out network of retail partners. Each Warmup system comes with market-leading warranties and we provide 24/7/365 customer support so we're here to help if you have any questions about your new heating system.