If you're considering a new heating solution to use with timber floor finishes or suspended timber floors in your home, then a new underfloor heating system is a terrific idea. In this guide we'll explain the many benefits of using UFH with wooden floors and share some of our top installation tips. You'll find out:
What makes underfloor heating so suitable for use with timber flooring

The differences between timber and other wood floors

How the qualities of wood can impact UFH

Expert insight into installing floor heating with timber floors

The perfect floor heating systems to install with floorboards
Can I use Underfloor Heating with Timber Floors?
Both hydronic and electric underfloor heating systems work well with timber and wooden floors, as this material conducts and holds the warmth produced by the heating system very well. The natural properties of timber also mean that it has fast heat-up times whilst also preventing heat from escaping too quickly, making timber helpful in maximising the energy-efficiency of an underfloor heating system. These optimal properties mean using underfloor heating with such floors can offer substantially lower running costs compared to traditional heating systems.
What are the differences between timber and engineered wood flooring?
You can install underfloor heating with both existing timber floors and subfloors and new timber or engineered wood floor finishes. Timber flooring may also refer to the construction of your flooring too: suspended or battened timber floors utilising floor joists are very common in period homes. It is worth noting that the differences in the density and moisture content values of timber and engineered floors can lead to different heating requirements.
When we refer to timber, we generally mean natural hardwood – that is wood that has been cut and treated specifically for flooring and is most commonly produced as floorboards. When considering installing floor heating with a new timber floor finish, the quality of the timber is very important. Quarter-sawn timber is the best choice as it has been cut in such a way that when it absorbs moisture, it is unlikely to bow or warp.
Engineered wood is a man-made product that often utilises a hardwood timber finish on top of a plywood inner core. All engineered wood is designed to limit the growth and shrinkage caused by moisture in the atmosphere but due to the softer wood core, cheaper engineered wooden flooring can swell over time, in some cases causing a failure of the floor heating system. It's always best to talk with your flooring supplier about the suitability of using your chosen floor finish with underfloor heating.
"

Timber flooring is natural hardwood.

Whereas

engineered wood

features

man-made

core materials"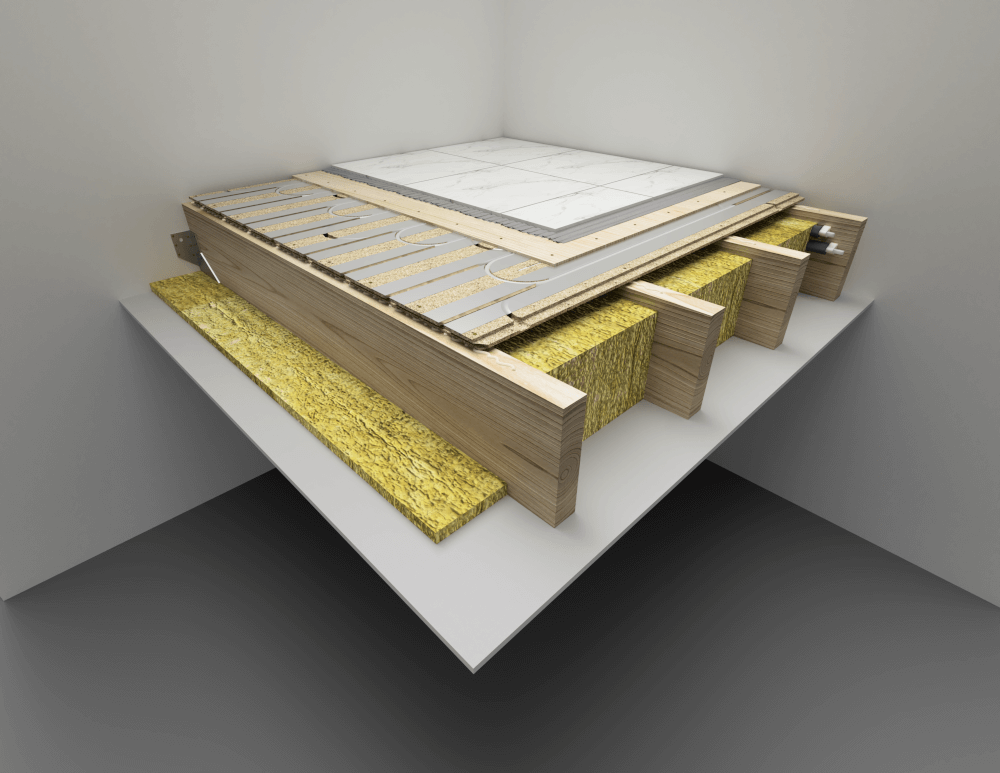 Will the qualities of timber impact floor heating?
As a natural material, timber is affected by its surrounding environment and there are some key things to think about when installing an underfloor heating system with timber floors.
Ideal Thickness
The thickness and density of timber flooring can impact on the performance of the system and we recommend that timber thickness should be no more than 18mm. Also, as wider timber boards will often show more movement than more narrow boards, we recommend that the ratio of thickness to width should be in the region of 7 to 11. A board with a thickness of 16mm and width of 160mm would give a ratio of 10, so is ideal.
Thermal Conductivity
It is typically recommended that a maximum floor surface temperature of 27°C should not be exceeded for timber flooring but this not strictly accurate. This temperate instruction is based on historic research exploring growth and shrinkage rates of timber floors and it was at 27°C that the expansion of timber tested was deemed 'invisible' to the naked eye. This temperature is now an industry-wide recommendation, but timber floors can be heated to a higher level if necessary, however if your flooring supplier recommends a maximum surface temperature of 27°C then you should follow this advice. You can find out more about UFH temperatures and heat output levels in our informative article.
You can secure the temperature restriction of the timber floor using a Warmup Thermostat that accurately controls the underfloor heating system to provide you with an optimally heated room. As part of your project, you should also always get a heat loss calculation done to ensure that underfloor heating meets the room heating requirement.
Moisture Content:

Expansion and Contraction
All wood is hygroscopic, meaning it absorbs moisture from around it and this moisture causes both timber and engineered wood to naturally expand and contract over time. This moisture content can vary depending on what kind of timber you choose and the environment of where your project is located. If installed incorrectly, this swelling and contraction of a timber floor can impact on the responsiveness of a floor heater so we recommend letting the timber flooring acclimate to the environment inside the room it will be fitted within. Part of this process is an installation heating cycle during which the floor surface temperature should be kept at 15°C and the air temperature between 15-22°C. The atmospheric relative humidity should be between 40-60%.
After installation, the floor should acclimate for at least 48 hours before turning the system back on. The floor temperature should be limited to 15°C and increased by 1°C a day until the desired floor temperature is achieved. It is advisable to check the temperature restrictions with your floor manufacturer as the ambient temperature will depend on the season.
"Wood flooring with a thickness of 16mm and heated up to 27

°C

is perfect for radiant

warmth"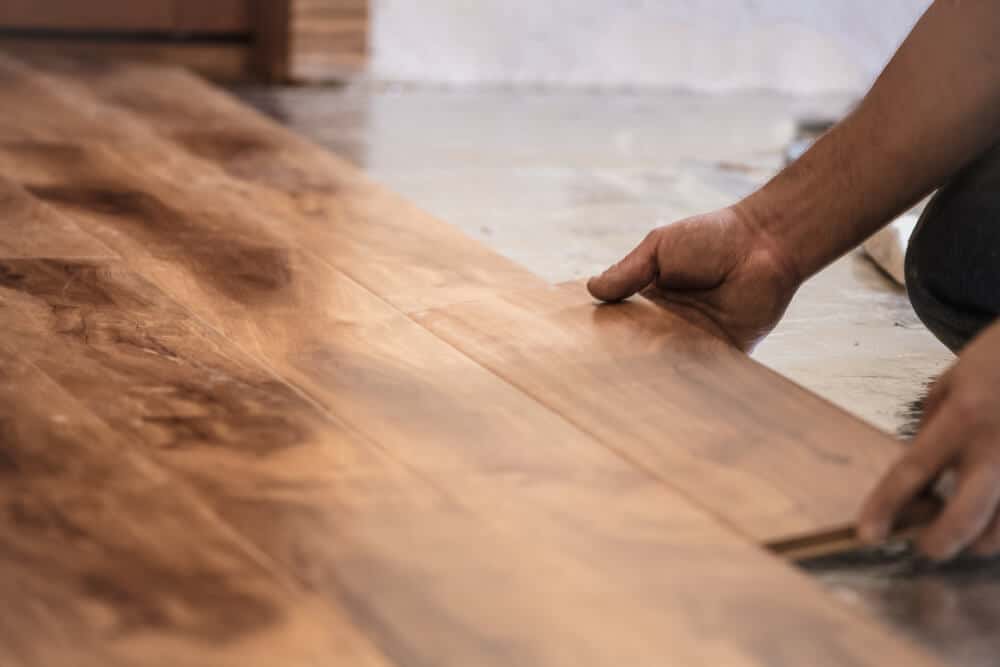 Is electric or water floor heating best for my floorboards?
Water underfloor heating is a great choice for use with wooden flooring and suspended timber floors in larger home renovations or new-build projects whilst our collection of electric floor heaters are great for smaller projects.
You can retrofit a water UFH system with your home's original floorboards in one of two ways: from above or from below. Installing a water system with floorboards from above requires removing all timber flooring before laying back down after installing the heating system; this is typical for a ground floor installation. Retrofitting from below is recommended for an underfloor heating installation on a first floor or upper-level timber floor and means ripping out the ceiling in the room below and installing the heating system this way, in a back-to-front method.
Some water UFH systems will require a layer of screed as part of the installation process and this screed will add excess moisture to the timber, so we recommend allowing screed to dry at a rate of 1mm per day. A 10mm expansion gap around the room is also recommended to prevent any future problems with the expansion and contraction of a timber floor.
You can also use electric underfloor heating with suspended timber floors but in these cases, you would use the original timber floorboards as a subfloor and install the electric system on top of it before laying down a new flooring finish. A great electric heating option for these kinds of projects would be the Foil Heater which is perfect for floating timber floor finishes and offers rapid installation times.
The

VLo

Econna

-12 Joisted Floor

System

–

ideal for retrofitting

with

s

uspended

t

imber

f

loors
Suspended timber floors are a common structural element in many period properties and the VLo Econna-12 Joisted Floor System has been specifically designed for these floor types.
The Econna-12 is an ideal choice for installing in home refurbishment projects where its slimline construction won't significantly impact floor heights. It offers quick installation times due to its dry installation method and one-piece panel design and utilises the void between wooden floor joists for insulation material and other services. The system's panels feature a built-in layer of diffusion foil which facilitates even heat distribution, ensuring no hot or cold spots and its innovative technology can offer long-term savings on your heating bills.
"The Econna-12

can be used with a traditional boiler or heat pump

and its

energy-saving technology can offer significant savings on your

bills

"
How

do I buy

a floor heating system for timber floors

?
You can purchase a water underfloor heating system directly from Warmup through our easy-to-use online quote tool. Simply input some basic details of your upcoming project and we'll help you find the best heating option for your needs and let you know precisely how much it will cost to buy. All Warmup system feature world-class product warranties and we offer 24/7 365-days-a-year after-sales support for your peace of mind.